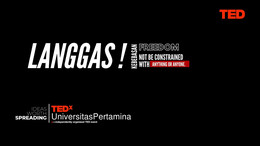 In the spirit of ideas worth spreading, the aim of TEDxUniversitasPertamina is to accommodate all great mind whose not getting enough expose in various fields to spread their "Ideas Worth Spreading". The brilliance of this model is that participants listen to lectures directly, while videos produced from presentations are posted online for anyone in the world to access for free. The hope is that the ideas, perspectives, and insights contained in this conversation broaden the perspectives of the audience. This can lead to direct action to help a cause, changes in personal behavior, or new ways to consider problems that act the community's new views and
understandings.
ABOUT OUR THEME : "Langgas"
Langgas, which have similar meaning to "kebebasan" in Indonesian language is align with our goal to promote freedom in every aspect of life. We believe one should not be constrained with anything or anyone in choosing their way of life.