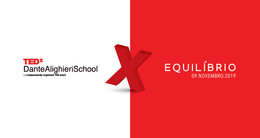 In the spirit of ideas worth spreading, TEDx is a program of local, self-organized events that bring people together to share a TED-like experience. At a TEDx event, TEDTalks video and live speakers combine to spark deep discussion and connection in a small group. These local, self-organized events are branded TEDx, where x = independently organized TED event. The TED Conference provides general guidance for the TEDx program, but individual TEDx events are self-organized (subject to certain rules and regulations).
Speakers
Speakers may not be confirmed. Check event website for more information.
Estudantes
Alessandra Rister Portinari Maranca, Catharina Faria de Morais e Maria Clara Batista Nascentes são alunas da 3ª série do Ensino Médio. Juntas, elas desenvolvem um projeto científico que pode ajudar jovens e alertar a sociedade sobre os riscos dos padrões sociais. Dessa forma, elas perceberam que existe uma série de coisas que impactam a saúde mental.
Head do Instituto Feliciência
Carla Furtado é Head do Instituto Feliciência, com atuação no Brasil e em Portugal. Ela é especialista em Felicidade Interna Bruta, formada pelo Schumacher College (Inglaterra) e pelo Centro GNH (Butão). Além disso, é membro da International Positive Psychology Association (IPPA) e docente da Pós-Graduação em Psicologia Positiva da PUC-RS.
Grupo Tricote
Grupo teatral
Criado por três amigas, Camila, Daniela e Fabiana formam o grupo Tricote, que mistura teatro e música de maneira única.
Iberê de Castro Dias
Juiz
Iberê de Castro Dias é juiz de direito desde 2000. Atualmente, é titular da Vara da Infância e da Juventude de Guarulhos e Assessor da Corregedoria Geral da Justiça de São Paulo. Trabalha com questões relacionadas aos direitos de crianças e de adolescentes, como educação, saúde, habitação, cultura, emprego, lazer e convivência familiar.
Criador do #euestou
Marcel Izidoro já fez filme, livro, videogame, comercial, peça de teatro, série para tv, evento, direção de arte, representou o Brasil em congressos de política, produziu intercâmbio cultural entre Brasil e países do continente africano e, entre muitas outras conquistas, já foi considerado uma das pessoas mais criativas do mundo pela AdWeek.
Chef de cozinha
Silvia Percussi é uma chef renomada e também uma artista múltipla! E foi por conta desse dom que nasceu o La Percussi, agregando os talentos dessa ítalo-brasileira reconhecida e premiada pelo seu trabalho na Vinheria Percussi – restaurante da família, no bairro de Pinheiros, em São Paulo, que a chef comanda desde que a casa abriu as portas, em 1985, sempre ao lado do irmão Lamberto. Apaixonada por comida desde a infância – quando preparava alimentos com a mãe e provava os mais diferentes sabores no almoços de família – Silvia sente grande prazer em agradar as pessoas pelo paladar.