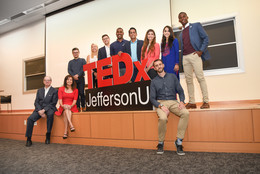 This event took place already. To see videos of the talks go to this link: https://www.youtube.com/playlist?list=PLsRNoUx8w3rMPmN68ZNoVKnPMhX50CIVc
To see images of the conference, go to this link: https://www.flickr.com/photos/184940979@N06/albums/72157711281245348
--------------
To pioneer is to be among the first to traverse a new frontier. There have been many pioneers and pioneering moments over the course of human history. Recently, the revamped Jefferson was created as Thomas Jefferson University merged with Philadelphia University, bringing together a healthcare focused institution with a design focused institution. This merger, done in the spirit of pioneering future innovation, has set the tone for Jefferson's future. In the spirit of spreading innovative and pioneering values, on October 4th, 2019, TEDxJeffersonU will bring together a multidisciplinary panel of speakers that usher the pioneering spirit into the present moment and onward, as Pioneers of Tomorrow.

For more information, click "attend this event" on the top right of this page.
Speakers
Speakers may not be confirmed. Check event website for more information.
Ben Chipkin
Ben Chipkin is a food-minded future physician who is passionate about empowering healthcare providers and their patients with healthy lifestyles. He views nutrition, physical activity and the environment as central to our health and strives to transform medicine through this lens. Currently a third-year medical student at Sidney Kimmel Medical College at Thomas Jefferson University, Ben dedicates his time outside the clinic to patient education at JeffHOPE, developing the culinary medicine curriculum at Jefferson and serving on the Board of Directors of Physicians for Social Responsibility Philadelphia. He holds a Master of Science in Biochemical and Molecular Nutrition from Tufts University and a Bachelor of Arts from Vassar College.
Bruce Wilson
Bruce Justice Wilson is the firstborn son to Bruce and Sinda Wilson. Bruce has an older sister named Brandy and a younger brother named Bryce. Bruce is a native of the Southside of Chicago, Illinois where he volunteers as a Peace Ambassador for The Support Group and works closely with community leaders. Bruce studies political science at Hampton University and currently serves as the Student Government Association Vice President and Mister Delta Gent for the Gamma Iota Chapter of Delta Sigma Theta Sorority, Inc. Bruce is a Spring 2019 initiate of Alpha Phi Alpha Fraternity, Inc. Gamma Iota Chapter, a Global Brigades Leadership Institute Alum, Gloucester Institute Emerging Leader and a Scholar with The Institute for Responsible Citizenship.
Khai Overton
Khai Overton has worked at the Baltimore Chesapeake Bay Outward Bound School as an outdoor educator and day program facilitator since 2016. In the winter of 2019, he was named Program Coordinator of the organization's Police Youth Challenge program. After the events surrounding Freddie Gray Jr., Khai was inspired to be involved in changing the dynamics of community-police relations within Baltimore.
Lisa Pineda
Lisa Pineda is an international yoga and meditation instructor, documentary executive producer of "The Yogi" and a global retreat leader. She combines decades of experience in healthcare, as an award winning multimedia journalist and a yoga instructor to create endless space for authenticity. Lisa advocates for individuals and families who are struggling to start a family with her creation of Yoga for Fertility, a mindfulness meditation app.
Michelle Konkoly
Michelle Konkoly is a third-year medical student at Sidney Kimmel Medical College at Thomas Jefferson University, and a survivor of a traumatic spinal cord injury in 2011. Prior to beginning medical school, Michelle trained full-time as a professional swimmer, and represented Team USA at the 2016 Rio de Janiero Paralympic Games, where she won 4 medals and set a World Record. Michelle speaks about her triumphant story of overcoming incredible odds, and how the lessons she learned as a patient inform her training as a future physician.
Neil Gomes
Neil Gomes is Jefferson's Chief Digital Officer, Executive Vice President for Digital Innovation and Consumer Experience, and founder of Jefferson's DICE group. Neil and his team help define Jefferson's innovation strategy and serve as a catalyst for digital transformation and consumer experience at Jefferson and partner organizations. As a developer of lean startup companies within larger companies, before Jefferson, Neil helped build the world's largest developer of custom e-learning applications at the Fortune 500 Tata Group of Companies in just two years. He also led a team at the University of South Florida that built USF Online with a portfolio of digital learning courses that resulted in over 220,000 course enrollments per year. Neil is a lifelong learner and has earned an MBA, an MEd in Instructional Technology and Design and is currently finishing his PhD from USF and an EMBA from Brown University and IE Business School. In his free time, Neil likes to spend time with his family, sing and play guitar in two bands, play sports and collect rare coins and stamps. Neil describes himself as a passionate son, husband, father, musician, singer, artist, designer, naturalist, traveler (16 countries so far) and "detailologist", driven to change the world in one lifetime.
Rebecca Langbein
Rebecca Langbein
Ronald Kaiser
Ron Kaiser is a Clinical Associate Professor of Neurology and Director of Psychology at the Jefferson Headache Center. He is author of REJUVENAGING: The Art and Science of Growing Older with Enthusiasm, which documents his passion for promoting active aging while providing guidance for individuals of every age to maximize their potential for health and personal growth throughout the ever-increasing lifespan.
Ryan Chen
Ryan Chen, Bresslergroup's Director of Design and Innovation Strategy, is a design and innovation consultant with a unique combination of creativity and business acumen. Ryan has an MBA from the University of Oxford and a BA (Industrial Design) from National University of Singapore. Formerly Lead Designer at Tupperware and Senior Designer at Philips Design, his designs have won prestigious international awards including the iF Design Award, Red Dot and Good Design. An expert in design strategy, design thinking and user research, Ryan has worked globally and across industries, helping organizations including Samsung, Sony, Rock Internet and the Singapore Government find their innovation edge.
Sarika Joglekar
Sarika Joglekar is an ardent proponent of using technology for social good and endeavors to contribute towards creating innovative solutions by taking a human-centered approach. Currently, she is working with Jefferson's DICE Group as a design researcher, helping improve patient experience at the hospitals.
Stephen Wilcox
Stephen Wilcox, PhD, FIDSA is a Principal and the Founder of Design Science (Philadelphia), a consultancy that specializes in optimizing the usability and safety of products, particularly medical devices and systems. Wilcox is a member of the Academy of Fellows of the Industrial Designers' Society of America (IDSA) and served for several years as Chair of the IDSA Human Factors Professional Interest Section. He has also served on the AAMI (Association for the Advancement of Medical Instrumentation) Human Factors Engineering and Home Use Committees and the IEC/ISO committee, Joint Working Group 4, which develops international medical-device standards. Wilcox has given hundreds of invited addresses, has published more than 70 articles in professional journals, and was the recent Editor-in-Chief of the Human Factors and Ergonomics Society Journal, Ergonomics in Design. His book, Designing Usability into Medical Products, co-authored by Michael Wiklund, was published in 2005.
Tiffany D'souza
Tiffany D'souza is the Clinical Fellow at Jefferson's DICE Group and works as a healthcare advisor in the field of Digital Innovation in Healthcare. She graduated from medical school in 2018 and has since started her own Online Fitness Coaching Program as well as consults in the space of Social Media Marketing Strategies for Non-Profits and Start-ups.
Tim Moyer
Tim Moyer is representing the XR lab, whose mission is to collaborate with clinicians and medical educators of all experience levels to explore the value of Virtual, Augmented, and Mixed Reality.
Yats Palat
Yats Palat is a "people" specialist," specializing in the field of growth. He is an ardent traveler, an experience junkie, a community builder and a former professional soccer player. His mission is to drastically reduce the effects of depression in our current society, through his favored method of social engagement.