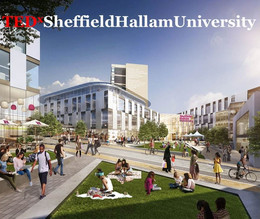 TEDxSheffieldHallamUniversity conference follows TED spirit and ethnos: Celebrating the value of ideas and creativity in many areas of life. Where inspiring speakers share innovation, ideas, and stories from Sheffield as well as around the world, this event will explore ideas around future solutions to the world's problems. The event is themed: Orchestrating the future.
Registration begins at 9am, snacks and lunch refreshments will be provided.
For more details on the event and the speaker line up, please visit our website: www.tedxshu.co.uk
Speakers
Speakers may not be confirmed. Check event website for more information.
Andrew Parsons
Professor in Chemistry
Andrew Parsons is a Professor in Chemistry at the University of York. He has a background in organic chemistry, particularly the synthesis of organic compounds. In 2017, he delivered a first ever University of York massive open online course (MOOC), called Exploring Everyday Chemistry. Following three re-runs, the course has attracted over 14,000 learners from over 100 countries. In 2018, Andy was awarded a prestigious National Teaching Fellowship by the Higher Education Academy in recognition of his inspirational and innovative teaching. He is a Fellow of the Royal Society of Chemistry and a Senior Fellow of The Higher Education Academy.
Annalisa Toccara
Cultural producer, freelance journalist, and digital strategist
Annalisa Toccara is an award-winning cultural producer, freelance journalist, and digital strategist. With a degree in Theology and an incoming MA in International Public and Political Communication from The University of Sheffield, Annalisa is the founder of a leading social enterprise, Our Mel and in 2017, launched Sheffield's first Black History Month Festival. Annalisa is also Head of Campaigns, Policy and Communications at Press Red - a charity educating, equipping and empowering on gender-based violence. Annalisa was honoured to receive a Women's Centenary Award by the Lord Mayor of Sheffield in 2018 and is one of the Northern Power Women 2019 Future List.
April Kirkwood
Therapist and published author
April Kirkwood, LPC is a vetted therapist, published author, and TedX speaker providing innovative methods, tying Eastern and Western practices with researched-based counseling theories. Her unique content is creating a movement that wakes up others from their sleep state to a new awareness and vitality for seeing their story with joy and gratitude. April's reckoning with an emotionally destructive relationship that harkens to her early childhood, and the women pushing and pulling behind her gives insight into others about their lives. It is a story in which April refuses to see herself as a victim but instead tries to summon the courage and resilience to reinvent herself.
Basilio Lenzo
Mechanical Engineer and Senior Lecturer
Basilio Lenzo, 33-year-old Mechanical Engineer (Università di Pisa), PhD (Università Sant'Anna). He was R&D Engineer at Ferrari F1 (2010), and awardee of the MIT Young Innovators Under 35 Italy prize (2015). He was invited to give a TED talk at TEDxBergamo (2015) and to present his research work at the British Parliament (2018). He was Visiting Researcher at several institutions worldwide, including Columbia University (USA) and the German Aerospace Center DLR. Since 2016 he has been a Senior Lecturer in Automotive Engineering with Sheffield Hallam University. His main research interests are: i) vehicle dynamics and control; ii) vehicle state estimation.
Brent Hines
Coach and Mentor
Brent knows firsthand the overwhelm and frustration that come from years of searching for the formula of a high performing life. In July of 2008 Brent lost everything…and, it was his fault. His career, his dreams, his identity and his future literally disappeared overnight. Since surviving those scariest of days, Brent has researched, tested, coached and mentored thousands of people who want more from life, who desire to live whole-heartedly and achieve high performance in all dimensions of life.
Jose Ucar
International Business, Marketing, NLP, Coaching and Public Speaking
Jose Ucar's mission is to Transform Business and People through the Power of Advanced Public Speaking and Communication Training. Jose's background is a combination of International Business, Marketing, NLP, Coaching and Public Speaking. Life for him started in Venezuela, where he was born. Jose began his travels when he was 16 years of age, being propelled by an incredible desire to learn new languages, meet new people and see the snow. Since then, he has been to many countries presenting on behalf of the Businesses he used to work for and also delivering trainings on Communication and Public Speaking.
Julia Gash
Creative serial entrepreneur and map maker extraordinaire
Julia Gash is a creative serial entrepreneur and map maker extraordinaire. She collaborates with a global portfolio of licensees in creating sustainable and stylish souvenirs, sold under her eponymous brand, in prestigious and retail outlets and destination boutiques throughout the world. Throughout a 30-year career, Julia has successively built and sold several businesses as they have evolved through her creative input and innovative approach to leadership. As the Founder and CEO of high-growth, ecologically and ethically driven manufacturing company BIDBI, she played a key role in the introduction of cotton tote bags as an ecological alternative to plastic bags in the UK, turning it into the IT bag of the 21st Century.
Lucian Tipi
Academic Leader in Finance, Accounting, Business Systems and Management
Lucian Tipi has a pedigree of academic leadership in a wide range of Finance, Accounting, Business Systems and Management areas at Sheffield Hallam University and International partners. Lucian's research interests are focused in the areas of Information Systems in Business, Project Management and Education. He has published in these areas, through case studies, books and book chapters, journal papers and conference papers. Lucian has been awarded a Teaching Excellence prize that recognises his contributions to teaching and learning. His teaching practice and impact has also been recognised by Advance HE (formerly Higher Education Academy). Cybercrime is his "flagship" teaching area and he takes an applied approach to this and has taught in this area internationally (Malaysia, Finland, Hong Kong, China).
Matthew Hoyle
Bodywork & Aerodynamics Lead
Studying for a masters degree in Mechanical engineering at Sheffield Hallam University, Team principal and long serving team member of SHU Racing Formula Student Team, Matthew's primary area of interest is the development and refinement of the aerodynamics package to be fitted to the 2020 SHU Racing car. Whilst also improving the performance of the car's aerodynamics, I am also placing greater importance on the use of sustainable materials within the manufacturing processes, as SHU Racing moves forward towards a greener future.
Oliver Vollans
Business and Marketing Student
Oliver Vollans, Business Development and Brand Manager for SHU Racing Team and final year BA(Hons) Business and Marketing student at Sheffield Hallam University. Instrumental in building and developing the business and marketing operations over the past four years with the team, deploying and managing a full rebrand and digital overhaul for the team in 2017 whilst ensuring the fundamental operations of the team remain uninterrupted. Oliver is working to develop a diverse skill set for clear and cohesive business and engineering departmental communication.
Pratik Renuse
Public Speaker, consultant and entrepreneur working
Pratik Renuse is a consultant and entrepreneur working in Amsterdam who has helped build businesses go from 0 to over 7 figures in yearly revenue. Prior to entrepreneurship, he worked at Airbus and Bayer where he was working with the senior management teams. His company helps startups with their marketing so as to grow to scaleups. He is an avid public speaker, executive board member of Amsterdam Toastmasters International and host of several personal development meetups in Amsterdam and Munich. He loves to travel and motorbike in mountains, which sparked after he rode on the world's highest motorable road. Sometimes you will find him talking with scientists and philosophers about ways purpose of humans on this planet.
Shona Kelly
Professor of Interdisciplinary Health Research at the Department of Social Work, Social Care and Community Studies
Shona Kelly is a Professor of Interdisciplinary Health Research at the Department of Social Work, Social Care and Community Studies, Sheffield Hallam University. Her work is interdisciplinary and crosses usually incompatible disciplinary boundaries, communicating complex science for the public. But it is her skill in understanding how others view the world (their conceptual framework) and the limitations posed by that framework that have made her a successful collaborator. She also navigates the distinct differences in expectations between academia, industry, bureaucrats and the third sector.
Sven Lauch
Conflict Trainer and Motivational Speaker
Born in communist East Germany, Sven Lauch restarted life, after the dramatic events of the Fall of the Berlin Wall, at the age of 15. On the road to recovery from the resulting emotional trauma, he learned a unique approach to dealing with setbacks and adversity, which enabled him to take full advantage of the opportunities those unpleasant situations presented. As a Conflict Trainer and Motivational Speaker based in Plymouth, Sven inspires and teaches others to do the same.