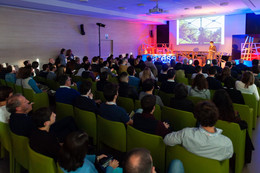 In the spirit of ideas worth spreading, TEDx is a program of local, self-organized events that bring people together to share a TED-like experience. At a TEDx event, TEDTalks video and live speakers combine to spark deep discussion and connection in a small group. These local, self-organized events are branded TEDx, where x = independently organized TED event. The TED Conference provides general guidance for the TEDx program, but individual TEDx events are self-organized (subject to certain rules and regulations).
Speakers
Speakers may not be confirmed. Check event website for more information.
Elena Castiglioni
Educatrice museale
Elena Castiglioni si occupa di educazione e gestione museale e progettazione per i beni culturali. Si è laureata in Lettere con indirizzo classico presso l'Università degli Studi di Milano con un tesi di argomento archeologico. É socia di Archeologistics snc, società che gestisce luoghi della cultura, dai piccoli musei ai siti Unesco. Scrive e sviluppa progetti per il coinvolgimento culturale del pubblico scolastico ed adulto e definisce le linee guida di sviluppo dei luoghi dove opera la società. Collabora con FAI, con la Veneranda Biblioteca Ambrosiana e con il Ministero dei Beni Culturali, Ambientali e del Turismo.
Leonardo Previ
Presidente Trivioquadrivio
Nel 1990 si laurea in architettura al Politecnico di Milano e nel 1996 fonda Trivioquadrivio, il laboratorio d'ingegnosità collettiva che ha aiutato migliaia di manager in Italia, Europa, Asia, a frequentare gli aspetti più insoliti e fertili dell'innovazione e del cambiamento. Nel 2003 porta in Italia Lego Serious Play, insegnando ai manager italiani a pensare con le mani, mentre nel 2014 porta in India MAPPS, la metodologia di apprendimento organizzativo sviluppata da Trivioquadrivio. Di ritorno dall'India cura, insieme a Gianni Lo Storto, l'edizione italiana dei due volumi che hanno imposto l'innovazione frugale all'attenzione delle imprese italiane. Ha pubblicato sei libri (tra i quali figura il Manuale illustrato d'incompetenza manageriale, LSWR, 2015), e nel 2017 ha coniato il termine zainocrazia per raccontare il nomadismo professionale quale rimedio alla crescente burocratizzazione delle pratiche organizzative (Zainocrazia, LSWR, 2018).
Luca Rosati
Architetto dell'informazione
Luca Rosati è architetto dell'informazione. Col suo lavoro cerca di migliorare l'interazione delle persone con l'informazione, negli ambienti digitali, in quelli fisici, e nelle esperienze omnicanale. È tra i fondatori di Architecta, l'associazione italiana degli architetti dell'informazione, e formatore per università e imprese. Il suo ultimo libro è Sense-making. Organizzare il mare dell'informazione e creare valore con le persone (UXUniversity, 2019). Adora le costruzioni Lego, la pista Polistil, i vini rossi invecchiati.