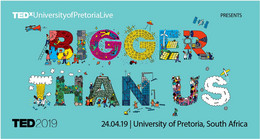 TEDxUniversityofPretoriaLive is a flagship viewing initiative by TED to engage more diverse audience into experiencing annual TED conferences. TEDxUniversityofPretoriaLive will host a viewing party of one of the numerous sessions of TED 2019. There will be no live talks or performances at the TEDxLive viewing, and will not follow the format of normal TED(x) Talks.
Due to the stringent security restrictions at the University of Pretoria, the TEDxLive will only be limited to University of Pretoria Students and Alumni (provided you have access to campus).
Please follow our social platforms for further updates on TEDxUniversityofPretoriaLive (Facebook, Twitter and Instagram: TEDxUPretoria).
The TEDxUniversityofPretoriaLive event is free.