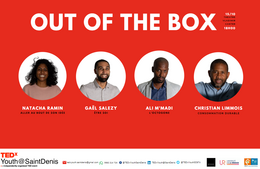 Le thème de cette année est « Out of the box », et chaque présentateur s'efforcera d'inspirer la curiosité travers des conférences devant une salle comblée. Thinking outside the box signifie penser différemment, de façon non conventionnelle ou selon une perspective nouvelle.
Speakers
Speakers may not be confirmed. Check event website for more information.
Ali M'Madi
Ali M'MADI Âgé de 31 ans , il est né à Sainte Clotilde d'un père comorien et de mère malgache il est diplômé d'un Master de responsable développement commercial de l'institut supérieur de management . il a voulu rapidement mettre en pratique, ses connaissances notamment avec la start up week-end 2013 où il finit lauréat avec un projet sur l'application pour les transports en commun à la réunion. Passionnés de nouvelle technologie il est responsable commercial dans une entreprise informatique où est proposer une pléthore de produits technologique . Il est présentateur d'un journal high-tech « JTHT » qui a pour objectif de mettre en avant, avec humour, les nouvelles pépites technologique . Pour lui l'avenir c'est du passé en préparation et la pugnacité en est le moteur
Christian Limmois
Christian Limmois est passionné par la nature, la plongée et l'environnement. Il a suivi des études d'ingénieur en aquaculture. Après quelques mois à travailler en aquarium public et en ferme aquacole, il a rejoint le monde du commerce en y occupant des postes de management dans deux entreprises pionnières du développement durable. Après 14 ans en tant que salarié, conscient de l'urgence climatique, il décide de créer CAWAN Concept à la naissance de sa fille. Il est persuadé que l'on peut lier consommation et développement durable.
Gaël Salezy
Gaël Salezy est né en 1987 à Chambéry. A 6 ans il arrive sur l'île de la Réunion, terre d'une culture riche de sa diversité. A 24 ans, avec un bachelor de commerce il souhaite intégrer une des plus grosses banques d'Australie. Mais malheureusement une maladie grave va casser ses ambitions.