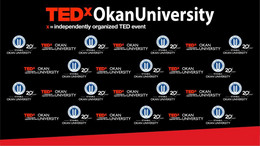 Our theme at TEDxOkanUniversity is Shaping the Future; Which is particularly about what is after the university and the obstacles that are awaiting for the students after they graduate, where they are the main targeted ones as attendees.
What are those barriers like? And how to overcome them? What to expect from the job marketing? And how to be successful at them?
As aforementioned, the attendees are mostly students, where they are from different departments, having different interests from different cultural backgrounds, and pursuing different careers.
Speakers
Speakers may not be confirmed. Check event website for more information.