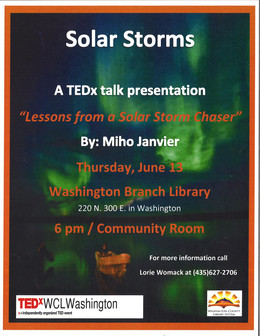 The Washington Branch Library will be hosting a TEDx event on "Solar Storms" on Thursday, June 13 at 6pm. This program will be held at the library located at 220 N. 300 E. in Washington.
This program will feature a TEDx talk entitled "Lessons from a Solar Storm Chaser" given by Miho Janvier. Ms. Janvier discusses the impacts of a solar storm on the electricity grid in 1989 that impacted Quebec, Canada in a big way. She further discusses other possible impacts of solar storms on our daily lives and virtual communication. This talk was given at TED International on December 12, 2017.
Ms. Janvier is a Space Physicist from France. She has spent much of her career trying to understand solar storms and their impact on our solar system. She and her colleagues are trying to learn how to better predict "Space Weather".
We will be discussing ways we can be prepared in the event a solar storm disrupts our lives as we know it. Participants will be discussing ways they can put a plan into action that will allow them to communicate with family members in the event of a solar storm emergency. The basics of what you need to have on hand and prepared will also be a major point of discussion.
Join in our discussion of this interesting topic. Participants will learn more about Solar Storms, Solar Flares, and Prediction of "Space Weather". For more information about this program contact Lorie Womack at (435)627-2706.