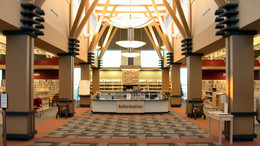 Mistakes are bad. We feel foolish when we make them. We laugh at other's failures. We hate being wrong.
But what if we're mistaken about feeling wrong? And what if we've got the wrong idea about our mistakes?
Join us for a TED-Talk (followed by group conversations) about how our tendencies and desires to be and feel right might not only be wrong, but problematic for us.
We look forward to seeing you there!
---
As always, registration for this Salon is also requested through the library, using this CPL link (please copy and paste if needed):
https://events.calgarylibrary.ca/programs/online-registration?1pncRsLnfzJ6qDWAvgXbzqVaKd6%2b6aSKrBu2t1fXoYEXV96G6F7IPIhbhk3Eu%2fi5%20=
You must be a member of the library to use their registration system. Library membership is FREE. (And awesome.)
PARKING at Crowfoot Library:
Crowfoot is the most popular NW branch, and parking is often scarce. Overflow parking is available in the High School Parking Lots to the west, after 5pm. As well, buses #113-eastbound and #76 connect the Crowfoot C-Train Station to the Library.