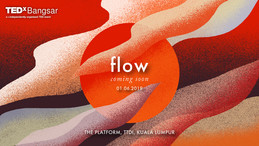 Experience the flow of inspired ideas that stem from local and international communities coming together in the spirit of TEDxBangsar's mission! Let us champion ideas and causes from across every country, every age and every background!
Come along to the first ever TEDxBangsar event and join us on a journey to learn and grow together with remarkable people! With an interesting and diverse speakers lineup ranging from public figures and business leaders to creators and innovators, the theme of Flow invites everyone for a lifelong adventure of transformation.
#TEDxBangsar #Flow #IdeasWorthSpreading
There are so many reasons why you should be at TEDxBangsar in June 2019. But here are eight really good ones!
Announcing our first batch of speakers :
- Steve Chao, Investigative Documentary Maker
- 高以翔 Godfrey Gao, Actor, Model & Entrepreneur
- Darren Jiang, Entrepreneur & Youth Movement Builder
- Tanya Wells, Singer Songwriter & International Performance Researcher
- Brian Garcia, Graffiti Artist
- Daniel Dahlqvist, Leadership Expert
- Chong Fui-Yu, Entrepreneur & Service Marketplace Builder
- Paulo Vinicius, Composer and Classical Guitarist
Speakers
Speakers may not be confirmed. Check event website for more information.
Musician & Social Entrepreneur
Alena Murang draws on her indigenous Kelabit heritage to share songs from the Pre-Christian, Peace-making, and Contemporary era of her people. She is one of the first and few females to play the sape', a musical instrument traditionally played by shamans for ritual-healing, under the tutelage of sape' masters Mathew Ngau and Salomon Gau. At the age of 12 she formed a band with her cousins that debuted at the Rainforest World Music Festival, Sarawak, and she has not stopped performing since. Alena rearranges folksongs and composes originals in native Kenyah and Kelabit tongues, endangered languages of Borneo. Growing up around the world's oldest rainforests, she seeks to draw attention to the beauty of the environment. Based in Malaysia, Alena Murang has been playing international shows since 2014, often solo, and sometimes with a band. in 2018 she put together her own band which will now be her focus.
Conscious Brand Founder
Atiyya (in her own words) is a working-stay-at-home mom. She is a serial slasher that juggles between motherhood, running 2 companies and freelance work. She manages and leads the creative direction of Real.m and Unplug while also running their social media. She is passionate about being able to express herself, either through dressing, through what she listens to or just being creative in her work. She channels this eagerness to express herself into all aspects of her life. Not content with doing things the conventional way, she pushes boundaries by creating different experiences and she applies this to both her own life as well as her work. At the end of the day, she yearns for a simple quality life. Her experiences and journey has tested her in many different ways, but she believes in and will continue to work towards becoming a super mom!
Author & Financial Advisor
Brenda is the first woman in the Licensed Financial Advisor category in Malaysia to be inducted into the Million Dollar Round Table - a global association for the world's top 1% financial practitioners. She is an extraordinary woman who is able to maintain well balance between running all her businesses and being a single mother of 3 lovely children. She believes that financial planning is one of the key factors in living a well balanced life. As the Group Managing Director of KP Global Holdings Sdn Bhd, she founded the "Wealth of Life" training series which is a life and financial education program for all age groups that is growing rapidly in Asia. Brenda holds qualifications in advertising (IAA, NY, USA), business management (SIHE Wales, UK), financial planning and she is a licensed Financial Advisor. In addition to that, she runs a successful financial planning practice by Bank Negara & Securities Commission. She is also an author, columnist and media personality.
Graffiti artist
As a young fellow Brian was heavily influenced by Chicano art mailed to him by his uncle incarcerated in a California penitentiary and it sparked his artistry in these younger years. At the age of 14 he devoted himself to bicycle freestyle riding where he was then famed the name "Taz" after "Tasmanian Devil" for his high accelerated wind whirling innovated maneuvers. In his adolescences he was introduced to spray-can art , airbrushing and the art of b-boying. This is where the "Roc" was introduced to the end of "Taz". His stage name was born, "Tazroc". With his relentless determination and passion he began to pursue his purpose as a graffiti artist. In this time he succeeded in the legalization of graffiti walls of his inner city boroughs.
Entrepreneur & Youth Movement Builder
Born and raised in China but spent more than half of his life growing up in America, DJ, as the Founder and General Manager, possesses a unique combination of bi-cultural upbringing, academic background and work experiences. In 2005, he participated in a MTV reality show production called "Nike Battlegrounds" where he was eventually selected to be one of the top 10 amateur hopefuls and the only Asian American to represent New York City. His project with Godfrey Gao, PB (Personal Best) was born in 2014. Shifting from an experienced corporate white-collar to an entrepreneur, DJ has always kept his focus and faith while never been afraid of challenges and potential mistakes. Through his actions, he's inspired youths across China to strive for their own Personal Best.
Entrepreneur & Service Marketplace Builder
Fui is the CEO & co-founder of kaodim.com, the leading platform for local services in South East Asia. He is digitizing SMEs and transforming the way people hire plumbers, cleaners, photographers, wedding planners and many more. Together with his team, Fui has grown Kaodim from a two person startup to a regional organization with operations in cities across Malaysia, Philippines, Singapore and Indonesia. Before working on Kaodim, Fui spent 6 years as a corporate and commercial litigation lawyer. He is a builder at heart and works day and night to build and grow Kaodim. His passion is in big impact and positive change through business and entrepreneurship.
Godfrey Gao
Actor, Model and Entrepreneur
Better known for his acting and modelling skills, Godfrey Gao possesses a profound passion for basketball even as a little boy. This avid basketball player vows to provide a sports-based youth development programme to the youth without access to quality education. This dream is materialised through PB Camp. As a big believer in sports building discipline, Godfrey helps the youth to improve their skills in basketball and eventually, in life. He envisions himself continue to impact the youth just as how his life was changed through basketball. Streaming his passion for sports into a different area, Godfrey is also the founder of Youyu, a workwear line that is integrated with sportswear technology. Godfrey aspires to inspire people with his innovative and entrepreneurial streak. He believes that as a key opinion leader, he bears the responsibility to advocate change in the world.
James Gaubert
Digital Storyteller
James is a digital storyteller originally from the UK. He has worked in the UK, Europe, Middle East and now APAC. One of his key missions is to educate markets on digital technology, channels and disciplines, done through his blog, his books and also through speaking at events. He is always on a mission to make the complex simple; and the simple compelling! James has worked with thousands of brands, covering everything from Chanel to McLaren and Superdry to MAC, touching on every single industry. When it comes to digital he developed multiple mobile applications, websites and utilised various technologies such as VR/AR/AI and even 3D printing! What you might not know about James is that he is a huge animal lover and that he always travels with his dog Molly. His proudest moments in life include his two best selling books on Amazon, his son and his collection of over 75 pairs of shoes which borderlines between passion and obsession.
Creative Hub Builder
Jasmine is the chief curator of Original Festival (including Taiwan Lovely Home) and CEO of Have Fun Creative. Her expertise is in space management for creative hub and curating. She is obsessed with artistic innovation and the history of old building so she tries to come up with new possibilities and sustainable existing meanings for old spaces, making Songshan Cultural and Creative Park the famous originality hub in Taipei. Through communication, she explores the value of things and the talent of people. She is dedicated to establishing creative platforms and cultivating promising creators. She believes that the warmth of culture comes from the interpersonal connection.
Education Activist
Throughout his childhood and formative years, Kush's education spanned the globe. From an independently run nursery in Rome, Italy, to an international school in the foothills of the Himalayas, India, he has been immersed in a variety of cultures and teaching methods. In the process, he has learned Mandarin, Indian Classical music and cultivated an all-encompassing worldview. The culture shock upon returning to secondary school in England, following his time in India, and the subsequent struggle, sparked a passion in him early on to explore the mechanisms of education systems. He has embarked on a lifelong quest to discover ideal teaching methods and the most nurturing of learning environments. His search has led him to a unique learning academy in Kuala Lumpur called KidoCode that aims to unlock the full potential every single child, regardless of their abilities.
Restauranteur & Social Entrepreneur
With an degree in Art History and a Masters in Film Studies, Lyn started off as an intern and worked her way up the corporate ladder in the broadcast and media content production industry within a span of 10 years and 7 countries she called home. After brokering over 50 broadcast license deals with television and online channels worldwide, Lyn was spearheading an international sales team as Vice President at dynamic tech startup earthTV Networks in Germany before making a bold decision to return to her hometown, Kuala Lumpur in late 2014. Enter her game-changing restaurant concept RUYI & LYN, the reason she returned to Malaysia, adding a point of difference and value to her family business : pioneers of Malaysian Chinese Fine Dining that is the Oriental Group of restaurants.
Nisa Ismail
Customer Loyalty Expert
Khairul Nisa Ismail has had a rich and varied experience in customer loyalty and customer relations. She has worked in many different industries ranging from cybertechnology, telecommunications, market research and banking industries. One of highlights of her experience include her position as the Head of Enrich & Loyalty for Malaysia Airlines Berhad. She was entrusted to transform Enrich into a leading-edge loyalty program. As Head of Loyalty for the airline, Nisa had to call upon her extensive knowledge of the aviation industry, which runs the gamut from low-cost to private charter airlines, to expand the membership lifetime value of Enrich members via targeted and personalised offers from Malaysia Airlines and third party lifestyle partners. This transformation takes the customer experience beyond superb air travel and ensures the best member-only experience with Enrich.
Composer & Classical Guitarist
Paulo Vinícius from Brazil has studied music from some of the world's top classical guitarists, namely Pablo Marquez, Franz Halász and Fabio Zanon, which has equipped him with a versatile, dynamic technique and a captivating stage presence. His varied background ranging from European classical training to award winning performances allowed Paulo to bring his rich and varied experience as Musical Director to Seven Eyes. He is now known as a "guitabla" player on the Indian Subcontinent as a result of his percussive Brazilian inflections and discerning ear for harmony, fusion and 'groove'. Along with Tanya Wells, Paulo expresses a wealth of diverse influences that characterise the sound of Seven Eyes.
Author & Business Writing Expert
Shirley has always been curious about the way people communicate. So when the opportunity came after she studied at teacher-training college, she surprised herself by accepting a job at the other side of the world, in Singapore. Quickly discovering the challenges of communicating across cultures, Shirley then began her journey of helping others to communicate more effectively, especially in the workplace. Her passion eventually led her to start writing as she wrote for international publisher, Pearson. Since then, Shirley has established herself as a leading authority in modern business writing and communication. She is the author of many successful books, including an international bestseller that has sold over half a million copies worldwide and has been translated into 17 languages.
Investigative Documentary Maker
As a curious boy who grew up with perpetual scrapes and bruises, Steve Chao found his calling exploring the world as an investigative journalist and war correspondent. For more than 20 years, he's been on the frontline covering conflicts and devastating natural disasters all over the world, from Tohoku to Afghanistan. With a heart to give a voice to the voiceless, Steve has gone undercover to expose corrupt United Nations and government officials. He has exposed notorious wildlife traffickers of endangered animals. He has embedded with president Rodrigo Duterte to examine his controversial war on drugs. With two Emmy nominations and voted the best current affairs presenter by the Asian TV awards three years running, Chao's work has been recognized internationally.
Singer, Songwriter & Internation Performance Researcher
Tanya Wells is British/ Swiss and spent several childhood years living in North India where language, diverse music and culture informed the ears and imagination of this talented singer. Her flexible vocal style (attributed to years of having learnt Hindustani classical vocal) has given her opportunities to perform with world renown artists such as sitarist Anoushka Shankar (Cannes Film festival 2014) as well as lay down vocals for award winning film composers such as A.R. Rahman. With a double Masters in International Performance, Tanya now embraces the praxis of bringing cultures together to tell stories through music. Her passion led her to establish Seven Eyes which has since performed at the UN in New York amongst many other global festivals and events. They are regulars on BBC Asian Network, and other TV networks and are regarded for their appeal to bring together diverse music and various languages from around the world together in a single performance.