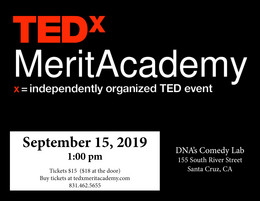 Come hear from the future leaders of America! They'll share with you their innovative ideas worth spreading!
Speakers
Speakers may not be confirmed. Check event website for more information.
Arul Mathur
Student
Arul Mathur is a tenth-grade student in Danville, California. He has a passion for public speaking, and competes in speech and debate tournaments across the Bay Area. He also has an interest in computer science and medicine.
Nicole Jones
Prosecutor
Nicole is a photographer, a genealogist, and a trail camera enthusiast who has channeled her love of sleuthing and underdogs into a career as a prosecutor. She has been accused of being a not-so-closeted social worker, a homeless doggie advocate, and often preaches gospel of chronicling, digitizing and archiving life events. Nicole spends her free time to figure out how to make her right-brained tendencies fit into her left-brained world.
Sethumadhav Perumalla
Student
Sethumadhav Perumalla is a senior and interested in business and finance. He enjoys playing video games, spending time with friends, and reading. He wants to help other teens learn about online and social media dangers which pose significant threats to themselves and others.
Shreya Agrawal
Student
Shreya is a sophomore in high school who is very passionate about animals. In her free time, she likes to read, draw, sing and play badminton. Her ultimate goal is to help stop animal abuse and help them live a better, more natural life.
Spencer Balliet
Entrepreneur
Spencer Balliet has a passion for computer science and technology. He runs his own virtual reality company to help introduce world to the amazing new technology being developed.
Zachary George
Student
Zachary George is a high school senior and does many activities outside of school relating to teaching through mentoring, leadership positions, and tutoring at his local high school and middle school. Zachary hopes to help improve his teaching skills and the world of education.