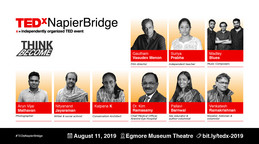 Who would have thought that a falling apple would have led Sir Isaac Newton to discover gravity? How could a boycott movement end a two-hundred-year British rule in India? How did a few hundred apolitical youth, demonstrating at Chennai's Marina Beach, spark off the historic Pro-Jallikattu protests?
Throughout history, a single thought has often been the spark that drives a seemingly insignificant act, which has the potential to become a revolution. This year, TEDxNapierBridge focuses its spotlight on the atomic sparks that spawn the incredible changes that our community is witnessing and their origins. We aim to showcase how cause leads to an effect, how thought transforms into action via TEDxNapierBridge2019's theme: Think, become.
Welcome to TEDxNapierBridge 2019 where we will seek to challenge and reshape our core beliefs about today's reality through thinkers, dreamers, and mavericks who offer bold new perspectives.
We believe that ideas get traction only when communities and families are personally involved and ideas are made real and accessible. That is why we invite you to the famous Egmore Museum Theatre on August 11 to access the people and ideas that make Chennai so dynamic. You are inviTED!
Speakers
Speakers may not be confirmed. Check event website for more information.
Photographer
A Kanyakumari based, engineer-turned-photographer, Arun Vijai Mathavan is working on environmental issues and social documentary. He is particularly interested in exploring issues of spaces with its relation to the environment and urbanisation.
Chief Medical Officer, Aravind Eye Hospital
The Director of Information Technology & Systems at Aravind Eye Care System, Dr. Kim is currently working with Google to develop an artificial intelligence-based screening for diabetic retinopathy.
Film Director
Known for his exemplary plots and directorial device, Gautham Vasudev Menon explores the narrative of romance, action, and grief in his films with poise, subtlety and grace.
Kalpana K
Conservation Architect
Kalpana has worked extensively in the field of building conservation and architectural education. She oversaw the conservation of the Senate House of the University of Madras.
Madley Blues
Music Composers
Creation, collaboration and easy listening - These are the ideas that led to the making of Madley Blues. It is a contemporary band that collaborates to deliver soulful musical journeys accompanied by acoustic richness and energy.
Writer & Social Activist
An engineer turned journalist and activist, Nityanand describes himself as a solidarity worker who generates city-based support for community struggles against corporate crime and solidarity against government high-handedness in dealing with such struggles.
Sex educator & author-columnist
Through her nation-wide offline initiative "Tongue Tied," Pallavi brings men and women in a safe, compassionate space for a fluid and honest discussion about personal sexuality and intimacy.
Independent Teacher
Suriya Prabha takes seemingly complicated topics where they are presumed unreachable. Using Play-Way teaching method, Machine Learning and Artificial Intelligence, among other topics, to middle school children in underprivileged rural towns.
Novelist, historian & columnist
Venkatesh founded the Cooum Cultural Mapping Project to understand the history and culture of a river turned into a sewer. He also conducts heritage walks and gives lectures on the madras of the 1940's.