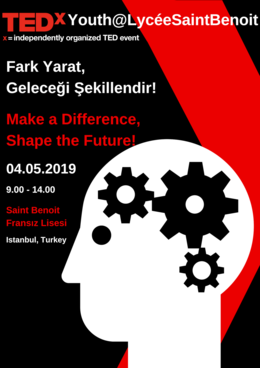 "The future depends on what you do today." - Mahatma Gandhi.
How can we expect a different future without doing something today to change it? Our life will be the same 1 second later and 10 years later if we continue doing the same ordinary things. The inevitable solution to shaping a better future is to make a difference in every aspect of our lives.
We need to stand up and make a difference if we want to shape our future.
1) Nature and agriculture:
a) Why:
Turkey, despite its vast natural resources, is facing great challenges in agriculture and the future of food reserves in our country is at stake. This, mainly due to the harm made to agricultural areas because of the industrial or living areas (habitation) and the lack of understanding of the damages of conventional agricultural methods.
b) Ideas:
i. Introduce the idea of "Organic architecture" which is a philosophy of architecture that promotes harmony between habitation and the natural world. This idea is actually not new in the world, even goes as far as the beginning of the 20th century. While examples of such architecture can also be found in Turkey from the beginning of the precious century (in Harran), as we reach the "modern" times and and because of our obsession with technology, we do not see many examples of "organic architecture". Organic architecture should be a promoted and hold a bigger part of the future habitation.
ii. Alternatively, we thought we could also speak about sustainable and modern agricultural methods - that do not harm the natural resources. The concept of farmer in Turkey is usually misperceived as someone who just happens to own a farm. While in the world agricultural engineering is a highly respected profession, in Turkey it is even difficult to find relevant universities and, needless to say, that an agricultural engineer is now rewarded enough. The change can happen only when as consumers and as habitant in this county and in this world we demand that agriculture is in the hands of those who study and know how to implement the technology to sustainable methods and not of those who just happen to own a farm.
2) Technology:
a) Why:
There is no need to argue about the role of AI, and robotics in our daily lives. However, the need, even the obligation, to consume technology solutions in various industries is not recognized Since most of the technologies consumed in Turkey are developed abroad, it is time we think how can we, as the future generation of this country, can make a difference so that the next technology will be "Made in Turkey".
b) Idea:
Exploring the main challenges of being an entrepreneur in Turkey in the field of technology and ways to overcome those in the route from an idea to a successful company. For instance, the perception of the industry toward the necessity of digital solutions, the need for financial investment and bureaucratic support for startup companies. How to find your way in hi-tech companies to shape the future?
3) Personal development:
a) Why:
The way to make a difference as a society is through the personal development of each one of us. Otherwise, it is inevitable that one becomes "ordinary" and eventually loses his identity within the whole. The personal development should not only be in one vector alone but should be in every aspect of life, starting from mindfulness through physical and cultural development.
Creativity is the defining characteristics of the 21st century economies just as manufacturing typified 19th and 20th centuries. A creative economy is based on people's use of their creative imagination to increase an idea's value.
b) Ideas:
Leisure time can affect human capital by improving individual's intelligence, creativity and learning capacity if leisure time consumption is diverse. Situating the consumption of leisure commodities such as expressive arts, popular music, television, motion pictures, meditation, physical activities increases the labor productivity, enhances creative communities and thus increase economic growth.
Speakers
Speakers may not be confirmed. Check event website for more information.
Alkın Deniz Arseven
student
Saint Benoît Lisesi 10. sınıf öğrencisi. Türkçe, İngilizce ve Fransızca konuşuyor. 2 yıldır okulun MUN kulübünde okulunu ve ülkesini temsil ettiği 16 konferansa katıldı. Aynı zamanda spor olarak 3 yıldır motor sporları ile uğraşıyor. 2018 Ralli Gençler Klasmanı Türkiye 4'üncüsü oldu. Öncesinde ise 8 yıl basketbol ile uğraşmış okul takımı ile Türkiye 5'incisi oldu. Hayatında her alanda kendini geliştirmeyi ön görmüş olan Alkın okulda Fransızca fen münazarası projesini de yönetti.
Aylin Yazgan İyicik
Human Resources Directeur/ Coach
Aylin İyicik, bireysel koçluk, takım koçluğu, ve etkili diyalog oluşturmak konusunda kendisini geliştirmiş bir profesyoneldir. Aynı zamanda İnsan Kaynakları Direktörü olarak da kariyerine devam etmektedir. Adler Central Europe ICF onaylı Profesyonel Koçluk Sertifika Programı, İleri Düzey Koçluk: Practicum ve Adler Eğitimcinin Eğitimi programını tamamlayan Aylin İyicik, Adler Central Europe bünyesinde Fakülte üyesidir. Kariyerine 1999 yılında Profil International şirketinde insan kaynakları danışmanı olarak başlayan İyicik, daha sonra Koç Topluluğu'na katılmış ve halen görevine Koçtaş'ın İnsan Kaynakları Direktörü olarak devam etmektedir. Koç grubundaki 16 yıllık kariyeri boyunca Koç Allianz'da İnsan Kaynakları Yöneticiliği, Koç Holding'de de Yönetim Geliştirme Yöneticiliği yapmıştır.
Farmer
2000 yılından beri eşiyle kurdukları Gündönümü Ziraat ve Hayvancılık İşletmesinde ;ekibi ve inekleriyle kaliteli çiğ süt üretimi için çalışmaktadır. Genetik ve ıslah,büyükbaşta hayvan ırkları ve özellikleri,buzağı bakımı,sağım teknikleri ve kaliteli çiğ süt üretimi,besleme,mera yönetimi,kaba yem üretimi,gübre sistemleri,ineklerin taranması ve gözlemlenmesi ana çalışma alanıdır. İşletmede yerli yabancı turist misafir ederek ineklerin ve çiftlik işlerinin yeni bir anlayış ve işbirliği ile yapılmasını koordine etmektedir. Çiğ süt satış ruhsatlı "Aysun The Sütçü" markası ile işletmesi Gündönümü'nde üretilen ürünleri ve 8.100 komşusunun ürün ve hizmetlerini kapı teslimi üyelik hizmeti ile tüketicilere ulaştırmaktadır.
Berilsu Tunç
student
5 yaşında başladığı fransızca öğrenimini Saint Benoit Lisesi'nde 10. sınıf olarak devam ettirmektedir. Fransa'da birçok MUN'de bulunmuştur. Okulun resim sergisinde çizerlik yapmıştır. Konferanslarda ve sanatsal etkinliklerde katılımcı olarak bulunmaktan hoşlanır. Psikolojiyi, sanatı ve konuşmayı sever.
Bilgehan Bilge
Doctor
4 Nisan 1966'da Eskişehir'de doğan Bilgehan Bilge evli ve 3 çocuk sahibidir.Eğitimini Ege Üniversitesi Tıp Fakültesinde, Uzmanlık eğitimini İzmir 9 Eylül Üniversitesi'nde de Nöroşirurji kliniğinde almıştır. Şu anda Özel muayenehane hekimliği yapmaktadır. Ayrıca Fulya Acıbadem Hastanesi, Bahçelievler Memorial Hastanesi, Özel Ataköy hastanesi ile Nöroşirürji dalında akreditasyon faaliyetlerinde bulunmaktadır. Nd YAG Laser Nükleoplasti tekniği ile Avrupa'da ilk boyun fıtığı operasyonunu yapmıştır. Skolyoz Cerrahisinde "Modüler Mass Plaque" tekniğinin ilk uygulayıcısı, RF nucleoplasty ve PIRFN tekniğinin Türkiye'de ilk uygulayıcısı ve eğitimcisidir. Uluslararası bilimsel dergilerde 4 yayın, ulusal kongrelerde kabul görmüş 27 bilimsel çalışma ve bildirisi vardır.
Doruk Öncüloğlu
student
Saint Benoît lisesinde 12. sınıf öğrencisi, çoğu okul arkadaşı gibi, toplum hayatının sunduğu beşeri ve anlamsız olanaklarından yararlanarak, ileride unutulacak bir çok önemsiz işlere imza attı ve atmaya devam ediyor. Başta kendisi olmak üzere tüm insanlığı hayatın koskocaman şelalesinde küçük bir damla olmaya çalışması sebebiyle kınıyor, insanlığı ilkel güdü ve anlamsız çabalarından arınmaya, sahip olduğu bilinci keşfetmeye ve evrilmeye davet ediyor.
Elif Dülger
student
Saint Benoit'da 9. sınıf öğrencisi. Sosyal sorumluluk projelerinde etkin olarak yer alıyor. Aynı zamanda 3 arkadaşı ile kurdukları sosyal sorumlulukla ile ilgili bir derneğin kurucu üyesi. Hayatında tiyatro, piyano ve dans önemli bir yer tutuyor. Uzay ile ilgili bilimsel çalışmaları yakından takip ediyor. Bu konu ile ilgili çeşitli eğitimler aldı ve konferanslara katılmaya devam ediyor. En büyük hayalinin bir gün uzayın derinliklerini keşfetmek olduğunu söylüyor.
Chef
Anamur'da doğdu. İlk, orta ve liseyi İstanbul'da; üniversiteyi Ankara'da okudu. Hacettepe Eğitim Fakültesi'nden mezun oldu. İstanbul'da 6 yıl ilkokul öğretmenliği yaptıktan sonra, İstanbul Le Cordon Bleu'de, mutfak ve pasta şefliği bölümlerini bitirdi. Öğretmenliği bırakarak şefliğe başladı. 2016 yılında Londra'da Atelier de Robuchon'da çalıştı. 2014'te Nezahat Gökyiğit-Edinburgh Royal Botanic Garden bahçıvanlık sertifikasını aldı. 2017'de İstanbul Permakültür Kolektifi eğitimlerine katıldı ve Permakültür tasarımcısı oldu. 2017 yılı başından beri Bein Gurme kanalında her hafta yayınlanan Şerife ile Yaşam programlarını çekiyor ve kendi evinde Şerife ile Bir Gün adını verdiği yemek atölyeleri düzenliyor.