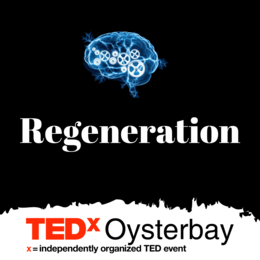 Some parts of our bodies can repair themselves quite well after injury, but others don't repair at all, As Humans, we go through challenges and tough times that make us feel weak and worn out, there is a need to pause the race and re-think over the long journey ahead and sharpen our ability, we have to regenerate and give birth to new ideas, tactics, and solutions. TEDxOysterbay 2019 will bring to light different people from different backgrounds to stimulate giving birth to new ideas.
Speakers
Speakers may not be confirmed. Check event website for more information.
Corporate junkie
Aashiq Shariff is the former CEO of Raha, an IT and broadband connectivity company. With his keen business perspective, Aashiq has shifted focus and is currently an advisor to a variety of start-ups, aspiring entrepreneurs and businesses across East Africa. Starting his career as a salesperson at an Internet Service Provider (ISP), in 1999, his passion for technology and people enabled him to turn a small ISP into one of the largest IT & broadband connectivity organizations in Tanzania, that was eventually acquired by Liquid Telecom in 2017. Aashiq's journey is truly a Tanzanian business success story! He has over 19 years of experience in the telecom and IT sector, where he has been able to develop and groom individuals, businesses, and played a pivotal role in improving technology & connectivity in the country and quite possibly, the African continent. His vision is to live forever by being meaningful and adding value to the lives around him, thus leaving behind a legacy.
CEO DARCH
Aida Mulokozi is the CEO of Dar Centre for Architectural Heritage (DARCH). A nonprofit organization that aims at saving and promoting historical architecture in Dar es Salaam and the wider East African context through research, documentation, education, professional training, community outreach and public cultural events. Prior to joining DARCH she worked for 15 years with the United Nations Criminal Tribunal for Rwanda (ICTR) at its Arusha and Kigali offices. She is a native of Tanzania and a fluent speaker of French has lived and schooled in Belgium and the United Kingdom. She holds a Master's degree in Linguistics.
Explorer/Traveller
Alberto is a World nomad who lived in 5 and backpacked in more than 43 countries, He is passionate about meeting people, discovering new cultures and eating local food. He is the Oldest brother of two, born in a little town surrounded by mountains in the north of Spain. He has a background in computer science, not a geek but passionate about technology and how technology could influence positively in people lives. Enthusiastic about nature. Most relevant things he has done in his search for a meaningful life are volunteering in Dlala Nje with Kids, run a Marathon, Diving with sharks and get a job in his dream company.
Ally Abdallah
Comedian
A/L/L/Y
CEO at Comprehensive Community Based Rehabilitation in Tanzania (CCBRT)
Brenda Msangi is the CEO of CCBRT, she leads the transformational journey of CCBRT to become a healthcare Social Enterprise serving the community and the most vulnerable with accessible, specialised services and development programmes. Brenda is a pioneer in deploying Lean Management in Healthcare in Tanzania. During her work at CCBRT she oversaw a key transition in the organisation's approach to health systems strengthening across the country; instead of providing direct service delivery, to build the capacity of other providers to deliver high-quality, accessible care in Tanzania. Prior to CCBRT, Brenda worked in the healthcare industry in the UK for over eight years. A holder of Masters of Pharmacy (UK), Brenda is currently completing her MBA in Healthcare Management at the University of Plymouth. Her sense of humour and energy enable her to tackle the complexity of her current role with positivity and determination. Brenda is married and a mother of three daughters.
Regenerative scientist (PhD)
Daniel is a lecturer and researcher at the Department of Molecular Biology and Biotechnology of the University of Dar-es-Salaam. Having a medical doctor and an engineer for parents got him interested in the sciences from an early age. He has always been interested in the power of science and technology to solve societal problems and transform our ways of living. This passion has directed his academic career towards being an educator. He has a Bachelor of Science from the University of Dar-Es-Salaam in Molecular Biology and Biotechnology, and a Master's of Science from the University of Heidelberg in Molecular and Cellular Biology, and a PhD in Regenerative Sciences from the Medical School Hannover. He has worked in stem cell biology and regenerative sciences focused on the development of hepatic cells upon differentiation from induced pluripotent stem cells and their applications as cellular models, suitability for gene editing/correction, and potential cell therapy use.
Artivist
Dave Ojay is an Arts Manager and an Environmental warrior. Eager to explore what his surrounding had to offer, he settled into creative performing arts after a short stint in journalism. His experience of working with international festivals inspired him to pursue cultural events at sites of natural heritage. Over time, he became concerned about Lake Victoria. The largest freshwater lake in Africa, on which millions depend, could be allowed to lie in the current sad state due to hyacinth menace and human activities did not sit well with him. Since then, Ojay has remained persistent in speaking for the plight of the lake through #JusticeforLakeVictoria art campaign as a full-time foot soldier. He founded NAAM Festival as a creative activism initiative to restore endangered lakes to their original grandeur. As a non-conformist, critical questions power Ojay's imagination for a better planet. He now runs a global environmental justice campaign for endangered lakes known as MYLAKEMYFUTURE.
Author "Marketing for an African Powerhouse", and Marketing Expert
Author of "Marketing for an Africa Powerhouse". Fatema Dewji grew up in Tanzania and went to Georgetown University for her undergraduate studies in Finance and Management. In 2010, she started working at Mohamed Enterprises Tanzania Limited (MeTL), one of the largest business houses in Africa. Fatema has been recognized as one of Africa's most influential women. She is the Head of Marketing at MeTL and founder of Educate, Empower & Inspire—a platform she uses to inspire those around her. With burning passion and gentle warmth, she has launched a series of videos on Marketing and Leadership with topics that include: focusing on your customers; maintaining a connection with your consumers; the makings of great leaders; and finding your purpose in business as well as in your personal life. Her vision is to make a difference globally.
Musicians, Song Writers and Founders of Mob27
"There is one thing that all the successful companies in the world have in common, non was started by one person" Ernesto Sirolli at TEDxEQ on 19 September 2012. Mob27 is the combination of two terms, Mob and 27. Mob is a short form of the word mobile, but also Mob simply means a group of people. and 27 is philanthropy and compassion in a cooperative atmosphere. Mob27 focuses on regenerating Tanzanian music Industry by providing education and means on how to overcome music career challenges. it comprises of Patrick Henry Donge and Fredrick Albert Komba who hold bachelor degrees of art in music from Tumaini University Makumira. Mob27 has managed to build their professional International exposure at World Council of Churches (WCC) in a conference. Currently, Mob27 is up to music production, Mob27 has steadily produced a six songs audio album of an upcoming gospel artist from Arusha and several independent artists, including supervising, writing and co-writing songs.
Education entrepreneur
Given Edward is an innovator working on educational technology in Africa. He is the founder and CEO of Mtabe Innovations, a startup that provides learning content and support to secondary school students with no access to internet, smartphones or textbooks.
Grace Matata
Musician
She is a 2015 Kilimanjaro Music Awardee and a Afro-Soul & RN'B Singer and songwriter
Public health specialist
Maureen Ogada-Ndekana is a pharmacist with advanced qualifications in health management and global maternal and child health. Maureen has 14 years of pharmacy practice and public health experience. Over the course of her career, Maureen had experience in big pharma, pharmaceutical service delivery and community pharmacy practice. In pursuit of increasing access to healthcare services and commodities in Tanzania, in the different roles she has held, Maureen has led a safe motherhood program that distributed clean delivery kits to women, she has led social marketing interventions for HIV prevention commodities and led the set-up of the first of its kind reproductive health franchise network in Tanzania. In her current role, Maureen leads the USAID global flagship private sector project whose initiatives seek to harness the full potential of the private sector and catalyze private- public engagement to improve Tanzania's health outcomes
Mussa Mwangi
Poet
Bio to be Updated
Psychologist
Nadia Ahmed is a Psychologists and Registered Counsellor registered with the Health Professions Council of South Africa (HPCSA), her training and clinical work focus on the screening and intervention of mental health issues among children, adolescents and adults. She provides short-term structured psychological intervention and counselling with a diverse range of individuals. Nadia is a lecturer at Hubert Kairuki Memorial University and is a valued member of the University's Psychosocial Wellness Centre. Nadia is a licensed Yoga instructor, offering private as well as group yoga sessions and leading wellness retreats where she combines knowledge from psychology and yoga philosophy, geared at promoting personal growth and improvement. Her interests are in providing holistic services that blend psychology and preventative interventions (such as, yoga) that focus on support and promote the enhancement of well-being, to guide in the actualization of one's highest sense of self.
Communication specialist
Tunu is a Communications Professional and has 10 years' experience in Non-Profit organizations across education, research and health. She implements programs that raise awareness and subsequently fund treatment interventions for individuals and couples with infertility related challenges. With first-hand experience on dealing with infertility, as well as a group of expert advisors on the board, she poses a deep understanding on the stigma, challenges and financial burden involved. Tunu deems herself best positioned to help trying individuals and couples navigate through the experience and find their Joy as she has managed to. She is the CEO of JOY foundation that aims to shed a light on the stigma and insensitivities around infertility in the community by raising awareness on how to help struggling individuals and couples cope with infertility. She also works on strategic communications targeting youth to promote healthy lifestyles, sexual and reproductive health at Femina Hip.