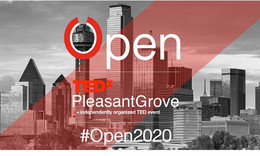 "A mind is like a parachute. It doesn't work if it is not open." -Frank Zappa, Musical Icon
TEDxPleasantGrove 2020 is an independently organized event that seeks to open minds by sharing ideas worth spreading from transformational game changers and thought leaders who open doors to new possibilities. The theme is "open" - allowing access, not blocked.
TEDxPleasantGrove | EVENT SOLD OUT!!
Speakers
Speakers may not be confirmed. Check event website for more information.