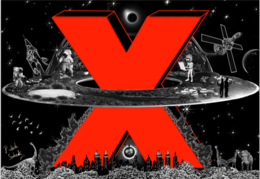 The theme this year "Back to the Future" is intended to make us think twice about the ways in which the history changes us and affects the future. Join our speakers on their journeys through time as they explain to you why it's important to maybe look up and enjoy what's around you now rather than worry about what has gone or is yet to come.
Speakers
Speakers may not be confirmed. Check event website for more information.
Adam El Rafey
Student
Never Underestimate an 8 year old! In this engaging TEDx talk "Never underestimate an 8 year old", Adam, the youngest TEDx speaker to date, shares his perspective on the current education system and questions how it could be better geared for his generation. How does light travel at its own speed despite its mass? Why do we put a minimum age on learning? Why do kids have to color within the lines? Why isn't learning more personalized given we are living in an age of AI? Why can't I get a job at age 8? With an arsenal of questions sure to baffle any adult, Adam uses his humor to deliver valuable insights on schools, creativity, technology, social media, employment and more. Freedom to learn advanced physics, structure his own timetable and of course play "MIND - craft" (Adam's Minecraft!) are all he asks, how could one say no? #abilitynotage #childspeakers #youth #education #change #empowerment #personalized learning #innovation #AI #creativity #gifted #future
Alisha Ahmad
Student
Born in Britain, raised in Dubai, yet ethnically from Pakistan. Being a child in the 21st century brings new struggles to social interaction and individuality. Alisha talks about society's perils in accepting 'where she's really from' and the misconception between nationality and ethnicity. A passionate account of how common norms must adapt in the face of transience and originality.
Arman Jasuja
Ex - Student of Dubai College. Engineering student at Johns Hopkins University.
Avanti Vijay
Student
Imagine waking up and not having to look at a mirror to see a perfect reflection of yourself. Amongst the many peculiarities of living as a twin, Avanti shares her unfamiliar perspective of the possible adventures and repercussions of living as a twin. Before indulging in the science, genetics, and psychology of a twin, Avanti gives you the opportunity to empathise with one, and understand the daily life having the perfect companion could encompass.
Celine Habbal
Year 13 Student at Wellington International School
Hannah Dawson
Student
This budding medic takes you through her experiences in interacting with patients that are HIV-positive and the importance of awareness in this subset of medicine now more than ever. Growing up in South Africa, her deep-seated investment in the illness is a testament to her passion for finding a cure, and finally bringing out the 'positivity' in HIV.
Himakshi Shastri
Year 9 student at Dubai College
Ishaan Aladina
Student
A simple summer school project at Imperial morphed into a much greater life lesson for Ishaan when investigating the hurdles that tetraplegics face. He talks about his experiences in trying to help overcome these difficulties, and how applying his distant love and passion for fluid mechanics and supersonic flight in an unfamiliar context, helped him reach a sense of fulfilment.
Ishaan Alidina
Ex - Student of Dubai College.
Maryam Al Ketbi
Student at Latifa School for Girls
Saba Vaziri
Year 13 student at Jumeirah College
Sachit Lumba
Student
Allow Sachit to take you on a journey through rhythm's emotions, dating back from its historical innovation, to today's pavonine expression. Learn what rhythm means to him, having learnt the traditional Indian instrument: the tabla. At first glance, a simple metronome to keep tempo, but in reality, a new dimension of conversation and creativity.
Urszula Bieganska
Head of Middle East and Africa - LEGO
We are constantly making unconscious decisions: whether we are hungry, which hand to put forward, or even which chore to avoid. Working with the multinational company LEGO, Urszula illustrates the cost of decisions we make in upbringing our children. Inherent gender biases prevent us from offering our best to the women of tomorrow; hear her explain why this is simply unacceptable.