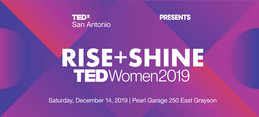 Join our community as we gather for Rise + Shine, a TEDxSanAntonio Women event.
NOTE: All genders are encouraged to attend, as well as students from middle school on up.
We selected this theme to celebrate and explore self-empowerment and to riff off the TEDWomen 2019 event, Bold + Brilliant.
Get ready to Rise + Shine! We've got 3 amazing speakers, wisdom and tactics on tap, along with the opportunity to practice and explore some new ways of thinking and being.
Watch and discuss TEDWomen 2019: Bold + Brilliant talks. TEDWomen has granted us a license to stream talks from this sold-out event. We'll select and discuss talks from a great segment of this year's lineup.
Share your ideas and experiences. Everyone who attends has great ideas and insights, so we've included time to dive into the ideas presented and share your thoughts with your fellow attendees.
Hear from three amazing live speakers!
Lily Casura, MSW: Coming Out of the Shadows: Women Veterans and Homelessness after Military Service
Sara Bodner, PhD: From #MeToo to UsTwo: Getting Real About Men as Allies
Nadia Noel-Anglade, Chief Marketing Ambassador: The ALPHA Within
Speakers
Speakers may not be confirmed. Check event website for more information.
Director of Equity and Impact
A longtime journalist, and newly minted master of social work (MSW), Lily Casura conducts macro-level research, performs data analysis, and studies policy implications regarding poverty, equity, education and homelessness, particularly regarding students and female veterans. Lily founded the first website about combat veterans and Post-Traumatic Stress Disorder (PTSD). In 2016, she received a Howard G. Buffett inaugural grant from the International Women's Media Foundation to create a multimedia reporting project around female veteran homelessness. She is a chapter author in "Healing War Trauma: A Handbook of Creative Approaches" (Routledge, 2012). She is an honors graduate of Harvard University, with additional training from the Center for Mind-Body Medicine (Washington, DC) and the National Center for PTSD (VA), and is a member of APHA, NASW, Journalism and Women Symposium (JAWS), Association of Health Care Journalists (AHCJ), and the Alamo Regional Data Alliance.
Nadia Noel-Anglade
Chief Marketing Ambassador
Nadia Noel-Anglade was born and raised in Trinidad, West Indies. She moved to New York City to further her studies at Monroe College where she obtained a Bachelor's degree in Business Management and a Masters of Science in International Management from Manhattanville College. In 2019, Nadia launched her company called "The Networking Embassy." Her business provides access to exclusive networks, allowing businesses to decrease their sales cycles by 80% through relationship marketing. Nadia is also the Head of Business Development (North America) for FBC Asia, a boutique BPO company based in the Philippines. She is married to her husband Bellony of 11 years and have 3 beautiful children, Alec, Heidi and Zuri. They currently live in San Antonio, TX. The highlight of who Nadia is... well...she refers to herself as the ultimate "People Nerd."
Managing Director
Dr. Bodner understands the plight of the executive. Sarah is a coach, trusted advisor and confidante to executives leading in changing environments. Her clients are Fortune 500 leaders in the fashion, chemical, medical, energy, and airline industries. She has been a senior leader within a highly regulated, risk averse, geographically dispersed organization that was forced to change in response to immense technological, political, and financial pressures. Her "super power" is the ability to quickly sort through highly complex challenges, with often conflicting and disparate stakeholder views, then identify a simplified path forward. Dr. Bodner holds a Ph.D. in Industrial / Organizational Psychology.