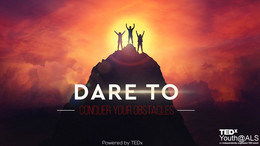 Hopes, dreams, ambitions...
besides being synonymous they all have another thing in common; they all have been ridiculed and undermined one way or the other.
Because we know how hard it is to pursue something when everything around you is hindering you and obstructing you, TEDxYouth@ALS will be holding a whole day event on Friday 14th of February presenting a bunch of speakers with a couple of performances in between.
A multitude of stories and experiences of people who dared to defy the barriers and mute all the voices of people who say "you can't do it" will be shared.
Speakers
Speakers may not be confirmed. Check event website for more information.
Adham Mohsen
Engineering student
At only 17 , Adham Mohsen ; a tech enthusiast, won the Gold medal in theoretical physics in the Bibliotheca Alexandrina science and engineering fair in 2019. He then started working on technologies involving environmental and economic sustainability. He believes the shortest path to technological advancements is Economic sustainability.
Ahmed Mahfouz
student/ writer
19 year old writer , public speaker and psychology , literature , civilization and philosophy enthusiast Ahmed mahfouz will be embarking on his third and last journey with TEDx with the aspiration of empowering introverts to reach for the stars .
Aly Sedky
Acting as Head of Branches Network Expansion at Arab African International Bank
Aly Sedky is an Accounting professor/ Banker with 10 years of experience in both fields; he has graduated from the faculty of commerce. Sedky pursued his masters in the financial & technical analysis in collaboration with The Egyptian Stock Market in addition to obtaining his PhD. in the Environmental Accounting in alignment with the Environmental Studies and Research Institute at an age of 29 making him one of the youngest professors in Egypt. His passion in teaching along with his professional banking background enables him to wheel all the positive energy within his students and redirect them into identifying a clear destination after graduation.
Ethar Hegazy
Solo traveler/ Engineering Student
Hanging onto the ultimate goal of being one of the leading entrepreneurs in the startup scene in Egypt and living a life of impact, inspire and likely be inspired throughout the whole path. Ethar Samir is 20 year old event coordinator, solo traveler, environmental activist, English teacher to underprivileged students, a student of computer and communication engineering and most importantly the founder of a floral concept store.
Hassan Kamal
Writer
Hassan Kamal is difficult to introduce, He is a famous novelist and short story writer who won many prizes and known as one of the best sellers in Egypt. In field of medicine he is the Olympic committee Medical chairman and will lead our Olympic champions in Tokyo 2020 Olympics. He was the chairman of Egypt medical team in last 2 Olympics.On the academic level he is the first one to introduce sport medicine in the Egyptian National research center after struggling for more then 10 years and surprisingly he is a former Egyptian Taekwondo champion and national team player.
Nada Moussa
English instructor/ Engineering Student
Nada Ahmed Moussa is a first year Electronics & Communication Engineering student, an English coach and an art hobbyist. She thinks that all of us are responsible to have a positive impact on the society no matter how subtle. Due to her passion for public speaking and belief in the power of words, she made it a personal goal of hers to impact those around her through delivering speeches.
Rana Amer
Nutritionist
Nutritionist , IIN certified health coach , ISSA certified specialist in sports nutrition , Alexandria International School's graduate and founder of Lean Queen ; the largest Egyptian female community for healthy weight loss
Rehab Shouman
Mother
A mother of 4 children and a beautiful baby Youness. She fought against all odds but destiny wasn't by her side when her last born baby arrived to the world.
Sally El Hakim
Yoga instructor
After graduating from the faculty of commerce English department and having her MBA in the Arab academy , Against all odds she left the job she had for 8 years that everybody was dreaming of and pursued her passion for yoga after struggling with depression she found herself in India in the land of yoga and from there she thought she would transfer her knowledge to everyone from kids to teens and adults.
Salma Elzarka
Cancer Survivor
The Egyptian Cyborg, two-time bone cancer survivor and marketer Salma Elzarka will be giving us a talk about the obstacles and challenges she withstood along the journey of life where she discovered that the scars we carry whether they're physical or emotional are places we channel strength from to do and achieve more.
Salwa Gaber
Fencing Champion/ Medical Student
Salwa gaber a fifth year medical student and an eight-year world and African professional champion in the Egyptian National Fencing team happens to be passionate about her musical career as well . The 23 years old lady will be telling us her secret about how she simultaneously manages it all .
Sham Alzahabi
Dermatologist
Bio Chemist, pianist, philanthropist, and recently a business owner of Egypt's latest skin clinic, Dao Derma.. Sham AlZAhabi graduated from AUC with bachelors in chemistry, pursued her masters in cosmetic formulation using nanotechnology in collaboration with Eva cosmetics, and went on to continue her studies on a fully funded PhD in Cambridge university in material chemistry where she harvested skin from stem cells and worked on understanding the ageing process at a biomolecular level.
Ziad El Hadary
entrepreneur/ student
With a goal of traveling 130 countries, Ziad El Hadary an entrepreneur who studies dentistry ; discovered the meaning behind life with his volunteering experiences around the world , and is ready to share his experiences with you.