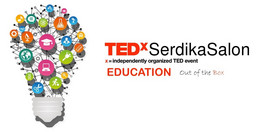 Out of the Box

Защото най-добрите решения често се оказват съвсем различни от стандартните. А първата крачка да сме "извън кутията" е да осъзнаем, че сме в нея…
Учим заедно
Защото ученето продължава през целия живот….
Speakers
Speakers may not be confirmed. Check event website for more information.
Angel Georgiev
Technical trainer and product presenter
Angel has 10+ years' experience as a technical trainer and product presenter. He has conducted 100+ people trainings in Europe, USA and Middle East. For the past 6 years he is part of the Software Engineering education in Bulgaria. He led the 20+ people training team behind the expansion of Software University in 2015-2017. Currently he is developing the internal training and staff development program of Musala Soft. He also coordinates the development of the Applied Programmer school curriculum and training materials for the Ministry of Education in Bulgaria and teaches juniors aged 6-18 about technologies and programming.
Entrepreneur
Blagovesta Pugyova is an entrepreneur with experience in both social initiatives and real business. In addition to being a manager with experience in various fields, and currently working at her own software company, she remains a volunteer at the cause that comes closest to her heart - the Give a Book Foundation, whose founder she is. This is an initiative that changes the lives of hundreds of children living without parents by meeting them with volunteering mentors who become their lifetime friends and teachers. The uniqueness of the project and the hundreds of volunteers it attracts have earned it various honors, such as the "Human of the Year" diploma from the Bulgarian Helsinki Committee and the 2014 Woman of the Year nomination from Grazia Magazine. She was also included in the "40 to 40" selection of "Darik Radio" in 2015 and the "30 under 30" of Forbes Magazine in 2016. She won second place in the Next Generation Leaders competition in Kapital.
Founder of Ucha.se
Darin Madzharov is a co-founder of the largest educational platform in Bulgaria www.ucha.se. It is a platform with 14 000+ video lessons and tests covering all the school subjects and all school grades. Currently, the video lessons have been watched oved 45 000 000 times by more than 600 000+ registered users. Ucha.se has received multiple awards for the quality of the product and the impact that it has on the education in Bulgaria. The team of Ucha.se is over 130 people. The team and Darin's mission is to help people live a happier life. The formula is simple, but very hard to achieve. A happy person is someone, who achieves their goals and dreams and appreciates every step along this path. How do you achieve that? By being prepared and developing the right skills. Through education Darin and the team want to help as many people as possible get the right skills to achieve their goals and dreams. That is how around us we will see happier people.
Denitsa Sacheva
Deputy Minister of Education and Science (Bulgaria)
Ms Denitsa Sacheva has a master's degree in public relations from the Faculty of Journalism and Mass Communication at the Sofia University and a master's degree in health management from Prof. Assen Zlatarov University, Burgas. She earned a bachelor's degree in social pedagogy from South-West University 'Neofit Rilski', Town of Blagoevgrad. She began her career at the Ministry of Labor and Social Policy, where she held different positions – from a specialist to a head of sector at the National Center for Social Assistance. In 1999, she took the position of Head of the International Cooperation, European integration and Projects Directorate at the National Health Insurance Fund. In the period from 1999 until 2001 she was Head of the Cabinet of the Minister of Health, in charge of the relations with international institutions, the International Monetary Fund, the World Bank, and the European Commission. She served as Deputy Minister of Labor and Social Policy from 2016 to April 2017.
Detelina Smilkova
Vice President at VUZF University
Detelina Smilkova is Vice President at VUZF. From 2015 to 2019 she is Chairman of the Managing Board of the Bulgarian Association for Management of People. BAMP is the only organization in Bulgaria to manage people. It has over 850 companies and has more than 2800 members. In 2017 she was elected co-chair of the Education Committee of the Managing Board of the Confederation of Employers and Industrialists in Bulgaria (CEIBG), the largest employers' organization in Bulgaria. Project management and innovation specialist in the organization. Winner of various awards. In 2012 BG Business Review magazine distinguishes her for her contribution to the development of education in Bulgaria. Most of the experience of Detelina Smilkova is concentrated in the field of education, sales, project management, business development and the achievement of its goals. Because of her rich professional experience she is often invited to various events and trainings.
Eva Maydell
Member of the European Parliament
Eva Maydell (née Paunova) is a Member of the European Parliament. She is the President of the largest organisation of associations and civil societies in Europe - European Movement International as well as the initiator and a co-founder of Education Bulgaria 2030. In the European parliament she is member of the Committee on Industry and Energy as well as the Economic Affairs Committee. Maydell´s priorities focus on enhancing skills-creation and quality education, implementation of innovation and technologies, supporting entrepreneurs and investment in Europe. She believes quality education is fundamental for societal progress and economic development, which is why she works at European and national level to create education policies, which enable youth to develop their talents.
Krassimir Ganchev
High level Executive
High level Executive with broad proven experience in people and organizations management of big Corporations and SMEs. Experienced in Telecommunications, IT and Insurance. Business Achievements: • 24 years - work experience in different sectors - IT, telecom, insurance, consulting/coaching/training; • 24 years – sales management, marketing and distribution; business development. Managed annual revenue up to 250 million EUR; • 20 years - people management experience (led teams across 2 continents with more than 6000 employees managed hierarchically); • 19 years of international corporate executive management experience; strategy development and P&L responsibilities (Nokia, AIG Life, EADS, KBC, etc.); • 19 years - PR and high-level lobbying, strategic corporate communications, high-level governmental and business relationship building and management (Europe, Middle East); • 10 years of executive coaching experience (Europe, Middle East)
Marina Clarkson
Psychologist
Marina Clarkson (formally Grozdanova) started her work as an educator when she was 18 years old. Inspired by one of her teachers, she started classes, dedicated to qualities such as honesty, courage, generosity, love, etc. with pre-school children. Her goal was to support them in understanding the value of these virtues and inspire them to practise them in their everyday lives. Today she works as a therapist, teacher and trainer and continues her focus on building character, emotional maturity and understanding of human relationships in children, youth and adults. She supports educators and counsellors in creating programmes with the same goal. She also gives talks, seminars and individual therapy. Marina is the author of the guide for building character and emotional maturity in pre-school children Lessons For The Heart.
Founder of SoftUni
Svetlin Nakov is an inspiration of thousands of young people on their way to the "Software Engineer" profession. He is one of the founders of SoftUni and has more than 20 years of experience as a software engineer, software and IT project manager, information technology teacher, software development, IT consultant, developer of web, mobile, desktop and server applications. His dream is to make Bulgaria the Silicon Valley of Europe.
Founder of JobTiger
Svetlozar Petrov is a Managing Director of the company for complex HR services JobTiger and is one of the creators of www.jobtiger.bg – the first specialized and integrated job board in Bulgaria. He is a member of board of trustees of Veliko Turnovo University "St. St. Cyril and Methodius", a member of board of trustees of Foundation for Business for Education, one of the founders of the Corporate Donor Club and a member of board of trustees of Bulgarian Donors Forum. He is a member of board of trustees of "Education Bulgaria 2030" association. He is also chairman of the honorary Trust of the Duke of Edinburgh's International Award – Bulgaria.