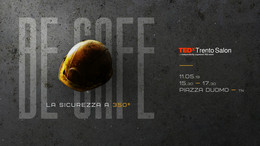 Quando scriviamo sicurezza nei motori di ricerca le prime cose che compaiono sono legate ad aspetti di illegalità o immigrazione; le tematiche ad oggi più correlate a questo termine.
Ma la sicurezza è molto più che una semplice parola spesso abusata.
La sicurezza, dal latino "sine cura" è "la condizione che rende e fa sentire di essere esente da pericoli, o che dà la possibilità di prevenire, eliminare o rendere meno gravi danni, rischi, difficoltà, evenienze spiacevoli, e simili".
La sicurezza pervade dunque tanti aspetti della nostra vita. Risulta quindi difficile definire un concetto di sicurezza totale, viste le sue molteplici sfaccettature.
Ecco perché abbiamo deciso di affrontare questo tema da alcuni punti di vista senza pretendere di essere esaustivi; una sicurezza a 350° … proprio per l'impossibilità di definirla completamente.
Speakers
Speakers may not be confirmed. Check event website for more information.
Cinzia Bertelli
Dottoranda in Scienze Biomolecolar
Dottoranda in Scienze Biomolecolari a Trento, nel corso del quale studia l'interazione del virus HIV-1 con l'uomo.
Elena Mattevi
Docente di diritto penale e Avvocato.
Docente a contratto di diritto penale presso l'Università degli Studi di Trento, Avvocato. Svolge attività di mediazione in materia civile e si occupa di giustizia di pace e giustizia riparativa, di diritto penale dell'economia, di diritto penitenziario, di diritto penale minorile e dell'immigrazione, anche nell'ambito dell'ambito dell'Osservatorio sulla giustizia di pace, conciliativa e riparativa, istituito presso la Facoltà di Giurisprudenza di Trento. E' autrice di numerose pubblicazioni, tra le quali il volume Una giustizia più riparativa. Mediazione e riparazione in materia penale (ESI, 2017)
Professoressa ordinaria in Psicobiologia e Psicologia Fisiologica
Laurea in Psicologia Sperimentale a Padova, un PhD in Scienze Cognitive (Padova) ed uno in Scienze della Sicurezza (University College London). Conduce ricerca di base in psicologia e neuropsicologia sui processi cognitivi coinvolti nell'elaborazione numerica e nella rappresentazione del corpo e dello spazio, utilizzando tecniche comportamentali, neuroimmagini e stimolazione cerebrale. Si occupa inoltre delle potenziali applicazioni di conoscenze e tecniche neuroscientifiche e psicologiche in ambito criminologico-forense e per la sicurezza. É membro dell'Istituto di Scienze della Sicurezza dell'Università di Trento.
Fabio Massacci
Professore ordinario in Cyber Security
Professore ordinario in Cyber Security presso il Dipartimento di Ingegneria e Scienza dell'Informazione dell'Università di Trento.
PhD candidate presso la "School of International Studies"
PhD candidate presso la "School of International Studies" dell'Università di Trento e senior researcher nel gruppo di ricerca eCrime del Dipartimento "Facoltà di Giurisprudenza", dove è anche co-titolare dei corsi "eCrimonolgy" e "Sicurezza aziendale e brand protection" e assistente alle cattedra dei corsi di criminologia e criminologia applicata. Si occupa principalmente di correlazioni tra criminalità e internet (specialmente i social network), criminalità organizzata, contraffazione e mercati criminali, tratta di esseri umani, traffico di migranti e richiedenti asilo.
Giorgio Rosatti
Professore associato in Idraulica
Professore associato in Idraulica presso il Dipartimento di Ingegneria Civile, Ambientale e Meccanica dell'Università di Trento
Head of the Creative, Intelligent & Multisensory Interactions Laboratory
Luca Turchet (1982) è un musicista polistrumentista, compositore e ricercatore del Dipartimento di Ingegneria e Scienza dell'Informazione dell'Università di Trento. Si è laureato in informatica presso l'Università di Verona, in composizione e chitarra classica presso il Conservatorio di Verona, e in musica elettronica presso il Conservatorio di Stoccolma. Ha conseguito un dottorato di ricerca in Media Technology presso la Aalborg University Copenhagen ed è co-fondatore dell'azienda MIND Music Labs, la quale sviluppa nuove tecnologie per strumenti musicali. È autore di 70 articoli scientifici nel campo delle tecnologie musicali e dei sistemi interattivi multisensoriali. Ha vinto numerosi premi scientifici, artistici e imprenditoriali tra cui la borsa Marie-Curie della Commissione Europea.