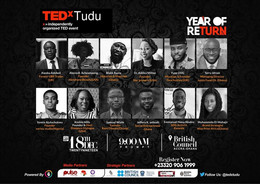 TEDxTudu will be sharing inspirations from diverse areas of thoughts. Inspirations from Tudu and Ghana in general. Year of Return is a significant moment in Ghana and Africa in a whole. More exciting ideas on how the continent is going to develop will be shared at TEDxTudu.
Speakers
Speakers may not be confirmed. Check event website for more information.
Abena Boamah-Acheampong
Entrepreneur
Abena Boamah-Acheampong is the founder of Hanahana Beauty, a skincare brand that is committed to empowering women of color. Her products are handcrafted using natural products. Besides, Hanahana Beauty, Abena is also an educator and has a master's degree in education from the Loyola University Chicago.
Ashley Milton
Social Entrepreneur
She is the founder of She Grows It, a company of the future. Their work includes curating talent to solve today's global problems through a trans disciplinary lens, building sustainable brands for current and future generations, developing green and resilient infrastructure for living, commercial and farming needs, and training tomorrow's generation through our workforce development and entrepreneurship programs!
Historian and Musician
Blakk Rasta is a popular Ghanaian reggae musician, reggae DJ and radio presenter. In 2002 July, 'More Fyah' was released and the single ' Congo Bongo' was voted as the best reggae song of the year 2003 at the Ghana Music Awards. Another award was won in 2009 called the National Award for Cultural Excellence (Ghana). In February 2004, Blakk Rasta visited England where he teamed up with accomplished artistes to produce the hit single ' Kunta Kinte' released in February 2005 on the 'Ganja Minister' album (Blakk Rasta's third album). Ras coz, Moffart, Sista B, Sista Lahnah, Suniel and dancehall great, Macka B all featured on this album. Blakk Rasta is currently Ghana's number one Reggae star. His greatest assets are his humility, consciousness and fearlessness. Beside music, writing and traveling, Blakk Rasta is a reggae DJ on HITZ 103.9 FM, Accra, and judged as the best Reggae radio DJ in Africa
Emmanuel Nana Boakye Ababio
SDG Advocate
Nana Boakye Ababio is an SDG advocate and has a genuine passion for Youth leadership development. He is a graduate of the University of Ghana and a former country director of AIESEC Rwanda. He is also a Youth coach at University of Life, Rwanda.
Fuse ODG
Musician
Fuse ODG is a British-Ghanaian musician who is best known for his hit single "Antenna." He is associated with the This Is New Africa (TINA) movement that seeks to encourage Africans to use their skills in rebuilding their communities and take pride in their cultural heritage.
Jeffrey Kwabena Yeboah
Social Entrepreneur
Jefferey K. Yeboah is a Ghanaian entrepreneur who recycles old car tyres into household furniture.
Kweku Adoboli
Culture and Systems Advisor
Ghanaian born investment manager and former stock trader. He was convicted of illegally trading away US$2 billion (GB£1.3 billion) as a trader for Swiss investment bank UBS. While at the bank he primarily worked on UBS' Global Synthetic Equities Trading team in London where he engaged in what would later be known as the 2011 UBS rogue trader scandal. After serving a prison sentence, he lost several appeals against the Home Office decision to deport him to Ghana. He is currently a culture and systems advisor.
Muhammida El Muhajir
Brand Strategist
Muhammida El Muhajir is a global brand/digital marketing and media consultant, entrepreneur and filmmaker with extensive international travel/study/work experience throughout Europe, Asia, Latin America, the Caribbean, and Africa.
Clinical Psychologist
Mr. Samuel Agyei Wiafe is a licensed Clinical Psychologist in Ghana. He holds an MPhil in Clinical Psychology degree from the University of Ghana. He has developed interest in advocating and supporting persons living with rare, genetic and congenital diseases in Africa and Ghana.
Somto Ajuluchukwu
Creative Director
Somto Ajuluchukwu is an entrepreneur in technology and entertainment keen on taking advantage on the growing markets in West Africa and taking products from this region Global. He is well known as the founder of Vortex Studio International, one of Africa's leading and fast growing animation and creative content studios, which has created a niche market in African comic books and animated content production and distribution.
Managing Director, Bridge Partners
Born and raised in the Netherlands, Terry Afram is a highly internationally recognized business leader who is currently the country managing director for Jumia Food Ghana which is part of the Jumia Group. With a strong passion for Africa, Terry is the founder of the African Business Day, the first Africa-focused business conference of its kind in the Netherlands.