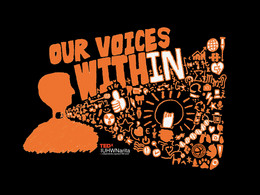 We all have different beliefs, ideas, opinions and stories to tell. Some are shared, yet some are untold and kept hidden inside us.
As a community, do you really know one another?
We have so many things we can learn from each other, but a lot of times, we can be so focused on our goals and end up being inside our own bubble, forgetting that the greatest lessons can be cultivated through interactions with people around us.
Through the theme "Our Voices Within", we want to encourage our audience to share and to listen; to inspire and get inspired; to think and to challenge themselves.
TEDxIUHWNarita aims to give the audience a platform to express themselves, share stories while at the same time get to know the people that are in our diverse community. Everyone has a voice to share, so why don't we all, as a community, put everything aside for a moment, and listen closely to the voices that exist within all of us.