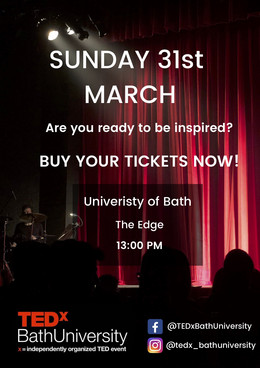 Nine brilliant speakers will cover a wide range of subjects in a thought-provoking conference. Ranging from homelessness, disabilities, advances in the medical field and world policies. Not to miss!
Keep up to date on our facebook https://www.facebook.com/TEDxBathUniversity/?ref=settings
Location: The Edge Theatre, University of Bath, BA2 2AY
Due to it being a Sunday all pay and display car parks are free, we recommend using east care park as it is close to the venue. A map can be found below.
https://www.bath.ac.uk/publications/claverton-down-campus-map/
Speakers
Speakers may not be confirmed. Check event website for more information.
Deeksha Palepu
Climate Change Activist
Deeksha is a 2nd year BSc Economics student at the University of Bath. She has a passionate interest in sustainable development and in finding solutions to mitigate the impact human activities are having on the environment. She has worked with the NGO APMAS on a project funded by the Bill and Melinda Gates Foundation to help improve the health of women and children in the slums of Hyderabad. During her time interning with the National Institution for Transforming India she also worked on a project on Infant and Mother Mortality rates in India. She has given a TEDx talk with a focus on the energy stratgy needed to fuel sustainable development in India. She is a part of the One Young World Bath committee which is organising a conference which focuses on the Sustainable Development Goals. Her talk will be on the effects of climate change and the drastic changes in weather patterns around the world. It will focus on the urgent and desperate need for action to combat climate change.
Ed Kirwan
Homelessness Activist
He slept rough for 48 hours in April 2017 in order to change the perception his students had of homelessness. This ultimately led Ed to take on several projects which challenged the stigma attached with homelessness but ultimately the aim is to empower people to take small actions, as simple as acknowledging someone on the street. He also co-founded the We Make Change Homelessness Community which on an organisational level, brings charities and volunteer groups alike under one roof to discuss ways they can collaborate together more effectively, something that is desperately needed when funding is so short. Ed is currently putting together a small film of the Homeless World Cup from Mexico 2018 and is off to India to work with Slum Soccer in April, both fantastic projects which aim to use football as a catalyst in ending homelessness and social exclusion.
Vegan Activist
Earthling Ed Ed Winters is a vegan educator, public speaker and content creator based in London, England. Winters is the co-founder and co-director of Surge, an animal rights organisation determined to create a world where compassion towards all non-human animals is the norm. In 2016 Surge founded The Official Animal Rights March which succeeded in a growth from 2,500 participants in London in 2016 to 28,000 participants across the world in 2018. In 2017 Winters produced the documentary Land of Hope and Glory and launched the on-going moving activism project The Big Vegan Activism Van. He has spoken at over 1/3 of UK universities and has given speeches across the world. In October 2018 Winters opened Unity Diner, a non-profit vegan diner in London where all of the profits go directly back into helping animals. He launched The Disclosure Podcast in February 2019.
Elena Seminati
Researcher and lecturer on motion and prosthetics.
Elena is a lecturer and research associate at the University of Bath. She is interested in the biomechanics of the human motion, especially for clinical, sport and injury prevention applications. Her previous research has been focused on the relation between energetics and mechanics of different forms of locomotion and sports. Elena has been working on shoulder injury prevention in volleyball players, biomechanics of cycling and pathological locomotion in osteoarthritis affected patients and cervical spine injury prevention in rugby activities. Elena's research interests include lower limb amputees, pathological locomotion, sport injury prevention, musculoskeletal simulation, and motion analysis and my research approach includes both experimental sessions and musculoskeletal modelling of the human motion, in order to establish risk factors, prevent injuries/illness and improve performance.
Frances Amery
Politics Lecturer
Frances joined Bath University as a Lecturer in British Politics in 2015, having previously taught at the University of Bristol and the University of Birmingham. Frances is predominantly interested in gender equality and feminist politics, especially where these intersect with policy processes in the United Kingdom. She has a particular interest in reproductive rights and reproductive justice. Her current research focuses on ongoing campaigns around abortion in the UK, in particular around decriminalisation. Frances is also interested in intersectional organising in reproductive rights activism. Previous projects have explored the gendered nature of risk governance, the concept of 'resilience' in social policy, and the status of women in universities.
Giacomo Skeate
Resturant Owner and Entrepreneur
Giacomo and two friends opened a Pizzeria and Bar following their A-Levels in the summer of 2017, making their debuts as the UKs youngest restaurateurs. Aside from selling authentic Italian pizzas and an array of drinks, they also brought a unique Italian street food concept to market, the Tasca. During the time they were open, they generated a fair bit of media buzz, being featured on Italy's largest food media group Gamberro Rosso, as well as London outlets The Nudge and Timeout. His main responsibilities at Tresca were fairly broad, ranging from paying suppliers to waiting tables! However, he was primarily concerned with marketing and business development. This included most of the social media marketing, arranging deals with the likes of Groupon and building relationships with other businesses in order to grow our own respectively. This included the likes of Airbnb, Sambrook's Brewery and Campari UK.
Jaz Payne
Studnet with an interest in disablility and faminism
Jaz is a political science student with an interest in disability and feminism. Sparked by working for the disability charity Leonard Cheshire, Jaz devoted her dissertation research to the lived experiences of disabled women in the UK. As a proud disabled person, Jaz is keen to demonstrate through research and activism the positive impact of disability and how businesses and organisations can harness accessibility to diversify their talent pool.
Melodi Var Öngel
Interbnational peace advocate
Melodi Var Öngel has accomplished, at her young age (will be 23 in April), two international peace projects funded by Davis Foundation. In the history of both Davis foundation and Bennington College, she was the first undergraduate student who received the grant twice. You may find the scope of these very challenging projects at the links I provided below. Both projects inherently had difficulties and had astonishing outcomes beyond expectations. Especially the second peace project based on documentary songwriting was more complex (gathering peace stories from two cultures in conflict and creating original songs from these stories and finally performing all ten songs at three concerts in Cyprus); and it had a great impact on people who are interested in documentary songwriting in a very short period of time. Two new humanitarian projects are being done using documentary songwriting and a third one is about to start, all inspired by Melodi's works.
Rose Kirby
Coach and Business Strategist to women business owners
Rose shares a different view on why many of us do not make the money we want, and what we can do about it so we're never holding ourselves back from creating more income. Rose shares her struggles and realisations as she started her business and provides loving inspiration for how we can increase our self worth to increase our net worth. Rose Kirby is a Coach and Business Strategist to women business owners, member of the Forbes Coaches Council, speaker and former McKinsey consultant. Rose is dedicated to helping put more money into the hands of happy women business owners by transforming their relationship with money, so they can make more income doing what they love.