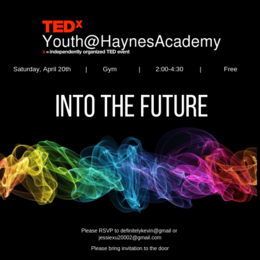 The 2019 event of TEDxYouth@HaynesAcademy strives to connect the community of the high school of Haynes Academy, allowing both teachers and students to engage in thought-provoking and enlightening ideas. We will have our talks split into two categories: teen passions and teen problems and solutions, and there will be a twenty-minute break between the two ideas. The total duration of the event is estimated to be from 2:00-4:00 in the afternoon in the gym. We will also feature two previously recorded TED talks as well, which we found will be well-integrated and incorporated into our program. There will also be small finger-foods and beverages. We highly welcome both students and teachers to come and take part in this event.
Speakers
Speakers may not be confirmed. Check event website for more information.
Carter Nugent
Student
Carter Nugent is a junior at Haynes Academy.
Danielle Pellegrin
Student
Danielle is a junior at Haynes Academy.
Jessica Xu
Student
Jessica Xu is a junior at Haynes Academy for Advanced Studies.
Kevin Kim
Student
Kevin Kim is a junior at Haynes Academy.
Suraj Zaveri
Student
Suraj Zaveri is a senior at Haynes Academy.