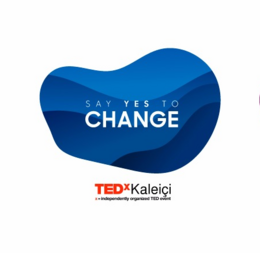 Things don't change — you change. You decide what you say "yes" to.
Very few people invest in life-changing moments. Our new TEDXKaleici edition has a different principle - we strive to make you take big decisions, to put you into a powerful state of mind. We want to put you into an emotional place, where you're connected with your core values and beliefs. Where you're really feeling alive. 12 speakers, 12 different perspectives, 12 strong stories with powerful outcomes. Say ,,Yes" and join your very first life-changing moment.
Speakers
Speakers may not be confirmed. Check event website for more information.
ALİ ŞAFAK ÖZTÜRK
head manager of Antalya Futball Club. and also he is a businessman
ARİF ERGİN
Arif Ergin 1976 yılında Kayseri'de doğdu. Gazi Üniversiesi Endüstri Mühendisliği bölümünü bitirdi. Çevre projelerine danışmanlık vermektedir. İklim değişikliği, Sürdürülebilir şehirler alanında uluslararası kurumlara ve projelere danışmanlık yapmaktadır.
BERFUN & ENGİN AKABALI
.
DİLEK UYAR
.
F.DİLEK UYAR
.
GÜLİN BOZKURT
.
MEHMET ÖZGÜR
.
MUSTAFA KESKİN & TABS
.
ÖMER ÖZKAN
Plastik ve Rekonstrüktif ve Estetik Cerrahi uzmanı 1995 yılında Ankara Hacettepe Üniversitesi Tıp Fakültesi'nden mezun olmuştur. Ömer Özkan Türkiye'nin ilk çift kol naklini, Türkiye'de ilk yüz naklini ve Dünya'da kadavradan ilk rahim naklini gerçekleştirmiştir.
Otizmden Öğrendiklerim(iz)
experimental medicine research and education laboratory
REYHAN POLAT
.
SİNAN ERGİN
.
UMUT ÖZBEK
.