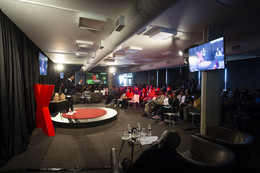 The world is fast changing. Technology, commerce, politics, health, education, and entertainment are evolving. How can South Africa and indeed UJ stay ahead in the midst of these vast changes? By REIMAGINING our present and redefining the future. By engaging with the ideas at this event, attendees will be challenged to develop a fresh perspective. Attendees will have an opportunity to recreate and reinvent their outlook on issues of education, sustainability, art, artificial intelligence, business and health.
Speakers
Speakers may not be confirmed. Check event website for more information.
Boniswa Madikizela
Chartered Accountant & Educationist
Ms Boniswa is a Chartered Accountant and a senior lecturer in the Department of Accountancy at the University of Johannesburg. Her research is focused on personal financial literacy. In May 2017, the South African Institute of Professional Accountants (SAIPA) announced Boniswa as a Brand Ambassador
Demilade Fayemiwo
Engineer and Water Services Consultant
Dr Demilade is an engineer and consultant. She holds a PhD in Chemical Engineering from the University of Johannesburg, an MSc in Environmental Engineering from the University of Pretoria, and a BSc in Biotechnology from the University of Stellenbosch. She is a recipient of the 2017 L'Oreal-UNESCO Women in Science fellowship and winner of University of Johannesburg's 2018 three-minute thesis competition.
Ebenhaezer Dibakwane
Two-Time Savanna Comic's Choice Award-Winning Comedian
Ebenhaezer is a two time Savanna Comic's Choice Award-winning comedian and a SAFTA nominated writer. In the last five years, he has been on a variety of television shows, movies and has appeared on the big screen as well. He uses his work to comment on critical social issues in a hope to foster discussions.
Mangala Mangala & Nomfundo Khambule
Poets
Mangala Mangala & Nomfundo Khambule are young South African poets passionate about telling unique stories through poetry.
Maria Frahm-Arp
Professor and Educationist
Prof Maria obtained her PhD in the Sociology of Religion from Warwick University (UK). She is the author of several book chapters and journal articles. She is the winner of the UJ Humanities Teaching and Learning Award (2014) and the Vice Chancellors Distinguished Teaching and Learning Award (2016). In 2017, she worked as the Vice Dean in the Faculty of Humanities and since March 2018, she has been working as the Executive Director of the Library and Information Centre at University of Johannesburg.
Sizwe Mondlane, Gabisile Nkosi & Sandile Mcunu
Music Trio
Breathe, the trio of Sizwe Mondlane, Gabisile Nkosi, and Sandile Mcunu, are passionate about music and culture. Their music style is a blend of the various genres of music with the hope to create a haven for every listener.
Thabo Molefe
CEO, Touch HD and Media Mogul
Best known as Tbo Touch, Thabo Molefe is a Media Personality, Public Speaker, and Entrepreneur. He is the CEO of Touch HD and Marketing, which houses a digital radio station as well as original collections of short films and podcasts. Tbo Touch is the owner of two signature drinks, Touch Reserve and 48Gin. He is a recipient of multiple awards for his uniqueness in telling the African story through radio and television.
Vice-Chancellor and Principal, University of Johannesburg
Prof Marwala is the Vice-Chancellor and Principal of the University of Johannesburg. He holds a PhD in Artificial Intelligence and Engineering from the University of Cambridge. Prof Marwala is a Fellow of The World Academy of Sciences, the Academy of Science of South Africa, the African Academy of Sciences, and the South African Academy of Engineering. His research interests include the theory and application of artificial intelligence to engineering, computer science, finance, social science, and medicine. He has published 15 books in artificial intelligence, over 300 papers in journals, proceedings, book chapters and magazines, and holds five patents.