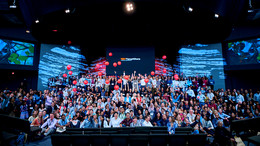 Our world is dynamic and ever changing. We can make it as open and fulfilling as we choose to make it. It starts with the world with us, as individuals - our emotions, aspirations, desires, health & well-being. And we can expand it to include our families, communities, societies, cities, country, environment, nature or our entire planet - global citizen.
When individuals expand their worlds, at the points of intersection, communities are formed along professional, social, religious, cultural and political lines.
As the world becomes more connected we find almost everything at our fingertips. How and how much we choose to engage or disengage with our world is upto us.
Speakers
Speakers may not be confirmed. Check event website for more information.
Catherine Prosper
Project Writer, Activist and Artist
Catherine Prosper holds a BA (Hons) in History and Political Science from the University of Mauritius. Passionate about slam and modern poetry, she started her artistic career in 2008 through Koz'Art group and advocates for human rights through collaboration with various NGOs. In the media sector since 2016 to 2018, she now collaborates with a Public Relations company as Head of Project but also pleads advocacy for women rights and the empowerment of the creoles of African descent through her activities with local NGOs in Mauritius.
Emmelyne Marimootoo
Song-writer, Musician & Performing Artist
After ten years of contemporary dance with Jean-Renat Anamah, including participation at the dance festival Kaay-Fec at the age of 12, Emmelyne Marimootoo starts touring in bars and hotels with a band, at the age of 17, mostly doing cover songs. In 2015 she released " Synthetik " with the band Orchestra of Souls, a song talking about drugs that are plaguing the new generation. Very much into 'conscious' art, her texts, mostly in creole, arise on a Sega rhythm with several melodic influences.Traditional instruments like the Ravann, Triang or Kayamb, mixed with the more occidental touch of the guitar, gives the music a certain authenticity.
Hubert Hays-Narbonne
Mobility Specialist
Hubert Hays-Narbonne is a graduate from Paris Dauphine University and has more than 20 years of professional experience in various fields, from auditing to engineering, finance and transport services. Over the past 10 years at Transdev, a 82,000-employee global leader in mobility, he has developed a sound knowledge on start-up ecosystems and innovation around mobility. He has notably led or contributed to projects and operations involving autonomous vehicles, carpooling, on demand public transport and mobility-as-a-service, but also behavioral sciences and blockchain applied to mobility.
Jamel Colin
Multidisciplinary Artist
Jamel Colin is largely responsible for elevating slam poetry into the realm of the Mauritian art scene and even going so far as to incorporating it in underprivileged youth groups as a means for them to express and free themselves from what he refers to as 'makadamers' – drawbacks. Also working with paint, canvases, paper and aquarelle, Colin credits Fabien Congo, in whose atelier he spent many weekends constructing his identity as a proactive artist. He holds workshops around mime, slam poetry, tales, theatre, choreography and sirandann that aim to spark creativity.
Jason Ah Chuen
Under-graduate Student
Since the age of 6, Jason represented the Mauritian team for tournaments abroad like the African Masters and ITF 18 & Under. He received the Best Young Athlete of the Month Award 5 times, and was also nominated for "Most Promising Sportsman of the Year". At the Royal College Port Louis, he served as Head Boy, presided over several clubs, was a national Best Delegate and then Secretary General of the Model United Nations, and won the National Rajiv Gandhi Science Quest, to name a few. Jason ranked first in the HSC exams 2017 and obtained the SSR Laureate Award. At Stanford University, Jason is studying Symbolic Systems.
Joël de Rosnay
Scientific Writer & Futurist
Doctor of Science, biologist and scientific writer, Joël de Rosnay is currently the President of Biotics International, a consulting company specialised in the impact of new technologies on industries, and Special Advisor to the President of Universcience (Cité des Sciences et de l'Industrie at La Villette et Palais de la Découverte). He was Director of Research Applications at the Pasteur Institute in Paris and former research associate at the Massachusetts Institute of Technology (MIT) in the field of biology and computer graphics.
Kan Chan Kin
Artivist
Kan Chan Kin has ventured in electronic music as a DJ, producer and event organiser. Feeling something was missing, he turned to acoustic music and started crafting instruments that couldn't be bought in Mauritius like didgeridoos. With some friends, they initiated the organisation 'Enn Losean Vivab', which organises sea activities for kids and sensitise them about pollution. He now experiments with recycled musical instruments, teaches in schools and organises workshops around the island on how to make and play waste recycled instruments.
Michèle Etienne
Engaged Citizen
A Radio and TV professional and a well-known household name, Michèle is often considered as the 'Caring Mum' of the island. Her 35 years of experience leading to being the Program Director of the Mauritius Broadcasting Corporation has exposed her to the various social issues of poverty and human rights. She is today passionately engaged in a number of NGOs including the Chagos Refugee Group, the Collectif Arc en Ciel and Lakaz A.
Neha Racca
Yoga & Wellness Coach
Neha Racca has an MSc in Yogic Science from SVYASA University, Bangalore and has been a passionate advocate of all aspects of Yoga for the last 10 years. She was selected as a yoga ambassador by the government of India to Vietnam and Mauritius to spread awareness & wellbeing through the science of yoga. She has conducted yoga and wellness workshops in the US and Bahrain and has been featured on daily shows on health on the public service broadcaster Doordashan, India.
Rajesh Jeewon
Microbiologist
Dr Rajesh Jeewon is currently an Associate Professor at the Department of Health Sciences, University of Mauritius. He has worked as a Post Doctoral Research Fellow on bacterial and fungal microbes at the University of Hong Kong and Portsmouth University in England. He holds a number of academic awards and is actively engaged in research with numerous international research publications.