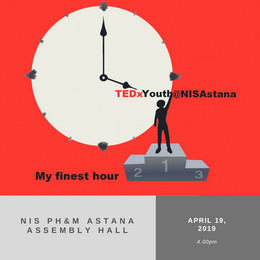 The event is annual and organized by the students of the school. It is aimed to spread ideas among the students and teaching staff. There are also guests from outside. The current event focuses on the learners' achievements in certain areas - subject or project competitions, sport competitions, etc. The speakers are going to share their ideas about what is something they achieved mean to them. They will also focus on how they achieved such results.
Speakers
Speakers may not be confirmed. Check event website for more information.
Alnur Akchurin
Grade 11 student and passionate entrepreneur
Alnur is a 17 years old student of NIS PhM in Nur-Sultan. He is fond of entrepreneurship and scientific projects. He will be talking about the stories, controversies, and myths surrounding science projects; he will refer to important personal qualities. He has scientific projects or "startups" — that's how he likes referring to them — that he was working on for 2.5 and 1 years, respectively. He will tell his story and share a personal advice with the audience.
Assylbek Umurzak
Grade 11 student and enthusiastic explorer
Assylbek Umurzak is an aspiring scientist and successful school olympian with an aim to become the first Billionaire Nobel prize laureate. In this TEDx talk he gives advice for the newcoming students about how and what he would have done at school, if he had an opportunity to start from the 7th grade again.
Layla Zadina
Grade 12 student and social activist
Layla is an active student of NIS PhM in Nur-Sultan. She has a variety of interests. She is good at sports - national champion in fencing. What is more, Layla is an A student. In addition to her studies at the school, she studies German and plans to apply in Germany. Layla is TEDx club founder who contributed much to the club's development. Layla is speaking about her travel experience to Germany and how it helped her to better formulate her views and values about the world.
Maira Akhmetova
Grade 11 student and just a brave girl
Maira lives in Astana, Kazakhstan. She has a variety of interests. She will talk about the portraits and perceptions of ourselves. Many young people struggle feeling unsatisfied about themselves. This puts great barriers in front of them. Maira is speaking about her vision about the problem and how it can be solved effectively. It is second time for Maira to speak on our stage. Her last speech was outstanding and received many applauses from the public.
Sanzhar Bazilzhanov
Grade 11 Student and energetic chairman
Sanzhar is an enthusiastic activist and public speaker. He is a chairman and one of the 5 founders of Adal Volunteer Club, which has more than 800 members. Also Sanzhar is a Business Development Manager in international youth organization of AIESEC. He always tries to achieve the highest goals and never stop on his achievments. Sanzhar is going to speak about his own life experience and how to be productive person in any sphere of life.
Sultan Syrdybayev
Grade 12 student and social activist
I am Syrdybayev Sultan. I believe that each of us is talented in his/her own way. I am an activist, volunteer, and public speaker. I have leadership skills and entrepreneurship talents too. I am semi-professional swimmer and ex-taekwondo athlete. Now, my favorite sphere of interests are social projects. During summer, I put myself an aim to not waste a single day stupidly and always work on something I like. Founder of many clubs, I like to give a try to any project, despite the chances of success they would have.
Yerkhan Yerkin
Grade 10 student and a good public speaker
Yerkhan is a 16 years old student of NIS PHM in Nur-Sultan. He created a prototype of a Orbital Station called "Multi-module Orbital station" with his team. In his free time, he volunteers, participates in StartUp Weekends, Model United Nations Sessions and does sports. In 2019 he was chosen as a delegate of Kazakhstan to take part in Russian "Soyuz" rocket's launching ceremony at Baikonur cosmodrome and met there different ex-astronauts and delegates from space agencies such as SpaceX, ESA and so on. Also, he is invited by NASA to take part in Space Station contest that will be hold in Virginia,USA . Additionally, he is fluent in 4 languages such as Kazakh, Russian, English and Chinese. In his opinion, life is like a big book and he wants to read its every page in order to impact people to strive for greatness!
Organizing team
Alikhan Madeni

Team member

Almas Kozhanov

Team member

Daiana Mukhamediyeva

Curation

Danat Uzbekov

Team member

Daniyar Mussin

Team member

Diana Sabyrova

Curation

Karina Baimuldinova

Curation

Kuanysh Yensebayev

Marketing/Communications

Nargiz Akhmetova

Marketing/Communications

Nuriya Azamatova

Marketing/Communications

Zhamilya Medetkyzy

Team member

Zhusip Meshitbay

Team member