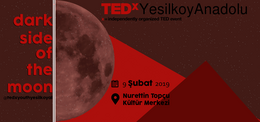 Nowadays, many young adults want to become a millionare or a celebrity. However, they do not know how much hard-work does it take to become a successful in any kind area they wish to pursue. Whether becoming a successfull entrepreneur as Elon Musk, or famous celebrity as Taylor Swift needs very dedicated life and years of practice to become the best. In regards with the topic, on the one hand, the bright side of moon which illustrates the success, and the dark side of moon which is the hidden half part of it symbolizes sacrifices, dedication and the effort. Thanks to this panel, young adults will realize the both part as a whole which enable them to set goals realistically and put a enough effort to accomplish it. They will realise the fact that everything has a dark side such as moon.
Speakers
Speakers may not be confirmed. Check event website for more information.
Alper Türedi
Acting
Alper Türedi is an actor and a series actress. He studied acting at MKM center. So far, 54 films and series took part in. Alper derives from the small daughter of Leukemia after losing the sonra I have a wish edi social responsibility project by launching the wish of children with leukemia.
Can Ozan
Music
Can Ozan started his music career with a crappy guitar when he was 13 years old. Firstly the singer known with " Delirmiyorsan Tebrikler" and " Bir Şey Var" albums. He is still on our music lists with his newly album "Dolunay".
Cem Arslan
Radio
Cem Arslan completed his high school education at Kadir Has High School and firstly worked at Radyo Fener in Kadıköy. Arslan, who then transferred to Best FM, now presents Gazoz Ağacı between 06.45-09.00 every morning on weekdays and Gazoz between 18.00-20.00.
Dr. Doğaç Ergezen
Social Media
Dr. Doğaç graduated from Cerrahpaşa Medical Faculty. Now he is doing conscription in Istanbul. At the same time he improved application "Rasyonel App" for students who are preparing university exam.
Ozan Onat
Future
Ozan onat, who we know with his works and writings about artificial intelligence; he is a futurist who has been following the digital and future trends in media and telecommunications industry for 15 years.
Prof.Dr. Ömer Şentürk
Gastroenterology
Ömer Şentürk, who is an member of American Gastroenterology Association, studied medical education at Hacettepe Medical School and Karadeniz Technical University. He studied his expertise, Gastroenterology, at Göztepe. Firstly , In 1997-2002, he got 'Assistant Professor' , then in 2002-2007 'Associate Professor' and in 2007 'Professor' degrees. Ömer Şentürk has a lot of article and thesis studies about his expertise which are very succeed.
Organizing team
Ayşenur Çoban

Operations

Azra Oğuz

Production

Betül Kacar

Team member

Bilge Ozcan

Operations

ceren vicnelioğlu

Team member

Göktug Onat Gül

Post production

Görkem Demircioğlu

Team member

İrem Zerin

Team member

Kardelen Subaşı

Team member

Melek Sude Aykurt

Curation

Şevval Eski

Marketing/Communications

Sude Sonuvar

Team member

Sude Genç

Production

Zeynep Kır

Operations

Zeynep Sena Ateş

Team member