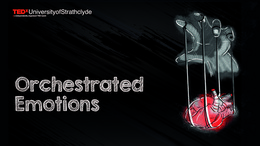 Why "Orchestrated Emotions"?
Emotions are at the core of our very being. We tend to think they are real and raw; an authentic response of our brain to the feedback it receives from outside. But what if they are not? What if they can be manipulated, trained and even induced? Are they ours anymore? Do they still define our being? And if so, how much control do we have over them?
Are you ready to find out the truth?
How can you use emotions and their power to your own benefit?
-------------------------------------------------------------------
TEDxUniversityofStrathclyde is proud to announce the theme to its annual conference: Orchestrated emotions. Bringing this challenging and somewhat controversial theme into the light, with the purpose of enhancing self- development and success.
Over the course of history and time, the human nature has been vastly discussed and analysed. From all points of view, more or less scientific, it is clear that our bodies and minds have changed. One thing that seem to remain constant and unmoved by the test of time is the fact that we develop, feel and encounter emotions as we are the species that sits at the top of the food chain.
Orchestrating these emotions and manipulating them towards achieving a goal or purpose is what seem to be part of the modern society. An athlete learning to cope with pain, an entertainer that mimics emotions or a journalist making its readers cry over a devastating story. They are all different and their fields have no common ground, however, what they do have in common is shifting your attention from what is real to what they want to make us feel.
Embark with us on a perspective- changing path that will reveal hidden meanings and attitudes towards emotions of all kinds and in all shapes. Learn form experts how they do succeed in orchestrating emotions and feel inspired to seek the truth in your every day encounters. Dare to seek the unknown and to investigate beyond the obvious.