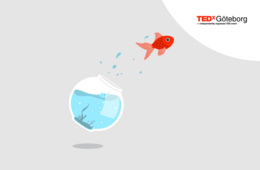 We grow up being told what to do, believe, and feel about things. Parents, teachers, media, and politicians all provide us with a vision of how to live our lives and what paths to follow. And plenty of us listen to, and follow, their advice. We graduate, find a job and settle down with a partner we (hopefully) love. But what if there are other, more unconventional, ways to get things done in life?
The theme for this year's TEDxGöteborg is "Disrupting Status Quo". At the event, you will get a closer insight into people and organizations that have done things differently from what society has been telling us is the right way to do things.
People and organizations who have all challenged the normal state and leave us thinking – what is normal? People who disrupt the status quo.
Speakers
Speakers may not be confirmed. Check event website for more information.
Andreas Wijk
Andreas got his start blogging and modeling. He is now fully invested in making and creating music.
Comedian, writer, economist and debater
Aron Flam is a comedian, writer, economist and debater with a deep interest in specific cultural taboos. Aron has figured in several podcast, TV, and radio productions, and has thousands of followers on his social media platforms. In his talk, he is going to share his thoughts on Swedish culture and its underlying foundations. "Swedish culture might be suffering from a severe neurosis. One that isn't talked about. And it is very hard to resolve because part of the neurosis is that the neurosis is not talked about. To resolve this neurosis, one has to break the cardinal rule in Swedish culture from the second world war and onwards: "a Swedish tiger!". – Aron Flam
Cal Orre
Advisor health and HIV prevention
By raising the question of why you have to live a certain way, Cal is sharing other ideas on what a family is. Cal has a child together with two other parents and they want to spread the word about non-traditional parenting and lifestyles. Cal's talk will convey a passion for human rights and aims to increase people's freedom to be who they are in all aspects of their life. Cal wants to increase general awareness and knowledge about living outside of norms and conventions, and the possibilities of choosing differently.
Dorna Behdadi
Ph.D. Student in practical philosophy
Dorna Behdadi is a Ph.D. Student in practical philosophy at the University of Gothenburg. Furthermore, Dorna has a bachelor's degree in biology and has spent more than two years studying cognitive science, neuroscience, and philosophy of mind. With the aspiration of challenging preconceptions about consciousness and AI, Dorna's talk will inspire people to see the moral issues concerning this topic.
Erik Gatenholm
Erik Gatenholm is the CEO and co-founder of the bioprinting company Cellink. The company focuses on the development and commercialization of bioprinting technologies that allow researchers to 3D print human organs and tissues for the development of pharmaceutical and cosmetic products. Gatenholm has been rewarded with numerous remarkable rewards, such as Forbes 30 under 30, Young Entrepreneur of the Year and Innovator of the Year.
Fredrik Sträng
Fredrik Sträng is Scandinavia's foremost high altitude climber with more than nine peaks over 8000 m and a Guinness World Record under his belt.
Secretary general for Effective altruism
Gabriella Overödder wants to do good things better, for her doing good simply isn't enough. As the Executive Director of Effektiv Altruism Sverige, she works on finding out how we can do the most good every day. By applying science to the way we do good, she means that we can increase the effects of our efforts manifold. "There is an unfortunate status quo when it comes to doing good. This is that we don't optimize our resources to do the very best we can. We settle for less. Effective Altruism is offering a new way of thinking about doing good, that allows us as individuals, to have a much greater positive impact." Gabriella has a bachelor's degree from Cambridge University, speaks Chinese, and has previously worked as a sustainability consultant. And oh, she is only 25 years old!
Ilma Caprnja
Educator
Ilma Caprnja is the Medical school student who has been doing lectures since she was only 14 years old. During this time she has met with over 10 000 students, using mathematics to motivate them to believe in their own ability rather than talent. The goal is to show the importance of hard work and to make the students actors rather than only receivers in the school system – that the students learn by teaching each other. By questioning the traditional ideas of education as we know it today, Ilma is the disruptor who isn't afraid of challenging Status Quo. Her idea is to change the ideas of education for today's students, who will be the ones forming our future society.
Josefine Dahlberg
Josefin Dahlberg is an influencer, public speaker and author of the autobiography "Idag är jag fri" (Today, I am free). Apart from this, Josefin is also known for having a podcast and spreading positive ideas on social media.
Maria Ahlin
In addition to being a public speaker, author and educator Maria is also head of youth organization 'Changing attitudes'. As an expert on issues concerning pornography and sex-buying she has given more than 400 public talks. In her research, she has met with more than 500 people in prostitution, as well as thousands of sex-offenders.
Niklas Wennberg
n record time, Wennberg developed the Gothenburg Butchery to act as a center of aquaponics. Aquaponics is the system that combines raising aquatic animals and cultivating plants in water in a symbiotic environment. By doing so, he is saving the oceans and helping the climate.
Slave to Nothing
Two magical unicorns creating noise together.
Tilde Ingham
Tilde s a Swedish soul singer, songwriter and musician. At the age of 19 she began performing in clubs and festivals which quickly gained her a lot of attention.