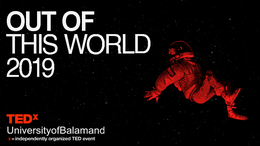 It is our pleasure to welcome you from all around Lebanon to join us for the second edition of TEDxUniversityofBalamand and enter the world of Ideas Worth Spreading!
Our speakers and performers can't wait to share their exceptional ideas and talents with you on the TEDx stage for an "Out Of This World" experience.
Join us on March 30, 2019 to know more and stay tuned as we release our speakers and performers.
Speakers
Speakers may not be confirmed. Check event website for more information.
Alan Mehanna
Filmmaker
Dubbed "The Lebanese Mr. Feeny," by his film students, award-winning short filmmaker Alan Mehanna always had a love of inspiring others and leaving a positive legacy behind. He lived and studied in the United States, and after graduating with an MFA in Creative Writing for Media, he and his family moved back to Lebanon five years ago. A massive and proud film geek, his passion for the craft is what drives him to not just be a part of the industry but also explore it via the nontoxic yet critical conversations he has on his radio show and podcast Script2Screen.
Anthony Nahoul
Computer Scientist
Anthony Nahoul got his Bachelors Degree in Computer Science from the Lebanese American University. He currently has his own company called AMN International which offers software development services. Anthony aims to help the Lebanese society prepare its public areas to be accessible for handicapped people.
Blu Fiefer
Singer, Pole Dancer
Blu Fiefer is a singer, songwriter, producer, director and pole dancer approaching her music as a multi-faceted platform. Blu began performing and growing a fanbase following her graduation from London's Institute of Contemporary Music Performance at the young age of 16, after dropping out of high school to pursue music. This year, the Mexican-Lebanese artist independently released her debut EP 'The Prelude' which was quick to hit the #1 spot on the iTunes chart, joining 3 other #1 songs already under her belt: 'Jukebox', 'Girl's Gotta Eat', and 'Not Sorry'. The Beirut-based songstress has been labeled 'the most exciting musical artist to hit the Lebanese airwaves' by Aishti Magazine and 'a game changer' by Stepfeed.
Christiane Saba
Career & Business Strategist
Christiane Saba is an expert in socio-economic development and employment solutions, bridging the gap between educational theory and workforce recruitment. Working with international institutions, municipalities, and NGO's, she focuses on personalizing employment capacity building programs and business development services to ensure sustainable income growth. This includes developing psychometric assessments for tailored skills development, and identifying economic opportunities through market and value chain analysis. As an executive coach and international speaker on the "Future of Work," Christiane advocates the significance of human analytics, passion and continuous learning in a world that is moving towards automation.
Danny Bou Maroun
Composer, Producer
Danny Bou-Maroun is a Music Composer and Producer. He holds a B.A. in Musicology from USEK, studied a Masters in Composition at WVU, and Music for Film at UCLA. His band, Ostura, is signed under Universal Music MENA, and he has composed music for several feature films, short films, advertisements, documentaries, and other visual media. He is also a screenwriter and mobile game developer.
Mayssa Raad
Cancer Fighter & Survivor
Mayssa Chreif Raad is a Banker. She holds a Bachelor degree in Banking and Finance from LAU. Mayssa faced numerous challenges during her fight with cancer and chooses to look at the positive. She is also a motivational speaker to many women, discussing empowerment and fundraising events. As an influencer, she uses social media and writing to help patients with their cancer treatment to reclaim their strength.
Omar Koussa
Pharmacist
Omar Koussa is a pharmacist, personal trainer, and nutrition enthusiast who is hoping to revolutionize the future of medicine and psychology. Omar got his Bachelor's degree from Beirut Arab University while being involved in his faculty's research clubs. He is doing his PT certification at Inspire Fitness Academy and aspires to see more people integrating a healthier diet into their everyday lives.
Raghida Dergham
Journalist
Raghida Dergham is a Lebanese-American journalist based in New York. She is the Founder and Executive Chairman of Beirut Institute and Columnist for The National. She served as Columnist, Senior Diplomatic Correspondent, and New York Bureau Chief for the London-based Al-Hayat daily for 28 years. She is well-known internationally as a Middle Eastern female journalist, and has received numerous prestigious awards for her career achievements.
Sari Haddad
Rural Tourism Specialist
Founder of Lebanese Wanderers, Sari Haddad is a hospitality and tourism graduate with experience in the restaurant business. In 2016, he shifted to tourism with a mission to promote Lebanon's rural beauty. Today, Lebanese Wanderers is one of the leading content creators for rural tourism in Lebanon that promotes sustainable practices in the industry. Their aim is to reach a time when Lebanon is one of the biggest destinations for alternative travel in the Mediterranean.
Sharif Abdunnur
Professor & Director
Dr Sharif Abdunnur, Associate Dean at the European graduate School (Switzerland) and ex-Chairperson of the Department of Mass Media and Communication at the University of Balamand in Lebanon, started teaching at universities at the age of 23. Since then, he has taught in more than 10 universities as a guest professor and full-time professor from Lebanon to UK and Switzerland for the last two decades. A strong believer in interdisciplinary and intercultural education and collaboration, Sharif focuses on creating works in various mediums that help bridge cultural gaps as well as challenging the accepted limits and norms.