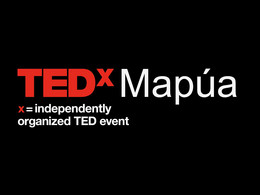 TEDxMapuaUniversity is the first TEDx event to be organized by a group of students in the univesity. TEDxMapuaUniversity shall showcase the thought-provoking idea of METANOIA.
Metanoia is "a fundamental change in character or outlook", we aim to gain insight to the change or outlook of different people, how it affects them and the environment they occupy. These can be different changes in priorities, mindset, and beliefs of individuals which grows from his experience. We want to explore how these changes can be defined as the "aha" moment, a moment wherein the person becomes aware of the change within him. These moments of metanoia could cause an individual to gain awareness of their identity, their limitations, and their abilities as a person. As time progresses, people in the same way undergo different changes. One day a person could be well within their comfort zone. That person could be an employee of a big company enjoying a stable life within his comfort zone. The next day there could be a sudden shift and that very same person could have left everything he had to become a missionary helping people from a different part of the world. This change can happen to anyone. As human beings we are capable of great things and life is never one dimensional. There is always that possibility of having our "aha" moment and change our life for the better.
Speakers
Speakers may not be confirmed. Check event website for more information.
Edward Jay Quinto
Associate Professor + Project Staff Level 2 + Research Coordinator
He is an associate professor at Mapua University's School of Social Sciences and Education. A language teacher, language and speech trainer, language and linguistics researcher, and teacher trainer and seminar speaker, he holds a Bachelor's degree in Journalism (Magna Cum Laude) and a Master's in Applied Linguistics (With Highest Academic Distinction) obtained from Centro Escolar University. He is currently president of the Speech Communication Organization of the Philippines (SCŌP), the only nationwide speech communication organization in the Philippines, and secretary of the Association of Education Researchers and Trainers (ASSERT), a professional organization specializing on Outcome-Based Education. He has published and presented research in high-impact journals and conferences here and abroad. In January 2018, he became the youngest PhD holder in his University after successfully defending his dissertation for the degree of PhD Applied Linguistics at De La Salle University.
CEO Branding and Digital Marketing Strategist
Jennette Cajucom, is a passionate CEO branding strategist who helps entrepreneurs and business owners find their true voice and translate that into a more human centered brand. She has been featured in Connected Women's online magazine, "The Tao of Self-Confidence" podcast and Working Remote PH, where she recently gave a talk at the SMX Convention with the topic, : "Value Vs. Money: Creating The Proper Mindset To Open Instant Opportunities Both Offline And Online". She believes that future young professionals, like CEOs, in this digital age can also have a true voice and build their own brand using their own core values, humanness and authenticity. Jennette is also currently the Country Editor for Marketing in Asia.
John Leo Algo
Program Manager at Climate Action for Sustainability Initiative
He is a young professional in the fields of environmental science and management. His intended specialization lies in the areas of air quality, climate change, environmental modelling, governance and policies, and urban development, although he also wants to have enough technical background and skills in the other aspects of environmental studies. He completed his MS AS studies on December 2018. He is part of the PhilDel in November 2017. He is currently designated as Science Policy Advisor of Living Laudato Si Philippines.
Founder and Chief Coach - Ace Overseas Education Consultants
She is India's most sought after study abroad and scholarship coach. She has herself studied on full scholarship abroad and has coached students all through the last decade to help them achieve their study abroad goals. Hundreds of thousands of people have read her books and articles, used her training and coaching tools, or heard her at conferences. She is the also the director of ACE Overseas Education Consultants which serves as the bridge between international universities and prospective international students across the world. Witnessing her expertise in coaching students to find their passion and follow their dreams, many universities and colleges across the world have called her to speak to their students on education and career options. She believes that students have an authority over their own dreams and they can always find a path to follow their dreams in a way that every one around them is happy and supportive of their dreams.
Organizing team
Bryan Kenneth Cardeno

Operations

Calvin James Fojas

Curation

Danica Diaz

Operations

Emilou Anne Zulueta

Marketing/Communications

Eunice Rachel Cruz

Marketing/Communications

Francine Caraan

Operations

Hazell Valerine Salazar

Marketing/Communications

Kryztine Mae Galvez

Operations

Lea Ysabel Evangelista

Marketing/Communications

Lear Ver San Pedro

Operations

Rei Martin Evangelista

Curation

Shayne Lisette Porras

Operations