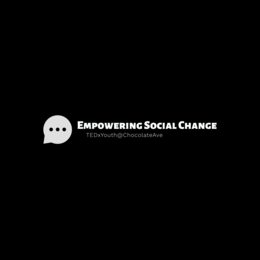 In the spirit of ideas worth spreading, TEDx is a program of local, self-organized events that bring people together to share a TED-like experience. At a TEDx event, TEDTalks video and live speakers combine to spark deep discussion and connection in a small group. These local, self-organized events are branded TEDx, where x = independently organized TED event. The TED Conference provides general guidance for the TEDx program, but individual TEDx events are self-organized (subject to certain rules and regulations).
Speakers
Speakers may not be confirmed. Check event website for more information.
Angie Bu
Student
Angie's obsession for art began the moment she reached for a pen at the airport as a baby. Ever since then, she has made a career out of the arts as a digital artist and programmer. She believes they are baby steps to improving the world with art of all kinds, not just paintings and sculptures. Today's economy made the right choice to value innovation, and education needs to catch up. Outside of being an artist, Angie is a track athlete at school. She believes it is easier to have a clear mind with a healthy body. Art doesn't have to be purely aesthetic; they can be useful in many facets of life: I created the digital taste system Gastronaut and exercise-powered bracelet Rotacel to be released to the public later this year.
Anoushka Nambiar
Student
Anoushka Nambiar is a sophomore at Hershey High School. Several science opportunities such as PULSE and Science Olympiad have expanded her interest in the medical field. She is also involved in various school clubs, tennis, and Indian classical dance.
Jonathan Haidet
Student
Jonathan is a junior at Hershey High school and this is his first year with TEDx. At the high school, Jonathan is an active member of multiple music ensembles, holds a statewide position in Youth and Government, and he is the captain of the Hershey Brain Busters. Outside of school Jonathan takes instrumental lessons and tutors multiple students in math and science. In the future, Jonathan is interested in biochemistry and would like to pursue a career in medicine.
Karis Gould
Student and Artist
Karis is a Senior AP 2-Dimensional Art Student and the founder of Hershey High School Art Club. She plans on attending Parsons School of Design in the fall to pursue textile design.
Kidist Aderaw
Student and Artist
Kidist is a senior at Hershey High School. She is an AP Drawing student and an active member of NEXUS, a Hershey High School art magazine. She plans on attending Savannah College of Art and Design in the fall.
Madison Goss
Medical Student & PULSE Organizer
Madison (Maddie) Goss is currently 24 years old, a rising third-year medical student, and a proud cat mom to her best friend Lumos. She was born & raised in Mechanicsburg with her younger sister, Abby and her parents Craig & Suzanne. Maddie graduated with honors, and made the decision to go to medical school following her mom's cancer diagnosis. Watching her mom bravely fight her cancer while maintaining her job as a nurse, combined with her love of science, serving others, and the abundance of nurses in her family, she knew becoming a physician was her dream. She continued her education at the University of Pittsburgh earning her BS in Molecular Cell & Developmental Biology. In July 2017, Maddie received her white coat from Penn State and remained heavily involved with her passions for teaching and serving underserved communities. With 2 years under her belt, Maddie has already fallen in love with the OR & hopes to pursue a career as an Orthopaedic Surgeon.
Nick Silvis
Student
Nick is an avid outdoorsman who loves hiking, kayaking, and camping. He also loves passionate debate and politics, particularly when regarding environmental issues such as the management of public lands. His love for the outdoors has awakened a fierce desire to protect it, not just for its aesthetic value, but for its inhabitants. We need to advocate for sustainable land use, or we will run ourselves into disarray.
William Mecca
Student
William Mecca, a current senior at Hershey High School, and graduate of the US Army's Fort Benning Training Center. He enjoys motivating others to be better versions of themselves.