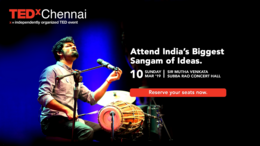 Aren't most discoveries and inventions made in the past decade, a by-
product of the questions the inventor asked?
Questions that left them wonderstruck - "Wow, that's a really
interesting point!".
Questions that piqued their curiosity
Why did the apple fall on Earth? – Issac Newton
What if we, as humans, could sustain an ecosystem in another
planet? – Elon Musk
What if there was an omni-purpose device to use anytime,
anywhere, by anyone? – Steve Jobs
Extending their thoughts and questions, if we are going to solve the
problems of tomorrow, we need to be asking the right questions and
challenging accepted notions today. We need to be curious to delve
deeper into the possibilities and pitfalls of solutions to arrive at that one,
new idea that could change everything. Our resolve at TEDxChennai is
to question the status quo and leave no stone unturned in exploring the
endless possibilities of life. We believe that the next big change will start
with "What IF".
Speakers
Speakers may not be confirmed. Check event website for more information.
Educator & Founder, Project Defy
Abhijit is the Founder and CEO of Project DEFY. He created the Nook Self-Learning model in a small village near Bangalore and leads Project DEFY and its team to enable many communities to develop and run their own Nooks. What started as an experiment at the age of 22, has now become a functional format of scalable self-learning that is taking shape in the grassroots of the world. He is attempting to de-colonize mindsets by deconstructing education and bringing the control of learning and life back into the hands of the people. He is a habitual optimist and a forever-learner, who has a lot to say, but usually prefers keeping his head down and working.
Anusha Shankar
Nat-Geo Explorer & Ecologist
Anusha Shankar studies how hummingbirds balance their daily energetic needs. She has spent a year in Ecuador studying these hummingbirds in the Andes mountain range. She is especially fascinated by their strategy of using energy very quickly during the day, and then using torpor (basically nighttime hibernation) to save energy at night. She uses infrared video to capture the secret nightlife of these birds. She recently graduated with a PhD in Ecology and Evolution from Stony Brook University, NY. Anusha is a National Geographic Explorer and a Lewis and Clark Field Scholar. She plans to work longer-term in the tropics, with a home base in India. Anusha is passionate about teaching and mentoring students. She loves salsa and swing dancing, photography, and reading fiction.
Arshdeep Singh
Photography Prodigy
Born in the year 2007, Arshdeep Singh is a young wildlife photographer from Jalandhar, INDIA. He recently won the Young Wildlife Photographer of the Year Award (Asia). He has been in the field of nature and wildlife photography since 2012. He is passionate about bird photography and travels with his father Randeep Singh, who is also a photographer. For him, wildlife photography is not just a passion; he also aims to use it as a medium to preserve nature and wildlife. His work has been showcased in national and international publications such as Lonely Planet UK, Lonely Planet Germany, Lonely Planet India, BBC Wildlife UK etc.
Balaji Maheshwar
Raskolnikov
Balaji Maheshwar aka Raskolnikov is a photographer and independent filmmaker from Chennai. Before he bought his first camera, he's always wondered what a photographer could view through a lens which a layman cannot. To Balaji, the concept of questioning the limitations of photography is both interesting and challenging. To figure out how far one can go with an image, he looks for life and strong emotions which tell poignant tales about the world, particularly through black and white pictures. He has been working on his photobook "Dear Cinema" for the past 5 years and is currently directing his feature length documentary "Thalaivar" on Tamil cinema and politics.
Dayanidhi Maran
Mokshan
Dayanidhi Maran, a physical training teacher by profession, runs the Life Trust NGO, which buries unclaimed and unattended dead bodies. He created an unconventional team of women to do the last rituals and conduct a dignified funeral to the corpses. With a traumatic experience in his childhood, where his family didn't have the funds to perform his father's last rituals and had to seek out for loans, instigated this Trust. Dayanidhi believes that every living soul deserves the right to leave this earth is a dignified manner, they have cremated 1610 bodies so far.
Girish Mathrubootham
Product Superstar
Girish Mathrubootham is the founder and CEO of Freshworks, one of the world's fastest-growing SaaS product company, winning the Economic Times Startup of the Year in 2016, the Business Standard Startup of the Year in 2017, and now part of India's unicorn club. The homegrown customer-engagement software maker has a suite of products, catering to more than 1,50,000 businesses worldwide including big names like Honda, Cisco, Toshiba, Bridgestone, University of Pennsylvania, and Hugo Boss. Girish is part of the Product Council for NASSCOM, the trade association of Indian software companies. Girish also runs a charitable trust to promote grassroots football in India, which backs FC Madras. The professional football club will compete in the U13 and U15 divisions of the I-League.
Jun Kamei
Biomimicry Designer & Material Scientist
Jun is a Biomimicry designer with experience in material science research and product design, juggling between London and Tokyo, between advanced research and design. He is passionate about Nature's hidden design and our interaction with the surrounding natural environment, and in order to bring life to what he mostly care, he founded AMPHIBIO LTD, a creative technology company focusing on ocean innovation. In his previous experiences, He has worked as a designer and material scientist at the RCA-IIS Tokyo Design Lab an international collaborative initiative between the Royal College of Art and the University of Tokyo, and as a designer at Singularity University Japan. Recent creative project include "AMPHIBIO" - a 3D printed gill garment for underwater breathing, "Mothers of Pearl" - a pearl jewelry made from human breath, and the "WIM haptic suits". He loves to spend time in water, swimming and floating.
Neo-Generalist
Kenneth Mikkelsen is the founder of FutureShifts and an associate of the Drucker Society. Together with Richard Martin, Kenneth co-authored the book The Neo-Generalist: Where You Go is Who You Are, which explores the value of multidisciplinary thinking, of living in more than one world. Kenneth himself lives up to the premise of his book. A journalist by education, Kenneth has published widely on issues of leadership and the shifting nature of business in the 21st century in many leading media. As a leadership advisor, learning designer, speaker, and writer, he is dedicated to improving the quality of leadership by influencing how leaders think, learn, behave, and impact society.
Madras Records
Prodigal Musicians
The brainchild of celebrated director and filmmaker Pa Ranjith, Madras Records is India's largest ensemble band and is the sound of Gana going global. They are political world music ensemble band which promotes and spreads the idea of equality with a primary intention of making people more politically aware and to understand the status quo.
Co-Founder, The Irrelevant Gender Project
Meghna Chaudhury co-founded The Irrelevant Project that aims to eliminate gender biases, stereotypes, and prejudices among children through fiction books. Currently, she runs WeUnlearn, a gender-tech company that uses a chatbot, called Arushi, to help children overcome gender stereotypes. She is a Young India Fellow and post-fellowship, she pursued her love for instructional design at an NGO and designed curriculum for mentors and mentees after her graduation. The idea for TIP was born during this period and she collaborated with Alishya Almeida to publish 5 books for children under The Irrelevant Project. She adopted a dog, Shadow, who is the Chief Happiness Officer of her company.
Prerna Mukharya
Founder, Outline India
Prerna Mukharya is a data collector. She is the Founder of Outline India - a for profit, social enterprise that stands for creating social impact through data. With a reach of over 5000 villages, and 3 million stakeholders, Outline India helps the development sector collect and use data for effective policy making. Prerna was featured on Fortune magazine's 40 under 40 list in 2017 and win 2018. She was recently featured among top 25 businesswomen in India by Forbes magazine, in their annual issue featuring women leaders running profitable companies and by India Today as one of the top data crusaders in 2018. She was a 2018 Chevening Fellow at Oxford University offered by the UK government and Rolce Royce. She is a 2017 Raisina Fellow awarded by Ministry of External Affairs, and a 2016 Australia India Youth Dialogue Fellow. She has prior research experience working at Centre for Policy Research and holds an MA in Economics from Boston University.
Sashikumar Chelliah
Masterchef, Prison Officer
Sashi grew up with a strong sense of family and duty. Born in Singapore as the eldest of seven children, Sashi was introduced to food at a young age through his mother's café. His strongest memories are of his aunties and mother cooking meals for the growing family. Based in the Star Unit of the Singapore Police Force for nearly a decade, Sashi was highly trained in special tactics and rescue operations. Working in counter terrorism, kidnappings and high-profile protection in the riot police, he enjoyed being both physically and mentally strong. It is this strength and stamina that Sashi took into the MasterChef Australia kitchen in 2018 where he became known as a king of flavor. Sashi made history being the first contestant in ten seasons to win two immunity pins, and he was ultimately crowned the winner after securing the biggest margin and highest score ever seen in a Grand Finale.
Sofiyum Band
Lepcha Folk Band
Sofiyum is the first of its kind Lepcha folk fusion band based out of Gangtok. It was formed in the year 2011, with a common love for fusing Lepcha folk songs with contemporary styles of music. Coming from a culture which is deeply rooted in nature, their songs often express simple themes in a profound manner.
Sruti Harihara Subramanian
Filmmaker
Sruti Harihara Subramanian has conceived and directed the Amazon Exclusive musical docu-series "HARMONY with AR Rahman." She is a National award winning filmmaker and a theatre actor with a deep love for animals and the environment. She is an avid traveller and loves to explore art, culture and heritage. Her debut feature documentary 'A Far Afternoon ' on eminent painter Krishen Khanna bagged the Rajat Kamal for the best art/cultural film at the 63rd Indian National Film Awards and also the best music for non- feature film. It has been screened across various film festivals and cities including London, Bangalore, Mumbai, Delhi, Kochi, Hyderabad, Stockholm and in the US of A. It has been nominated for the best documentary in the New York Indian International Film Festival 2016 and at The Indian Film Festival at Stuttgart.
Sujith Ravindran
Author & Humanist
Sujith Ravindran is often introduced as a contemporary mystic with his roots in the Indian Dharmic tradition. For his work on facilitating personal growth in Italy, in 2012 he was conferred the honour of AMBASSADOR OF PEACE. He is a serial published author, including of the bestseller 'MATURE MASCULINITY: Man's Inner Essence' – a.k.a. The Shiva Code. Sujith is the co-founder of BEING AT FULL POTENTIAL, a center aimed at developing new forms of leadership. He is a spiritual guide to leaders in business and politics, and to several social movements worldwide.
Swarna Rajagopalan
Founder, The Prajnya Trust
Swarna Rajagopalan works as a writer, independent scholar and consultant in Chennai, India. She is also the founder of The Prajnya Trust, which works towards gender equality and peace through research and public education. She is active as a scholar on traditional and non-traditional security topics, including conflict, governance and gender. Her consultancy portfolio includes educational programming, research conferences, commissioned research, research direction and reviews as well as project evaluations and reviews. She is the author of several articles and chapters, and is the editor and co-editor for a few books on security, gender and politics. She also writes for both print and electronic media. Dr. Rajagopalan received her Ph.D. in Political Science at the University of Illinois at Urbana-Champaign, an M.A. in International Relations from Syracuse University and a B.A. in Political Science from University of Bombay
Toby McCartney
Co-Founder, Macrebur
MacRebur Limited - The Plastic Road Company, was the brainchild of CEO and co-founder Toby McCartney, 41. He came up with the idea after seeing raw waste plastic being dumped in potholes in India and to meet his daughters demands to "do something about the plastics in our oceans!" Back home in Scotland he recruited two friends to develop the idea, thus tackling two huge world problems of waste plastic recycling and crumbling roads. Toby represented the firm in the Virgin Voom competition in 2016, pitching to influential business leaders and ultimately winning the best start up prize and praise from Sir Richard Branson for the concept. Toby has also been awarded with the Institute of Directors, Director of the year recognition in 2018. He studied electronic engineering at Plymouth University and is an accredited NLP master trainer. He is also a director of Toby&KateMcCartney Ltd with his wife, and has co-authored two books on the art of NLP.
Yang Shih Hao
Cyr Wheel Performer
Asia's Got Talent finalist, Yang Shih Hao, went viral when his performance in the Cyr wheel hit the web, grossing an immense twenty million views. Originally specializing in hat juggling, Yang went from being an attendant in the Hong Kong Coliseum to a performer on the streets of Taiwan and is now a member of the esteemed Cirque Eloize. His performance is graceful and seems almost gravity-defying. He has devoted seven years of his life to performing in the circus, touring over twenty countries, showcasing his talent at international circus festivals across the globe.
Organizing team
Aadhitya Jayaseelan

Operations

Arun Subbiah

Partnerships/Sponsorship

Buvaneshwari Sundar

Team member

KD Sharma

Operations

Maaz Siddiqui

Marketing/Communications

Madhumeetha B

Marketing/Communications

Manish Prakash

Marketing/Communications

Mehul Singh

Marketing/Communications

Nanditha Vijayaraghavan

Marketing/Communications

Nivetha M

Team member

Pranshu Singh

Production

Rahul Bajaj

Curation

Rishabh Anand

Marketing/Communications

Shyam Sundar

Operations

Srinidhi Narayana

Partnerships/Sponsorship