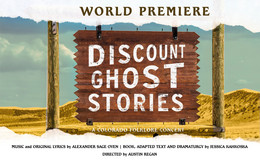 For our June Salon we are going to watch a play and talk to the cast after. Past TEDxBoulder Speaker Pesha Rudnick's Local Theater Company is doing the world premier of "Discount Ghost Stories"
We are going to the June 26th performance.
https://www.localtheaterco.org/discount-ghost-stories
Speakers
Speakers may not be confirmed. Check event website for more information.
Curator
What happens to your brain on theater? Pesha Rudnick discusses live performance as an antidote to apathy and an opportunity for connection. Pesha Rudnick started her career as a theater director and actor at the age of 7 in her backyard in Venice, CA. She is currently the founding artistic director of Local Theater Company in Boulder, CO, where she pursues the company's mission to discover and develop new American plays. For Local, Pesha has directed 5 world premiere productions and curates Local Lab, a new play festival that attracts playwrights (near and far) to grow their work with audience collaboration. As a freelance director, Pesha has directed over 30 new plays including the world premiere of O.P.C. by Eve Ensler at the American Repertory Theater at Harvard University. She has also worked at the Oregon Shakespeare Festival, Signature Theater, Creede Repertory Theater, Curious Theater Company, Florida Stage and The Kennedy Center in Washington, D.C.