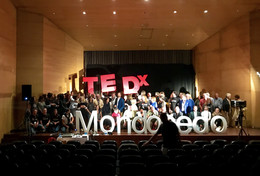 El mundo se mueve cada vez más rápido. Vivimos en una sociedad colmada de tecnología. Las ciudades, donde coexisten millones de personas son entornos vivos, voraces y hostiles. Todos los días recibimos información por numerosos y diversos canales. A la prensa, la radio y la televisión convencionales, debe sumarse Internet, Redes Sociales, e incontables alertas del móvil a diario. En el siglo pasado, la información llegaba dos o tres veces al día, sin embargo, ahora estamos permanentemente conectados y aspiramos a lo contrario, desconectar dos o tres veces al día. Pero esto podría no ser suficiente… Estamos comenzando a sufrir un síndrome de exceso de información, y es hora, más que nunca, de proponerse desconectar de vez en cuando para resetear la mente y el cerebro. Un nuevo proceso que se conocerá como desinfoxicación.
Y aquí, los entornos tradicionales jugarán un papel muy importante para ayudarnos a desinfoxicarnos.
---oOo---
The world moves faster and faster. We live in a society full of technology. Cities, where millions of people coexist are living, voracious and hostile environments. Every day we receive information through many different channels. To the press, radio and conventional television, Internet, Social Networks, and countless cell phone alerts must be added daily. In the last century, information arrived two or three times a day, however, we are now permanently connected and aspire to the opposite, disconnect two or three times a day. But this might not be enough… We are beginning to suffer from a syndrome of excess information, and it is time, more than ever, to propose to disconnect from time to time to reset the mind and brain. A new process that will be known as deinfoxication.
And here, traditional environments will play a very important role in helping us to detoxify ourselves.
Speakers
Speakers may not be confirmed. Check event website for more information.
Agustina Martínez
Clinic Pharmacist
Farmaceutica clínica
Aurora Xiaojing Hou
Spanish Teacher
Spanish Teacher
Inmmersive content creator
Creador disrruptivo de contenidos audiovisuales inmersivos. Comenzó desarrollando proyectos audiovisuales de todo tipo: programas de TV local de contenido artístico y cultural, hasta videoclips para grupos del Xixón Sound, ciclos de cine de terror para el Festival Internacional de Cine de Gijón, documentales, cortos, spots publicitarios. Posteriormente funda TransReal360, una pionera productora audiovisual de proyectos inmersivos en 360 grados con la que lleva cosechados siete premios internacionales.
Engineer, economist, futurist, transhumanist, immortalist, singularitarian and cryonicist
He has worked on different areas including economic development, international relations, Latin America, the European Union, monetary policy, comparison of constitutions, energy trends, cryonics, and longevity. He studied at MIT, INSEAD, Universidad Simon Bolivar and Georgetown University, has lived and travelled in almost 140 countries, writing over a dozen books and appearing in many international media. His latest best-seller is "La Muerte de la Muerte" that made it to the top 10 in general sales, and top 1 in health books during Book Day 2018, according to Amazon.es. He plans to live indefinitely, healthier and younger, and his motto is "La vie est belle".
Periodista en la Era Digital
Director de TELOS, publicación de Fundación Telefónica. Profesor de Periodismo en la Universidad Carlos III de Madrid. Trabajó en medios como El País y Radio Nacional de España. Fundó el diario digital www.bez.es. Fue asesor en la Secretaría de Estado de Comunicación del Gobierno de España y responsable de comunicación del Plan Avanza para el impulso de la sociedad de la información. Enamorado de Mondoñedo, tienen entre sus ideas iniciar algún tipo de proyecto que permita la #desinfoxicación. FUE ASESOR EN LA SECRETARÍA DE ESTADO DE COMUNICACIÓN DEL GOBIERNO DE ESPAÑA Y RESPONSABLE DE COMUNICACIÓN DEL PLAN AVANZA PARA EL IMPULSO DE LA SOCIEDAD DE LA INFORMACIÓN.
Periodista
Periodista especializado en innovación, Startups y entornos digitales. DIRCOM del Grupo CEF - UDIMA.
Manuel Lozano González
Football trainer
Amante de la actividad física y el deporte como parte de una forma de vivir. Entrenador de fútbol y profesor de Educación Física. Un nuevo modo de vida en el siglo XXI pasa por la promoción de hábitos saludables durante la infancia, para todo ello se requiere formación continua y un gran ejercicio de innovación. En la receta hace falta incluir música, familia, nuevos amigos y si es posible un escenario natural y tradicional. La actividad física en un entorno como mondoñedo es algo esencial.
Megahed Elsayed Shadad
Economist
Economist
Woman technologist in the village
Miriam holds a degree in Advertising, Public Relations and Marketing, and a Master in Teacher Training. As an expert in digital marketing, she has been helping major companies and SMEs to grow their business on the Internet since 2011. Thus, throughout her career she has had the opportunity to work with brands such as Privalia, Burger King, Saba Aparcamientos, Zurich Seguros and Turismo de Galicia, among others. A couple years ago she became a professor of Master in Digital Business. Versatile and polymath, such curiosity led her to do research into different areas. In 2015, her passion for events and literature encouraged her to begin a career as mistress of ceremonies. She enjoys traveling the world, reading and spending time with her loved ones, one of the reasons why Galicia was the chosen destination to settle down.
Roberto Reigosa
Medieval historian
Historiados del arte, paleógrafo, documentalista, humanista y mindoniense de a pié. En pleno proceso de "digitalización" interior, sigue prefiriendo el perfume de humedad de un vetusto volumen manuscrito que la definición de una pantalla. Con Mondoñedo como piedra angular mantiene como lema a modo de manual de instrucciones la famosa sentencia de Tomás de Kempis: "In omnibus requiem quaesivi, et nusquam inveni nisi in angulo cum libro." | Art historian, palaeographer, humanist and mainly a normal mindoniense. In the middle of the process of inside"digitization", he continues to prefer the moisture perfume of an ancient manuscript volume than the definition of a screen. With Mondoñedo as a cornerstone, he maintains the famous sentence of Thomas of Kempis as an instruction manual: "In omnibus requiem quaesivi, et nusquam inveni nisi in angulo cum libro."
Rosy Costoya
Real State
La casa de tus sueños
Sabela Ruy-Diaz Lema
Digital transformation specialist
Sabela es especialista digital, en medios y transformación digital e innovación. Viajera incansable, de los 6 continentes le falta la Antártida por conocer. Burner en 2017 (Burning Man) y apasionada por el mar y la música. Comprometida con proyectos sociales y medio ambiente, con los que suele colaborar. Tras su vuelta al mundo durante un año no encuentra un lugar mejor que la Galicia rural para vivir. Su mantra "Si no ahora, ¿cuándo?" | Sabela is a digital, media and digital transformation and innovation specialist. Tireless traveller, Antarctica is the one continent that still remains unknown for her. Burner in 2017 (Burning Man) her passions are the sea and the music. Very concerned and active about social projects and environmental ones so she uses to collaborate with them. After one year traveling the world, she doesn't find a better place to live than rural Galicia. Her motto "If not now, when?"
Salvador Bellver
Lawyer
Abogado, apasionado por las Nuevas Tecnologías y programador informático. CEO de IusLegal, SmartGo, NEXA Global y Curssiva, Presidente de AEDRON y vicepresidente de AEPESI. Profesor universitario , motivador educacional , transmisor entusiasta de aprendizaje y superación personal. Vive conectado, en positivo y creando sinergias. Juntos colaboramos, diseñamos, construimos y evolucionamos hacia una sociedad mejor.
Yong Li
Emprendedor, concursante de realities de televisión
Emprendedor, concursante de realities de televisión. Fundador de Bat2go y director de operaciones de Winner-proyect. Allá donde haya una idea para crear valor añadido Yong Li estará presente, por muy lejos que sea o por muy difícil que parezca.
Yván Pozuelo Andrés
Innovador docente y profesor
Historiador y profesor de francés. Crítico, provocador, irónico sarcástico, escucha, pregunta e interviene. Para él, dejar a tan solo un alumno en la cuneta es abocar la sociedad a ser presa de las injusticias y de las guerras. Gijonés, se crió en París donde se licenció en Historia. De regreso a España, logró en Galicia un puesto en la enseñanza secundaria, impartiendo clases en Ribadeo y en Viveiro. Entre tanto se doctoró por la universidad de Oviedo especializándose en la historia de la masonería durante la II República. Editor de la revista internacional especializada en la masonería REHMLAC+, es colaborador habitual del Prof. Ferrer Benimeli.