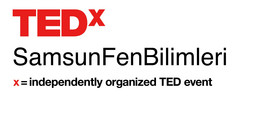 TEDxSamsunFenBilimleri is a local TEDx event aiming to provide the students with valuable information through experienced speakers from all over the country.
Speakers
Speakers may not be confirmed. Check event website for more information.
Owner of Le Fırın + Pastry chef
Bengi Kurtcebe 1985 İstanbul doğumlu. Liseyi Robert Kolej'de, üniversiteyi ise Şikago'da okudu. İstanbul'a dönünce birkaç sene iç mimar olarak çalıştıktan sonra ani bir kararla MSA'da pastacılık eğitimi alarak 2012'de Le Fırın'ı kurdu. Bengi, Le Fırın'da 10 kişilik ekibi ile her gün hem göze hem de damağa hitap eden değişik tatlar hazırlıyor. Sektöre yeni bir soluk getiren 3 boyutlu gerçekçi pastaları, el boyaması pasta teknikleri ile her gün yeni bir eser ortaya çıkartıyor.
Bilgen Özcan Coşkunsoy
Bilgen Özcan Coşkunsoy 03/08 1977'de Amasya'da doğdu. Müzik eğitimine küçük yaşlarda Müzik öğretmeni ile solfej ve Piyano dersleri alarak başladı. 1996'da Hacettepe Üniversitesi İktisadi İdari Bilimler Fakültesini kazandı. 1998'de Gazi Üniversitesi Eğitim Fakültesi Müzik Öğretmenliği sınavlarını kazandı. 2002'de mezun oldu. 1999'da TRT Çok Sesli Gençlik Korosuna katıldı. Uzun yıllar Ankara Operası Şan Pedagogu Linda Provinya ile şan çalıştı. 1999'da Orfeona girdi. Solo görevler aldı. Avusturya, İngiltere, Kanada, Pakistan gibi ülkelerde orfeon üyesi olarak konserler verdi. 2001'de jeunnes Müsical kapsamında İsrail'e Gönderildi. Orada solo konserler verdi. Ankara ve İstanbul'da solo konserler verdi. 2005'te 19 Mayıs Üniversitesi Eğitim Fakültesine Araştırma Görevlisi olarak Girdi. Prof. M. Erğrul Bayraktarkatal ile solfej, armoni ve koro - orkestra şefliği çalıştı. 2008'de Yüksek Lisansını Bitirdi. 2009'da İtalya/ Roma Santa Cecilia Konservatuarı Opera Stüdyosuna katıldı. Renata Scotto ile Interpretazione Vocale , Anna Vandi ile Teknik vocale, Cesare Scarton İle diksiyon ve artikülasyon çalıştı. İlk vokal topluluğu 2008'de kurdu. Samsun'da konser verdi. 2005-2007'de Samsun Anadolu Güzel Sanatlar Lisesi korosunu Çalıştırdı. Ankara ve Samsun' da konserler verdi. 2010 kasım'da Samsun Oda korosunu kurdu. Bilgen Özcan Coşkunsoy Samsun 19 Mayıs Üniversitesindeki görevine devam etmekte ve özel öğrenci olarak Ankara ve Samsun'da doktora yapmaktadır.
Founding Vice President of MEF University
Erhan Erkut received a BSc in Industrial Engineering from Bogazici University in 1980 and a PhD from the University of Florida in 1986. Dr. Erkut taught at the University of Alberta School of Business during 1985-2005. During this period he received nine teaching awards, including the INFORMS Teaching of Management Science Practice Award and the 3M Teaching Fellowship, and five practice and service awards from the Canadian Operational Research Society. Dr. Erkut established a Centre for Excellence in Operations to facilitate know-how transfer, and served as the founding editor of the journal INFORMS Transactions in Education. After returning to Turkey in 2005, he served as Dean of the Business School at Bilkent University (2005-07), the Founding Rector of Ozyegin University (2008-13), and as Vice-Rector of MEF University (2014-). Currently he serves on the boards of three local education associations and works actively to promote skills development for youth and entrepreneurship.
Founder of TurkishWIN
Melek Pulatkonak, Avusturya Lisesi'nden mezun oldu. London School of Economics and Political Science'dan İktisat derecesini alıp, New York Borsası'nda iş hayatına atıldı. Columbia Business School'da MBA derecesini alıp, girişimcilik profesörünün uyarılarını dinlemeyerek girişimci oldu. New York'da hakia.com adındaki semantik arama motorundaki kurucu ortak görevini ve 20 senelik yurtdışı macerasını sonlandırıp, 2011'de Yazılım Geliştirme Teknolojileri'nden Sorumlu Genel Müdür Yardımcısı olarak Microsoft Türkiye'de göreve başladı. 2013'de Microsoft'dan ayrılan Melek Pulatkonak, sosyal girişimi, fark yaratan kız kardeşlik ağı Turkish Women's International Network'de milyonlarca kadına "O Yaparsa Ben de Yaparım" gücünü vermek için tam zamanlı çalışmakta. 2010'da kurduğu TurkishWIN, Londra, New York ve İstanbul başta olmak üzere on şehirde faliyette bulunuyor. TurkishWIN, ilham videolari; mentörlük ve kampüs programları ile globalleşiyor.
Instructor at Istanbul Bilgi University
Ankara Atatürk Lisesi ve Ankara Ü. Hukuk Fakültesini bitirdi. Okul yıllarında karikatürist olarak çalıştı. 1967 yılında Türkiye'de TV yayınlarını başlatan ilk ekipte Prodüktör dramalar yaptı. İngiltere, Japonya ve BBC'de TV Program Yapım ve Yayıncılığı, TV İşletmeciliği ve Reji Öğretmenliği eğitimleri gördü. TRT Televizyonunda Yönetmenlik ve çok sayıda birimin müdürlüğünü, TRT-INT ve AVRASYA TV'nin kuruluş çalışmalarını ve yöneticiliğini yaptı. Dünyayı defalarca dolaşarak TRT yapımlarını uluslararası film festivalleri ve program marketlerinde sattı. 25 yıl boyunca Yapımcı, Yönetmen ve Yönetici olarak çalıştığı TRT'den, TV Daire Başkanı ve Genel Müdür Yardımcısı vekili iken 1992 yılında emekli oldu. 1992'de Alo Bilgi Grubu Genel Koordinatörü oldu, daha sonra da Koç Holding'e bağlı EKO TV'nin (şimdi CNN TÜRK) kurucu Genel Müdürlüğünü yaptı.
P&G Turkey/Caucasus Vice President&CEO
Tankut Turnaoğlu has taken over the position as the second Turkish CEO in P&G Turkey. Tankut Turnaoğlu began his career at Eczacibasi - Procter & Gamble joint venture as Assistant Brand Manager on oral care business in 1991. Turnaoğlu led many successful projects such as Pringles launch, Ace relaunch with brand's icon "Aunt Ayse" character. He worked in P&G Central Asia and Caucasus as Country Manager where he led an organization of 125 employees. He was appointed Marketing Director of Beauty and Personal Care categories at P&G Turkey in 2002. Between the years of 2006-2010, Turnaoğlu worked as Global Business Unit (GBU) Marketing Director of Central and Eastern European Laundry business. In 2010, he was promoted as General Manager and relocated to Singapore to lead P&G Asia and Australia Fabric Care business. He has been appointed as the Chairman of the Board of P&G Turkey by March 2013.
Futurist
Futurist, Economist Ufuk Tarhan, Futurist, Economist, President of Digital Agency. Graduated from the Middle East Technical University (METU), Department of Economics. Since 1982, she has worked as a top executive, general manager and board member in various companies and industries mainly in IT & telecommunications. In 2002, she was awarded as the most successful businesswoman in the IT industry. She founded M-GEN Future Planning Center in 2006 & M-GEN Digital Agency in 2011 to provide personal future planning consultancy & Digital/Social Media Services to people & enterprises. She is ranked among top 100 female futurists in the world list (being the one and only Turkish person) and known as business designer and avatar. She is first members and former president of the Futurists Society (TFD) in Turkey and still the only woman futurist keynote speaker, moderator and facilitator in Turkey.