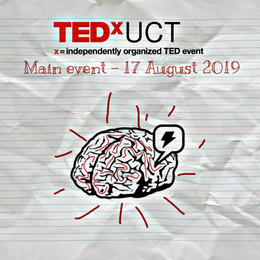 We Need To Talk" - is an independently organized TED event, organized by TEDxUCT.
TED is a non-profit devoted to spreading ideas, usually in the form of short, powerful
talks (18 minutes or less). It only makes sense for TEDx Event to take place at the University of Cape Town which prides itself as the centre of Innovation and Teaching. TEDxUCT invites inspired thinkers, thought leaders, and curious souls to engage with ideas and each other at our event. At this event, TED Talk videos and live speakers will combine to spark deep discussion and connections.
The theme: "We Need To Talk" is a purposive play on what many would call the preamble to a serious discussion. It is suggestive of a serious discussion, and eludes to an intervention. And that is what TEDxUCT aims to achieve with this event, to intervene by means of serious discussion.
The event will be dominated by 5 idea generators from UCT, along with Advocate Tembeka Ngcukaitobi and Brandon Beack.
We look forward to seeing you there!