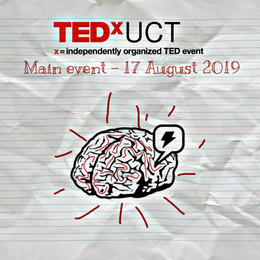 We Need To Talk" - is an independently organized TED event, organized by TEDxUCT.
TED is a non-profit devoted to spreading ideas, usually in the form of short, powerful
talks (18 minutes or less). It only makes sense for TEDx Event to take place at the University of Cape Town which prides itself as the centre of Innovation and Teaching. TEDxUCT invites inspired thinkers, thought leaders, and curious souls to engage with ideas and each other at our event. At this event, TED Talk videos and live speakers will combine to spark deep discussion and connections.
The theme: "We Need To Talk" is a purposive play on what many would call the preamble to a serious discussion. It is suggestive of a serious discussion, and eludes to an intervention. And that is what TEDxUCT aims to achieve with this event, to intervene by means of serious discussion.
The event will be dominated by 5 idea generators from UCT, along with Advocate Tembeka Ngcukaitobi and Brandon Beack.
We look forward to seeing you there!
Speakers
Speakers may not be confirmed. Check event website for more information.
Asande Vilane
Asande is Medicine student at the University of Cape Town. She is a student by day and author by night, having started an op-ed blog to spread ideas she believes are worth sharing. She has won best delegate at the United Nations Environmental Programme simulation in 2019 and participated in multiple science fairs, she has a keen interest in making the world a better place through the application of sustainable ideas.
Courtney Kemp
Courtney is a thought leader pioneering a solution for the climate crisis specifically tailored to South Africa. Courtney has engaged in global issues at the United Nations in New York. She holds a bachelor of Social Sciences fom UCT and an LLB from UCT and is well on her way to a Masters Degree!
Dimpho Thepa
Dimpho is a radio host on UCT Radio, The co-founder of her company, The Shoe Box,and a member of the P&G CEO Challenge 2019 winning team. She also reviews African literature for Exclusive Books Cavendish, she is an Allan Gray Orbis Foundation Fellow, and a poet.
Min'entle Mthelelo
Min'entle is a multi-dimensional 22 year old woman with a problem solving and analytical yet creative personality that she attributes to her broad set of interests and skills. She uses these skills to channel a positive change through entrepreneurship; being actively involved in her community and teaching South Africa's most valuable assets, the youth,, how, how to solve Mathematical & community problems using strategic games. Apart from being an entrepreneur, Min'entle is also an Economics and Finance student at the University of Cape Town with a keen interest in Developmental Economics and Policy. Min'entle wants to encourage every young person to have a look at their ideas: to confront them & implement them as innovative solutions without the fear of failure but the pursuit of excellence & impact.
Mpumelelo Mhlongo
Mpumelelo has been hailed as the Top 200 Young South Africans of 2019 by Mail & Guardian. News24 has named him as one of the 100 Young Mandela's because of the resilience he embodies. He is a South African Paralympian, holding the T44 200m and Long Jump World Records. Mpumelelo is a PhD candidate at the University of Cape Town and works as a franchise manager in a global business coaching franchise and somehow finds time to run his own successful healthcare company.
Shanice Chigumba
Shanice is a final year Bachelor of Social Sciences at the University of Cape Town majoring in Politics and History