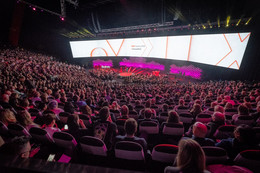 The theme for TEDxSydney 2019 is Legacy. What have we been left with? What are we doing with what we've been left with? What will we leave behind? Legacy is anything handed down from the past, as from an ancestor or predecessor. It can be personal, organisational, cultural or generational. Although in the context of humankind, we may feel acutely aware of our individual insignificance within the overarching and cosmic scheme of things; we continue as a species and as individual members of that species we continue to be healthily preoccupied with the impact that we can have on other people both living and yet to be living.
Speakers
Speakers may not be confirmed. Check event website for more information.
320
Winners of 2018 YouthRock Battle of the Band, 320 are four high school students from Sydney's Punchbowl Boys' High School. Micah Papalli-Talanai - Vocals Bass Guitar - Theodore Tavete Guitar - Yoosuf Mohamed Drums - Lucas Tekii
Albert Wiggan
Albert Wiggan is a Bardi-Kija-Nyul Nyul man from the beautiful waters of Boddergron (Cygnet Bay) on the Dampier Peninsula, who is passionate about culture, country and Indigenous science. When the government tried to build the world's largest LNG plant at James Price Point, Albert lobbied the Supreme Court and fronted a blockade until the developer withdrew from the project. He now works as an environmental consultant with the Nyul Nyul Rangers, is Deputy Chair of the Kimberley Indigenous Saltwater Science Project, Indigenous Chair for Bilbies Australia's National Recovery Team, and is the Nyul Nyul representative on the board of the Kimberley Land Council. Albert has toured international stages as a speaker and musician with John Butler, and has worked in film and television for the last ten years. He lives with his wife and three children on Nyul Nyul Country in Beagle Bay community.
Asha Jefferies
From the age of 13, Asha has been writing candid songs that detail the feelings and moments of her life in a warm attempt to hold those memories forever. Rising to national attention at a young age with her goosebump-inducing single Honey, Save Me From My Falsehoods, Asha earned the respect of national broadcaster Triple J with Richard Kingsmill praising her unique ability to craft 'simple songs' that 'command attention'. 2018 will go down as the year it all changed for Asha Jefferies. Quietly assembling a team for the first time, she's no longer the loner with an acoustic (a Fender Mustang is now her weapon of choice) and has recorded new music with Miro Mackie (Cold War Kids, St. Vincent, Bishop Briggs) with a full band in tow (first result of these sessions 'Everybody Talks' is out now), polishing up an EP she had thought she'd finished. Asha Jefferies enters adulthood and this new chapter with the same determined self-assuredness that precedes her every performance, while maintaining the vulnerability and intimacy that's enamoured fans the nation over since her early teens.
Audience
Fast Ideas at TEDxSydney 2019
Behrouz Boochani
Behrouz Boochani is a Kurdish journalist, writer, poet and filmmaker. He has been held in Manus Island detention centre since 2013. During his time in detention he has published regularly with The Guardian, and his writing also features in The Saturday Paper, Huffington Post, New Matilda, The Financial Times and The Sydney Morning Heraldcoveringthe plight of his fellow refugees, held by the Australian government on Manus Island. In 2018 he published his novel — No Friend But the Mountains: Writing from Manus Prison, which won Australia's most valuable literary award, the $100,000 2019 Victorian Prize for Literature. His journalism has also been awarded the Amnesty International Australia 2017 Media Award, the Diaspora Symposium Social Justice Award, the Liberty Victoria 2018 Empty Chair Award, and the Anna Politkovskaya Award for journalism. Boochani remains in detention in Manus Island.
Bridget Loudon
Bridget Loudon is the CEO & Co-founder of Expert360 and is a passionate leader on a mission to create simple technology products that change our working lives for the better. Bridget grew up on a sheep farm in Ireland. She excelled academically, with her university scholarships and entrepreneurial spirit taking her to live and work in France, Hong Kong, Ireland, and most recently settling in Australia. Bridget worked for Bain & Co in Sydney before the founding of Expert360 in 2013, at age 25, with a mission to create the technology platform that would allow companies to power agile, project-based workforces. Today, Expert360 is APAC's leading marketplace and management platform powering the freelance economy.
Craig Costello
Craig Costello is a researcher in cryptography at Microsoft in the USA. He works on cryptographic applications of computational number theory and computational algebraic geometry. In recent years Craig has focussed on using elliptic curves and lattices to achieve fast and secure post-quantum cryptographic systems. Craig graduated with a PhD from the Queensland University of Technology in Australia and recognised as an Australian-American fulbright scholar at the University of California, Irvine. Craig was a postdoctoral fellow at both Technische Universiteit Eindhoven in the Netherlands and at Microsoft Research in the USA.
David Wenham
David Wenham has received critical acclaim for his diverse performances in film, theatre and television. He is one of Australia's most respected actors. David's film credits include LION, LORD OF THE RINGS, GETTIN' SQUARE, ORANGES AND SUNSHINE, MOULIN ROUGE, AUSTRALIA, 300, GOLDSTONE, THE BANK, MOLOKAI, PIRATES OF THE CARIBBEAN, PETER RABBIT and most recently DIRT MUSIC. His recent television credits include Jane Campion's TOP OF THE LAKE, THE CODE, KILLING TIME, ROMPER STOMPER, BETTER MAN, BANISHED AND WAKE IN FRIGHT. In 2017 David wrote and directed his debut feature film, ELLIPSIS. David's accolades include Best Actor AwardS from Australian Film Institute (AFI) IF Awards, The Film Critics Circle of Australia (FCCA) and Screen Actor's Guild. David's numerous theatre credits include CYRANO DE BERGERAC, THE CRUCIBLE, TRUE WEST for Melbourne Theatre Co, HAMLET, THE TEMPEST, COSI for Belvoir St and JERRY SPRINGER THE OPERA for Sydney Opera House.
Deep Sea Astronauts featuring Sheba Williams
Formed in 2009, Deep Sea Astronauts is a Sydney based collective of artists, performers, musicians, dancers, designers and illustrators. They create performances for theatres, festivals, events and radio, with a passion for roving, interactive and immersive experiences. Their shows are built to delight, excite and inspire and often explore environmental, queer and social justice themes through subversion of archetypes and quirky humour. They are a scalable collective, with members coming in on different projects according to their skills and styles. This means they have a wealth of talent to work with on everything from intimate recordings to large-scale immersive environments.
Eddie Jaku
Eddie Jaku OAM, born Abraham Jakubowicz in Germany in 1920. His family considered themselves German, first, Jewish second. On 9 November 1938, the night immortalised as Kristallnacht, Eddie returned home from boarding school to an empty house. At dawn Nazi soldiers burst in, Eddie was beaten and taken to Buchenwald. Eddie was released and with his father escaped to Belgium and then France, but was again captured and sent to a camp, and thereafter to Auschwitz. On route, Eddie managed to escape back to Belgium where he lived in hiding with his parents and sister. In October 1943, Eddie's family were arrested and again sent to Auschwitz where his parents were both murdered. In 1945, Eddie was sent on a 'death march' but once again escaped and hid in a forest eating slugs and snails until June 1945 he was finally rescued by. Eddie has volunteered at the Sydney Jewish Museum since it's inception in 1992. Self-proclaimed as 'the happiest man on earth', he saw death every day throughout WWII, and because he managed to survive, made a vow to himself to smile every day. Edie has been married to Flore for 73 years, they have two sons, grandchildren and great grandchildren.
Eric Avery
Eric Avery is a Ngiyampaa, Yuin, Bandjalang and Gumbangirr artist. As part of his practice Eric plays the violin, dances and composes music. In this performance at TEDxSydney 2019 he sings in his father's Ngiyampaa language, explaining that he has been aiming to revitalise language and song in his music practise for the past five years. The piece is a healing Wiradjuri/Nyaampa lullaby. As Eric says, "it was a song sung to heal and this song healed me as well". The song is a piece that he learned from recordings of the King Family.
Fast Ideas
Fast Ideas at TEDxSydney 2019
Genesis Owusu
Making his mark on the Australian music scene, Genesis Owusu is continually delivering his own ever-changing and unique style of hip-hop that showcases both his artistic versatility and poetic approach. In 2015, Owusu was a top 5 finalist in the Triple J Unearthed High competition; now, the Canberra rapper has already performed explosive live sets at Groovin' The Moo, Spilt Milk, St. Jerome's Laneway, BIGSOUND Festival, Meredith Music Festival and Lost Paradise. Genesis Owusu's notoriety is continually growing, gaining nods from VICE, i-D Magazine, Oyster Magazine, Thank Guard, Pilerats, Tonedeaf, LNWY, AUD'$, Earmilk, FBi Radio and Triple J, becoming Triple J Unearthed feature artist in January/February of 2017. Noting a long list of influences on his including Jimi Hendrix, Frank Ocean, Miles Davis, Wu-Tang Clan and Kanye West, Genesis Owusu takes inspiration from an expansive range of sources to create laid back, jazz-infused-jams, and experimental genre-bending hardcore hip-hop.
Handsome
HANDSOME is an artist, crafting a mix of Tomboy pop and brooding electronica, based in Sydney, Australia. Her sound are bold announcing a celebration of self-expression and carefree creativity but is still accompanied by obsessive perfection. Crafting her music mostly in home studios, HANDSOME has a knack for the DIY. Working with artists and writers with strong pop sensibilities and then taking the songs into their final chapters, she plays with unique aural aesthetics to achieve something distinctive and brand new. HANDSOME introduced herself in late 2017 with her debut single 'Late Night Ball Game feat. Joyride', the song extended a feeling of hope when people needed it most. The song soared past 100,000 plays in its first fortnight on Spotify, which indicated the songs impact worldwide. There is no slowing down with HANDSOME spreading her wings abroad, armed with new music, new concepts to conquer and stages a plenty to play.
Hedayat Osyan
Hedayat is a 27-year-old former refugee from Afghanistan who came to Australia in 2010. He has a bachelor degree of Politics and International Relations and honours degree of Arts and Design from the University of Canberra. He has worked as a youth consultant and advisor for many organisations including the Cumberland Council, MYAN NSW and CMRC to assist refugees to establish their new lives in Australia. Currently, he is also the founder and managing director of social enterprise, Nick Tiling Services, which employs and supports refugees and asylum seekers, on a mission, to empower refugees and asylum seekers through providing training and employment opportunity. Hedayat was selected at Young Social Pioneer by FYA in 2018 and First Gens Accelerator by Ygap in 2019. Hedayat was a speaker at TEDxSydney Pitch Night in September 2018, an evening for members to attend and listen to those in the community present their 3 minute 'TED' idea.
Joyride
As a musician, performer, DJ and social maverick, Joyride has entrenched himself as one of the biggest personalities in Australian music. His work with the One Day Crew and The Meeting Tree has seen him nominated for an ARIA and play some of the biggest events in the country – from major festivals like Splendour In The Grass to the immensely popular One Day Sunday block parties. Joyride released his debut solo album, Sunrise Chaser, in November 2018 via Dew Process and Universal Music Australia. A 15-song epic that showcases the big man's immense talent, the record is loosely based around the theme of what Joyride describes as, "a collection of stories about being 20-something legends on the weekend in the Inner West. It explores the emotional spectrum that exists between Friday and Monday, including the bits we maybe try not to explore all the time." As one of the most loved members of the Australian music community, Joyride is a dedicated artist, widely recognised for his talent, quick wit and off-the-cuff humour (see: any interview he's ever done) and compelling live performances. As Joyride say, "stories aren't just told, they're seen and heard and felt and smelt. Music is meant to be shared."
Joyride TEDxSydney 2019
As a musician, performer, DJ and social maverick, Joyride has entrenched himself as one of the biggest personalities in Australian music. His work with the One Day Crew and The Meeting Tree has seen him nominated for an ARIA and play some of the biggest events in the country – from major festivals like Splendour In The Grass to the immensely popular One Day Sunday block parties. Joyride released his debut solo album, Sunrise Chaser, in November 2018 via Dew Process and Universal Music Australia. A 15-song epic that showcases the big man's immense talent, the record is loosely based around the theme of what Joyride describes as, "a collection of stories about being 20-something legends on the weekend in the Inner West. It explores the emotional spectrum that exists between Friday and Monday, including the bits we maybe try not to explore all the time." As one of the most loved members of the Australian music community, Joyride is a dedicated artist, widely recognized for his talent, quick wit and off-the-cuff humour (see: any interview he's ever done) and compelling live performances. As Joyride say, "stories aren't just told, they're seen and heard and felt and smelt. Music is meant to be shared."
Kim Graham-Nye
Kim Graham-Nye is irrepressible when it comes to ending nappy waste. With one cup of oil in each nappy and 450 billion nappies entering landfills or our oceans every year – nappies are a dirty business. Kim and her husband Jason founded gDiapers in 2005 – introducing the worlds first Cradle to Cradle Certified nappy and created the "hybrid"nappy category globally. In 2011, Kim was named as one of Fortune Magazines "Top 10 Most Powerful Women Entrepreneurs in America" and in 2015 the World Economic Forum named their new gCycle project– as one of the top five disruptive technologies leading the Circular Economy. Kim and Jason are determined to shift the global nappy industry from oil based to renewable based; from landfill bound to resource generation; and from a burden to our children to an inspiration in how to re-imagine consumer goods in a circular economy. In short, nappies will no longer be a dirty word.
Maxine Beneba Clarke
Maxine Beneba Clarke's short fiction collection Foreign Soil won the ABIA for Literary Fiction Book of the Year 2015, and the 2015 Indie Book Award for Debut Fiction. Maxine has published three poetry collections including Carrying the World, which won the Victorian Premier's Literary Award for Poetry 2017 and was shortlisted for the Colin Roderick Award. The Hate Race, a memoir about growing up black in Australia won the NSW Premier's Literary Award Multicultural NSW Award 2017. The Patchwork Bike, Maxine's first picture book with Van T. Rudd, was a CBCA Honour Book for 2017. She writes for The Saturday Paper.
Monkol Lek
Monkol is an Assistant Professor of Genetics at Yale University. He leads a research group focused on researching the genetics of Neuromuscular diseases and development of therapies. He trained at the Broad Institute and Harvard Medical School developing resources and methods to improve the genetic diagnosis of rare diseases. The includes building a resource that has been accessed over 15 million times by rare disease researchers. He still calls Australia home and owes his success and strong work ethic from being raised as a Cambodian refugee, the youngest of seven children and educated in the public schools of Blacktown in the western suburbs of Sydney. He did his higher education at the University of New South Wales and a PhD at the University of Sydney. In his spare time, he likes to play with his dogs, complain about anything, binge watch on Netflix and play computer games.
Peter Stutchbury
Peter Stutchbury has practiced Architecture since 1980 establishing a reputation for innovation, responsibility and connection. Peter greatly respects Aboriginal culture. He has taught and lectured nationally and internationally since 1981, held the Catedra Luis Barragán chair, Mexico and a Professor at The University of Newcastle, Australia since 1999. Peter is also a teaching master with the Architecture Foundation Australia. He has taught Master Classes in USA, Ireland, Chile, Bangladesh, India, Namibia, New Zealand, South Africa and Australia. From 2016, in association with the University of Newcastle and partner Fernanda Cabral he has worked in disadvantaged communities in Brazil. Peter Stutchbury Architecture has won over 50 Australian Institute of Architects Award and in 2003 Peter became the first Architect to win two named National Architecture Awards, repeating this in 2005 and has also had exhibited at the Venice Architecture Biennale in Italy in 2008. "Buildings capture the spirit of a moment whilst anticipating time. Nothing is static unless disconnected."
Remo Giuffre
Remo Giuffré is a thinker and creative strategist with a long track record as an entrepreneur, retail merchant and brand builder. He founded the REMO General Store in 1988; and co-founded the General Thinking network in 2001. He also enjoys a long and ongoing association with TED in New York, and, since 2009, has been CEO & Founding Licensee for TEDxSydney, an annual flagship TEDx event that has become Australia's leading ideas forum and the gold standard for TEDx globally.
Ros Harvey
Ros Harvey is an experienced entrepreneur and executive in technology, particularly the Internet of Things (IoT) and user-centric design. Ros is committed to creating public good through the innovative use of technology. Since founding Australian agtech company The Yield in 2014, it has become one of the industry's fastest growing technology success stories, backed by several leading global businesses including Bosch, KPMG and Microsoft. Ros is passionate about technology playing a role in the sustainable governance of the planet, and is an accomplished speaker on agtech, IoT, converting data to knowledge and the future of food. Ros also co-founded the Food Agility Cooperative Research Centre and the Knowledge Economy Institute with Dr Michael Briers, for which she remains an active non-executive director and strategy advisor, respectively. In 2018, Ros was named one of the Australian Financial Review's 100 most influential women and awarded the emerging leader in technology at the Women's Agenda Leadership Awards.
Sara Morawetz
As an artist // investigator // method-maker Sara Morawetz explores the processes of scientific action, examining how concepts of observation, experimentation, method and standardisation have come to shape science and everyday life. Informed by the exhaustive, the obsessive, the poetic and the absurd, her work is often conducted as a 'scientific experiment', employing durational, repetitious and participatory components. Sara is a PhD candidate at the University of Sydney and her work has been exhibited throughout Australia and internationally. Recent projects have incorporated diverse collaborations between the arts and sciences, including partnerships with scientists from MIT, NASA and the National Institute of Standards and Technology. She was 2016 winner of 'the churchie' National Emerging Art Prize and a finalist of the 2017 Aesthetica Art Prize. Her 2018 work étalon is supported by the Vida Lahey Memorial Travelling Scholarship (QAGOMA Foundation), the Museé des Arts et Métiers and the Australia Council for the Arts. saramorawetz.com | etalon-walk.com ÉTALON 'metre' length: 100.02 cm ÉTALON COMPANIONS: Darren Engwirda, Boni Cairncross, Alexandra Pedley, Kath Fries, Laura Hindmarsh, Lucy Parakhina, Magali Duzant, Connie Anthes, Chantal Meng, Sharne Wolff, Stephanie Brotchie and Angela Lopes
Sharonne Zaks
Dr Sharonne Zaks is not your average dentist/musician. She has over 20 years of experience in private practice in Melbourne and regional Victoria, with a special focus on anxious and phobic patients, and survivors of sexual assault and trauma. Sharonne's new approach is drawn from trauma informed care, her clinical experience and other research. The free video resources she made are being used to empower survivors and to train dentists locally and internationally. Combining her passions, Sharonne created the dental cabaret 'Gobsmacked; a celebration of the mouth' to help make flossing more sexy and appealing to teenagers and adults. She completed an advanced diploma of music and has played the piano and trumpet in bands at venues and music festivals around Australia for many years. Her band Madre Monte supported The Cat Empire on their national tour. Sharonne has also performed in the Melbourne international comedy festival and fringe festivals.
Tara Djokic
Tara is a PhD candidate at the Australian Centre for Astrobiology of the University of New South Wales, Australia. Her PhD work is focussed on the geological setting and ecology of some of Earth's oldest evidence for life in the approx. 3.5 billion year old 'Dresser Formation' located in the Pilbara of Western Australia. Her work has led to the production of an online virtual field trip (VFT), which has been used in a second year Astrobiology course at UNSW since 2016 to teach multidisciplinary science students about early life on Earth, geology and scientific practice. Tara's research has also led to her involvement in an upcoming IMAX documentary called 'The Story of Earth', which as its title suggests, illustrates Earth's 4.6 billion year history, as it is currently understood. The trailer for which can be viewed HERE Read the journal article regarding Tara's work on the geyserite at https://www.nature.com/articles/ncomms15263.pdf. And biew the IMAX film page https://thestoryofearth.film/
TEDxSydney Audience
Fast Ideas at TEDxSydney 2019
TEDxSydney 2019 Fast Ideas
Everyone has at least one great idea that comes when they least expect it, but could you share it in 30 seconds or less? In this fun, fast paced segment, watch as members of the TEDxSydney 2019 audience joined us on stage to share their Fast Idea.
Tom Nash
It's one thing to survive a life-threatening illness, it's another to thrive thereafter; mesmerising audiences around the world as an in-demand public speaker, DJ, and quadruple amputee like it's nobody's business. Then again, failure has never been Tom Nash's favourite F-word. A taste for disruptive ideas, and a generous pour of Bordeaux are recommended accompaniments for experiencing the full flavour of Tom's thought-provoking perspectives; the power of pragmatism, separation of 'life-noise', and the necessity for self-reflection. Tom allows no excuse for mediocrity, and no apology for adversity. Tom views his physical configuration as simply a type of adversity as common as any other and says; "Everybody has hurdles, and everybody has some kind of disability, whether it be visible or invisible, external or internal, physical, mental, or emotional. The adversity is what helps build our character." Tom's penchant for captivating storytelling, alongside his dark sense of humour and his razor-sharp wit are melted down into ideas for life that leave audiences truly grounded, and unequivocally hooked.
Yve Blake
Yve Blake is an award-winning writer, composer, and musical comedian. She is an alumni of the Royal Court Writers' Programme and the recipient of the inaugural ATYP Rebel Wilson Theatremaker Scholarship. She's developed and presented work at Griffin Theatre Company, The Bush Theatre, Old Vic New Voices, The Soho Theatre, The Barbican, the National Theatre, and as a visiting artist at Princeton University. In her former life as a musical comedian, Yve's award-winning solo shows toured Australia and the UK, playing to sold-out crowds at the Soho Theatre. She's written the book, music and lyrics for FANGIRLS, a bloodthirsty new musical which will premiere at Belvoir and Queensland Theatre in 2019. It's a show all about how powerful teenage girls truly are, and is inspired by interviews conducted with more than 100 teenage fans. The score is best described as a 'Beyoncé concert meets Rave meets Church', and Yve will be playing the lead role of Edna. Yve is currently adapting FANGIRLS into a series with Clerkenwell Films (Misfits, The End of the F***ing World) in London. She's also writing a screenplay with Thomas Wilson-White for Aquarius Films (Berlin Syndrome, Lion), a musical adaptation of an Aussie kids book, and a podcast musical about Mary Wollstonecraft.
Yvonne Weldon
Yvonne Weldon is the current Chairperson of Metropolitan Local Aboriginal Land Council. She is a proud Wiradjuri woman and maintains strong ties to her homelands of Cowra and the Riverina areas in New South Wales. Yvonne is a former student of Redfern Public School, Cleveland St High School and St Scholastica's College. She is a graduate of the first intake of the Australian Indigenous Leadership Program. Yvonne has worked in senior positions in Aboriginal policy development, health, human services, child care services, child protection, housing, disability and Aboriginal heritage. Yvonne is a member of MLALC, Aboriginal Children's Service, and a number of interagencies throughout the Sydney Metropolitan area. She has a passion for health, Aboriginal rights, children's rights, education, research and evaluation. Yvonne recently received an award from the Australasian Evaluation Society for her contribution to the Evaluation of the NSW Aboriginal Child and Family Centres and has recently been awarded a Cultural Diversity Scholarship from the Australian Institute of Company Directors.