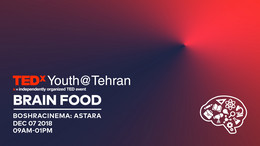 Thoughts are like food for our brains. Yet, while we search hours and hours for great restaurants with healthy food, we do not seem to care about what we feed our minds.
With the existence of exponentially growing media industry, complex artificial intelligence systems, and flashy advertisements all around us, we need to hit the pause button and rethink the ideas we allow inside our brains.
TEDxYouth@Tehran2018 introduces BrainFood, isolating our youth and those who affect their lives for a moment to embrace the ideas they need to know to help create a better generation.
Speakers
Speakers may not be confirmed. Check event website for more information.
Afshin Valinejad
International Photographer and Correspondent
Valinejad, an international photographer and correspondent. He is one of the few journalists in the world who was able to obtain permission to attend Fukushima following the Japanese earthquake and tsunami in 2011, which led to the explosion of a nuclear power plant. Afshin has more than 70 trips to radioactive contaminated areas, producing several thousand photographs and films from those areas; He has already talked in TEDxKyoto about these personal trips and adventures and you are welcomed to google and watch it. Mr. Valinejad is currently working to produce two films and documentary to present them simultaneously and he is doing that alongside his journalistic activities. The "Fukushima Traveler" as a portraiture documentary, in which Afshin's life and his travels and adventures are used as the subject of it, has just arrived at the 12th Cinema Haghighat International Film Festival. He now lives in a small town in Fukushima Prefecture, away from a nuclear power plant.
Aty S. Behsam
Writer, Artist and Translator
Aty S. Behsam is a writer, artist and translator working as a mentor and teacher for young Iranian writers for years. Last year her novel won a spot in PitchWars writing competition, in which she is taking part this year as a mentor. She studied English Translation and is also a skilled artist. She is a self-taught artist and writer and has been working with foreign publishers, authors, and editors as a writer, artist, and editor. Through her classes and workshops, Aty has been sharing her experience with young writers. She has been trying to create a chain of education, creation, and execution of creative writing, currently working on Iran's very first mentorship writing competition as a preparation for introducing young Iranian writers to the international community. She believes the youth need to be inspired to find their ultimate goal, so they can take steps toward their goal and realize that finding their own skills and voice matters.
Behrang Sohrabi
Educator
"Behrang Sohrabi" is an architect that used to work individually by 2014, after that he started by renting 15 meters of the unused space beside the company's pantry , and employed 3 people; the company under his management became a company with 45 partners and they were working on more than 200 small and medium-sized projects by 2017. When Behrang was ready to attend the first grade of the primary school, he went to school at the start of the war and the occupation of Qasr-e-Shirin. He and his family were settled in beautiful natural place. He did his best with the founding Children's Education Center to discover the creativity of children and to find each person's true calling and unique skills to help them follow their personal mission to find their unique skills in their lives. Behrang says: "Instead of asking children to see the world from our framework, we need to help them make their own windows to their favorite scenes ."
Maziyar Khavajian and Mohammadreza Asghari
Musician
The #Tehran is the result of their perception from a city like Tehran, which is not very positive, and this suspense can be heard in their album as well; Maziar and Mohammad Reza imagined Tehran as a great radio, each wave of which is one of the events that happens in the capital. Both of them see themselves as representatives of generation from the 1960s who believe they had spent scary and disappointed childhood with cultural cuisine Therefore, they plan to give a more relaxed atmosphere for the audiences, especially young generation.
Mehran Davoudi
Software Architect
Previously a software architect, well known for successful large-scale projects in the market. Currently he is playing different roles in his career. As a consultant, he is consulting large-scale companies like Mahan Air to build effective teams to deliver high quality software. Also he is the founder and CEO of "Melk Radar", a startup which is being built in a mysterious way! In the recent years, he is working with lots of startups to help them creating effective teams and high quality software.
Saeed Sedghi
Psychologist
Saeed Sadeghi has studied Psychology. From the first beginning of his studies in his bachelor's, he became interested in "thought" and "rationality" from scientific point of view after getting familiar with "Albert Ellis" and "rational-emotional behavioral therapy". His most favorite subjects in studying and teaching and research is based on beliefs and thoughts and effect of using wisdom in life. Saeed believes that thinking rationally will result in improving the sophistication level just like a skill and it can solve most of social and individual issues in contemporary human or it can reduce the problems. He tries to teach ways of critical thinking to improve the level of rationalism and sophistication. He is currently engaged with learning more and doing research in the theory of Schema which was presented by Jeffry Young and he wants to mix this theory with Albert Ellis's idea to find a method which is compatible with Iranian people.
Salar Zamanian
Musician
Salar Zamanian is a member of Vaziri Orchestra leading by Keyvan Saket, and to date has had several performances with the said Orchestra in addition to his own individual performances. Two albums of him, one named "Overture" for the Tar and string quartet, and the other for the Tar and orchestra is presently being recorded and will be released soon. Some of his musical activities include being an instrumentalist in the video album entitled "Yek Khaneh Por Ze Mastan" - Keyvan Saket's work song by Salar Aghili, "Qarive" (Clamor), his own work for the Tar and string quintet and also "Hamsafar" (Companion) for vocalist and orchestra, and "the Theme and Variations" composed by Kambiz Roshanravan for the Tar and string quartet. His recent concert with Shariyar Imanov, the famous Tar player of the Republic of Azerbaijan, was one of his successful performances.
Yekta Asgari
Naghal (Memorizing poem and singing and telling the story of Shahnameh)
"Yekta Asgari", 9-year-old Shushtari, started speaking when he was 10 months and memorized her first poems before the age of one. When she was three, she became familiar with Shahnameh, and her interest in the great Ferdowsi poems resulted in formal learning Naghali (Memorizing poem and singing and telling the story of Shahname that in front of people); Her unique performance during these five years has been so good that Shahnameh Ferdowsi's scholars have referred to her as "the phenomenon of Iranian scholarly writing". Her unique feature was her narration. In the end of each performance, the audience was successful in comprehension of the story and could disassociate all main characters and subtleties. It is hoped that Yekta will be one of the most important cultural ambassadors and Persian poetry of Persia in the future.
Organizing team
Ailar Bagheri

Team member

Ali Mirshafi

Team member

Ali Yekani

Team member

Ali Torki

Team member

Alvand Ferdowsi

Team member

Amir Hashemi

Team member

Arash Daneshvar

Team member

Atiyeh Bayat

Team member

ava arbabian

Team member

Azin Afshar

Team member

Baharan Molaie

Team member

Davoud Elmi Ghiasi

Production

faeze bakhshi

Team member

fahimeh taherjouyan

Team member

Faraz Khalaj

Team member

Farnaz Jafari

Team member

Farokh Shahabi

Partnerships/Sponsorship

Fereshteh Feizabadi

Team member

Golbahar Shakerin

Operations

Golnoosh Baratpour

Team member

Hasan Noori

Operations

Hesam Sanei

Team member

jasman yazdani

Team member

Leila Akbari

Team member

Mahsa Kiani

Team member

Mahsa Farahani

Team member

Mahsa Hossein Zadeh

Team member

Mani Shafiee

Team member

Mehdi cheshmi

Team member

mohammadhossein Talachi

Team member

Mohsen Adli

Team member

Narges Afee

Team member

Narges Hajifathaliha

Team member

Niloofar Farhand

Team member

Pantea Ayoubinejad

Team member

Parihaa Yaar ahmadi

Team member

Parsa Zereshki

Team member

Parsa Salamipour

Team member

Reza Shafie

Team member

rozhin jafari

Team member

Saba Bagheri

Team member

Sadegh Taghavi

Team member

Sahar Ghobadi

Team member

Shabnam Sheybani

Team member

Shahbod PoorSafar

Team member

Tadeh Alexani

Team member

Yashar Ghalandaran

Team member

Yasin Ahmadi

Team member

ZNAB BEIGI

Team member