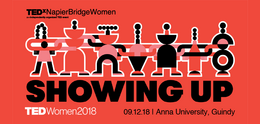 TEDxNapierBridgeWomen 2018 is a gender inclusive TEDx event and will feature a curated lineup of diverse speakers spanning industry, origin, age, and experience. The goal of this event is to help girls and women connect in an environment that inspires the expression of unique points of view, and have dialogue that can open minds and change opinions. TEDxNapierBridgeWomen is a movement celebrating the remarkable achievements of girls and women in Chennai and in the wider community across India.
This year's theme, "Showing Up," speaks to the ways in which women around the world are taking matters into their own hands, and are no longer accepting the status quo. They're rising up, breaking out and pushing boundaries. Whatever their focus and talent — business, technology, art, science, politics — these pioneers and their allies are joining forces in an explosion of discovery and ingenuity to drive real, meaningful change.
TEDxNapierBridgeWomen will celebrate how these dynamic and diverse people are showing up to face challenges head-on, all while empowering each other to shape the future we all want to see. We're showing up for TEDxNapierBridgeWomen 2018. Are you?
Speakers
Speakers may not be confirmed. Check event website for more information.
Akhila Krishnamurthy
Arts entrepreneur and Writer
Akhila Krishnamurthy (@akhila_krishnamurthy) founded her arts management company in 2012, she was one of Chennai's most well-known features journalists, and an editor at The Times of India Group. Today, she wears two hats: one as founder of Aalaap, and the other as mother to a four-year-old.
Dorothy Thomas
Corporate Lawyer
Dorothy Thomas is one of Tamil Nadu's leading corporate lawyers, and partner at Shardul Amarchand Mangaldas, India's largest corporate firm. She has over 20+ years of experience working on a wide array of corporate mandates, including mergers, acquisitions, and joint ventures. She is also well versed in advising on private equity and foreign direct investment.
Dr. Shalini N
Mental health clinician
Dr Shalini N is a renowned mental health clinician, writer and researcher. Having spoken in various media shows and delivered powerful speeches, Dr. Shalini is an expert in women's mental health, and takes an ardent interest in history, culture, human behaviour, and the connection between them.
Traveller
Lalitha Mahaadevan (@happyshoesblog) surprised everybody when she quit her job to travel, where she found unity with nature, and harmony in living with it. In her travel, she learnt the importance of being comfortable with solitude, something most of us are afraid of.
Poulomi Das
Journalist
Poulomi Das (@highonfries) is a writer and editor at Arré, who writes at the intersection of film, pop-culture, and gender. Poulomi was at the forefront of the #MeToo wave in October, outing predators across multiple industries, including the Indian media.
Preetisha L
Actor & LGBT Campaigner
Preethisha was born male. After expressing her desire to be a woman in her teens, she underwent surgery, years later. She now works for Uber Eats, where she is the company's first transgender employee in India.
Curator
Shyam Sundar is the curator of TEDxNapierBridge
Performer
Tiptapetoe is a budding start-up with roots in multiple genres of dance, Tiptapetoe is a platform for a creative amalgamation of fine arts and culture. Renowned for team dynamics and spell-binding performances,