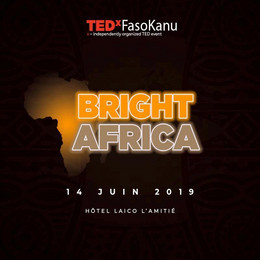 TEDxFasoKanu celebrates the diversity, dynamism and potential of Mali and Africa in general by giving voice to committed men and women to make a difference in their communities.
The first TEDx conference in Mali, TEDxFasoKanu - FasoKanu, which means "Love of the motherland" in Bambara - was born from the desire to highlight the creative potential, the innovative ideas and projects of our societies. Our goal is to bring together bright minds to give talks that are idea-focused, and on a wide range of subjects, to foster learning, inspiration and wonder – and provoke conversations that matter. In the spirit of ideas worth spreading, we believe in the strength of ideas but especially in their impact when they are shared.
Speakers
Speakers may not be confirmed. Check event website for more information.
Beth Koigi
CEO of Majik Water
Beth Koigi is a young kenyan entrepreneur who founded Majik Water, an innovative project which transforms air humidity into safe water thanks to solar energy, with a vision to increase access to clean drinking water in water-stressed regions. Coming from a farm family, her experience on the campus of Chuka University, where water was unsafe, gives her the idea to create her own water filter. Aqua Clean Initiative was created in order to provide affordable filters to underserved communities. After being accepted to the Global solutions program in the Silicon Valley, she founded Majik Water which is now an award winning company, including the Tech Entrepreneur of the Africa Women Innovation & Entrepreneurship Forum (AWIEF), EDF Pulse, Oxford Innovation Fair and MIT Water Innovation.
Cyril Achcar
President of the Organisation Patronale des Industriels
Cyril Achcar plays an active role in Mali industrial sector, Director-General of several major industries, including Les Grands Moulins, the Société des Eaux minérales and La Grande Confiserie. Besides being involved in developing trade between Mali and international actors (French government, IMF and World Bank), he takes part in the national debate to guide the industrial policy. In that capacity, he is Vice-president responsible for industry of the Conseil National du Patronat Malien (CNPM) and President of the Organisation Patronale des Industriels, both employers' organization for industrialists. As an advocate and representative for Malian private sector to the State and donors, he was appointed as Officer of the National Order of Mali and Knight of the French National Order of Merit.
John Dumelo
Actor, Entrepreneur, Philanthropist
John Dumelo, born in 1984, is a well-known actor from Ghana. After featuring in television series, he soon became a household name in the film world, acting in over 80 movies and joining Nollywood big productions. He was nominated for categories Most Promising Actor and Best Actor in a Supporting Role at the 6th and 7th Africa Movie Academy Awards. In addition to this movie career, he is highly involved in philanthropist activities and aims to develop the agricultural sector through investing in crop and animal farms.
Mah-Sere Keita
Director of programs at the African Society for Laboratory Medicine
Mah-Séré Keita is a global health professional with more than 17 years of research, patient care, project development and management experience. Over the course of her career, she has worked primarily on improving disease detection and response in low-resource settings. She is currently Director of Programs at the African Society for Laboratory Medicine (ASLM), and has previously held leadership positions in various international structures. She holds a Master's in Public Health (MPH) with a focus on infectious disease epidemiology and a Certificate in Health Finance and Management from the Johns Hopkins Bloomberg School of Public Health, and a Bachelor of Science (BSc) in pre-medicine biology from Boston College.
Mbaranga Gasarabwe
Deputy Special Representative of the Secretary-General for MINUSMA
In 2015, Ms. Mbaranga Gasarabwe was appointed DSRSG for MINUSMA and Resident Coordinator, UNDP Resident Representative and Humanitarian Coordinator for Mali. In this capacity, she is responsible for the coordination of humanitarian, recovery and development assistance throughout the country. Ms. Gasarabwe has long experience working in emerging as well as conflict countries. In addition to development and humanitarian dimension, Ms. Gasarabwe is managing a large portfolio of stabilization and recovery, security sector reform., anti-mines management, Justice and corrections as well as Electoral system. Prior to this, she worked as the Assistant Secretary-General for the Department of Safety and Security in New York, managing issues of safety and security for UN offices around the world. Before joining the Secretariat, she served in various capacities with the UNDP for over 20 years, amassing extensive experience in international development, humanitarian, peace and security issues.
Toumani Diabate
Artist, Musician
Toumani Diabaté is a malian musician who carried the rich tradition of the kora to an international stage and was rewarded many times, including three Grammy Awards in 2006, 2011 and 2017. Born in Bamako in 1965, he is the heir to a long line of Mandingo griots. He was able to renew this traditional music with virtuosity and creativity through various international collaborations and stays abroad. Toumani Diabaté perceived very early that the role of the griot should be modernized, to make it a way of transmission not only across the ages but also with other cultures. His work is now extended through activities of transmission and his support to new generation.