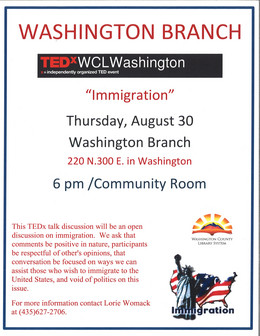 The Washington Branch Library will be sponsoring a Tedx Talk on Immigration on Thursday, August 30 at 6 pm. The discussion will take place at the Washington Branch Library, located at 220 N. 300 E. in Washington.
We ask for everyone in attendance to practice civility by: (1) listening respectfully, (2) focusing on the issue and avoiding political debate, (3) being courteous of all differences of opinion, and (4) engaging in healthy, meaningful conversations with the objective of understanding the plight of immigrants and our desire to assist them in becoming naturalized citizens of the United States. Please note the library does not advocate any specific position on this topic.
For more information contact Lorie Womack at (435)627-2706.