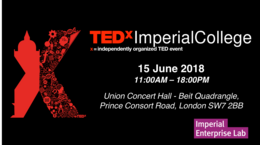 TEDxImperialCollege is back and happy to present you with our much awaited annual conference event. We hope you are all excited to come along and hear from our extraordinary line-up of speakers from around the UK.
This year 12 speakers will deliver inspiring talks touching on a wide range of subjects ranging from the current global challenges faced in our world to new technological innovations and their potential applications. We are sure that these talks will inspire each and every one of you!
The theme this year is "Be Bold".
As our world becomes increasingly more connected and global challenges are on the rise, it is our duty to speak out and inspire each other. As a scientist, philanthropist, innovator or philosopher, being bold and speaking out about our ideas and theories is key to impacting our world and sparking the bright minds of the future. Only through communicating with each other will we be able to tackle the rising issues of economic inequality, climate change, injustice, and healthcare.
Speakers
Speakers may not be confirmed. Check event website for more information.
Esti Widya Putri
Conservation Activist
Esti is the Co-Founder of Indonesian Energy and Environmental Institute (IE2I), a Civil Society Organisation which seeks to create a sustainable future for Indonesia. She holds an MSc degree in Environmental Technology (Pollution Management) from Imperial College London, and a BA degree in Economics and Sociology from the University of Manchester. She is an advocate for environmental sustainability and has already spoken about the issue in numerous universities talks and conferences hosted by the United Nations and the World Bank. Esti's talk will focus on how being bold is a pre-requisite to achieving our goals with respect to her life-story and her combat against climate change.
Kieran Arasaratnam
Investment Banker
Kieran is the founder of Uinspire, a social enterprise platform disrupting old models of impact investment. He previously worked as an investment banker over 15 years with Barclays Capital, Morgan Stanley and HSBC in London, New York, and Singapore. Kieran is also a board member of the Imperial College Business School, where he obtained his Ph.D. and is a founder of Imperial College's Financial Signal Processing Research Group. His talk will focus on the issue of trust, which has been exposed to systemic erosion over the past years. The biggest global events, from the financial crisis, to rising global inequality, soaring populism, to Facebook's recent Cambridge Analytica scandals, to the social movements like Black Lives Matter have brought to light some the biggest betrayals in our social contract. Why has this happened? Is it because the world has gotten worse? Or is it due to our world's increased transparency? Do we know too much? What is stopping us from trusting one another?
Kwarteng Sarfo
Medical Student
Kwarteng is a 4th-year medical student intercalating in Biomedical Engineering at Imperial College London, which aims to break the stigma of mental health in modern society. His talk will focus on how mental health is an increasing burden in modern society, especially amongst young males. This talk aims to help people have a better understanding of the problem and stigma surrounding mental health and will explore the critical importance of friends and family in treating the disease.
Nickolai Vysokov
Artificial Intelligence Researcher
Inspired by the beauty, complexity, and plasticity of the nerve cells, Nickolai dedicated his career to neuroscience. Nickolai completed his Ph.D. at Imperial College London focusing on neuronal development and then worked in industry on cell therapy for stroke patients. In 2017 together with his network of friends, he started an ambitious project to develop a commercial platform technology for using artificial intelligence (AI) in non-invasive brain stimulation. His talk will focus on his journey to reaching the idea of using AI for non-invasive brain simulation and the how a mathematical model of nerve cell connections is used in machine learning and AI.
Paula Martin-Gonzalez
Bioengineering Researcher
Paula Martin-Gonzalez is a postgraduate student in Bioengineering at Imperial College aiming to solve current cancer diagnosis and treatment problems using technical tools. Her MSc project, which is held in collaboration with the Rafael del Pino Foundation, focuses on Biophotonics and how new medical imaging strategies can be used in gastrointestinal cancer diagnosis and surgery. Her talk will explore how the large databank of medical imaging scans can potentially be used to improve cancer diagnosis methods and potentially bring us closer to personalized oncology treatments. Medical images are much more than what meets the eye!
Philippe Rival
Civil Engineer
Philippe is an Australian-French Civil Engineer, who graduated from Imperial College London in 2015. He currently works in the major projects division for a large civil contractor and has been involved in numerous complex transportation projects. His talk will focus on how to efficiently tackle real-world challenges through changes in industry. Today, most traditional technology companies are not the innovation hubs they once were, and start-ups have started to seize most of the talented workforce of engineers. However, start-ups heavy reliance on short-term profits and dependence on financial investments severely hinder long-term global innovation.
Ramin Hoodeh
Product Specialist
Ramin holds an undergraduate degree in Business and Marketing, and a Master's degree in Environmental Technology from Imperial College London. In addition to working as a Specialist at Tesla, Ramin has also developed many side-projects, which include a Hemp start-up, a socially-aware-AI company, and a lifestyle brand. Ramin is obsessed with Space and believes we can learn from Astronauts and their experiences to make better decisions in our personal lives and careers. His talk will focus on decision making and how to make better decisions. "Who do you want to be? What do you want to do? What are you going to do? Decide now, you're not getting any younger!" they say. It's a lot of pressure. Ramin talks through his trials and tribulations on his path to becoming addicted to striving for success and making better decisions. In this talk, you'll learn a trick to build your own path and guide your own journey through this game called life.
Takashi Nakamura
Signal Processing Researcher
Takashi is a Ph.D. student in signal processing at Imperial College London. His postgraduate studies, funded by the Nakajima Foundation, focus on research in brain-computer interface and signal processing for cognitive neuroscience. Takashi's talk will explore the possibilities of an in-ear EEG, enabling 24/7 brain monitoring and the future potential uses of this technology.
Tom Lovegrove
Panning Director
Tom is a Planning Director at one of the UK's leading marketing events agencies where he develops and leads training and development programmes. Additionally, Tom is also a member of LiveWired Comedy Improvisation with whom he has performed for several years. In his talk, Tom will explain what improvisation is and how the skills it teaches can add value to people's lives. Improvisation has helped people overcome anxiety issues and helped people with autism communicate. He will reveal how improvisation teaches us that failure can be fun and how generosity can make us more successful.
Ute Barbara Thiermann
Environmental Policy Researcher
Ute Barbara Thiermann is a doctoral researcher at Imperial College, Centre for Environmental Policy. She holds an MSc in Environmental Technology from Imperial College and a degree in political science and sociology from the Catholic University in Eichstätt, Germany. Her talk focuses on the pursuit of "happiness", which has become a popular goal of our society. What does happiness actually mean and how can we make sure we attain happiness in such a diverse world? Ute will reflect upon fundamental questions of human well-being by drawing lessons from recent research outcomes of positive psychology and neuroscience. More than just a talk, Ute will offer her audience an experience of how people can become truly happy in the modern world.