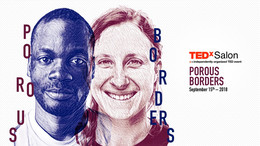 Since the beginning of time, humanity has always been "in motion". Some people move searching for new horizons, others to escape conflicts, poverty, hunger, persecution or climate change, and many do so for combinations of all these reasons.
Nowadays we are facing one of the greatest human flows in history. According to the United Nations reports, wars and economic crisis push 33,000 people daily to move from their countries looking for peace and fundamental rights. Women, men and children die every day on the long journey to salvation in an attempt to cross seas, borders, physical, political and cultural barriers.
Faced with this situation, the TEDx Community feels a need to contribute to the international discussion on this urgent issue which has both local and global consequences. For the first time ever, seven Team Organizers of TEDx events from different cities across Europe have decided to tackle this topic together in a single format, all from different geographies and perspectives.
The project, based on the Relay Race Format, consists a series of TEDx Salon events organized throughout Europe which, all on the same day, will connect and communicate through a live streaming platform, to share a range of speakers' humanitarian eye-witness accounts.
Italy, Germany, England and Spain, via 7 local events (TEDxRoma, TEDxGenova, TEDxReggioEmilia, TEDxCesena, TEDxMünchen, TEDxGranVia (Madrid), and TEDxLeicester) will discuss the central theme of refugees. Called "Porous Borders", a concept that goes far beyond the meaning of a border as simply a line drawn and controlled by nations, but rather to take on a new dimension: that of porosity, fluidity and complexity.
What is a border? Is it something that protects or on old way of thinking that divides us? Would changing our understanding of what a border is be a risk? Or could it be an opportunity?
On this day we invite speakers and our communities to explore the theme from different points of view, offering a neutral dimension to discuss a global and complex topic in a transversal and innovative way.
Speakers
Speakers may not be confirmed. Check event website for more information.
Camilla Paternò
Camilla Paternò has always been interested in telling stories through different mediums - writing for television, directing and producing projects on social and contemporary issues – In 2017, she won with Dugong Films a European funding for Re-future, (@refuturelab) a visual storytelling workshop designed to teach a group of refugee minors how to observe their new reality through the simplest tool at their disposal - a smartphone. She is the story editor and producer of Tumaranké the acclaimed documentary that was shot by the young refugees and that came out of this experience. Camilla Paternò è da sempre interessata all'utilizzo di diversi mezzi di espressione: sceneggiatrice di serie televisive, regista e produttrice di progetti dai risvolti sociali. Nel 2017 con la Dugong Films ha vinto un fondo Europeo per la produzione di Re-Future, (@refuturelab ) un workshop destinato ad insegnare ad un gruppo di rifugiati minori le basi del racconto per immagini attraverso il mezzo più facilmente a loro disposizione, uno smartphone. Da questa esperienza è nato Tumaranké, l'acclamato documentario interamente girato dai giovani rifugiati con i loro cellulari e di cui ha seguito l'editing e la produzione.
Michael Brome
Michael Brome has been a prison officer at HMP Leicester for 13 years. Since, he has worked in several areas and with different teams using his calming nature to deal with very challenging situations and individuals, helping people to challenge themselves and overcome obstacles. Michael Brome is also a spoken word artist, represented by literature organization Renaissance One and he is a mentor, as well as a workshop facilitator based in the East Midlands (Leicester). Michael uses his writing and oratory skills to inspire young people to make changes to their lives and prospects. Michael Brome è una guardia carceraria dell'istituto penitenziario di Leicester con 13 anni di servizio. In questo periodo ha lavorato in diversi settori e con diversi gruppi sfruttando la sua natura calma per gestire situazioni e soggetti difficili, aiutando le persone a mettere in gioco le proprie capacità e a superare gli ostacoli. È anche un artista dell'oratoria, rappresentato dall'organizzazione Renaissance One, mentore e facilitatore di laboratorio a East Midlands (Leicester). Michael usa i suoi scritti e la sua oratoria con l'obiettivo di ispirare i giovani a cambiare le proprie vite e le loro prospettive.
Patricia Mindus
Patricia Mindus is a legal and political philosopher at Uppsala University, Sweden. She is especially interested in legal realism, democratic theory, and migration. She is in charge of research on citizenship and migration policy in the EU, from a political and legal theory perspective. She has developed the functionalist theory of citizenship and is currently Wallenberg Academy Fellow. As President of the Swedish IVR, she heads the Uppsala higher seminar in Jurisprudence and is Section Editor of the IVR Encyclopaedia of Philosophy of Law. She wrote an award-winning book on the founder of Scandinavian realism. Her most recent book deals with European citizenship after Brexit. Patricia Mindus è una filosofa legale e politica all'Università di Uppsala, in Svezia. Ha un interesse per il realismo legale, la teoria democratica e la migrazione. Dirige la ricerca sulla cittadinanza e la politica migratoria nell'EU, con una prospettiva di teoria politica e legale. Ha sviluppato la teoria funzionalista della cittadinanza ed è attualmente membro del Wallenberg Academy. Presidente della IVR Svedese, dirige il seminario superiore di Uppsala in Giurisprudenza ed è curatore di sezione della IVR Encyclopaedia of Philosophy of Law. Ha scritto un libro vincitore di premi sul fondatore del realismo scandinavo. Il suo libro più recente riguarda la cittadinanza europea dopo la Brexit.
Simone Coppo
Simone Coppo is a young Italian actor graduated at Scuola d'Arte Drammatica Paolo Grassi in Milan. He works for theatre and television all over the world. Among his greatest successes are his performances in Io Rom Romantica, La verità sta in cielo and the Italian television series Una Grande Famiglia and Sacrificio d'Amore. Simone Coppo è un giovane attore italiano diplomato alla Scuola d'Arte Drammatica Paolo Grassi di Milano. Lavora per il teatro e la televisione in tutto il mondo. Tra i grandi successi cui ha preso parte ci sono Io Rom Romantica, La verità sta in cielo e le serie televisive italiane Una Grande Famiglia e Sacrificio d'amore.
Soumaïla Diawara
Soumaïla Diawara was a born and raised in Bamako (Mali) and graduated from Law School with a major in International Private Law. At the end of his studies, he started working in politics for the party Solidarité Africaine pour Démocratie et l'Indépendance (SADI) as a young political leader first and communication manager later. He arrives in Italy in 2014 as an immigrant saved by Italian Navy. He is currently being hosted in Italy as a political refugee. Soumaïla Diawara nato e cresciuto a Bamako, in Mali, è laureato in legge specializzandosi in Diritto Privato Internazionale. Terminati gli studi, ha cominciato a lavorare in politica per il partito Solidarité Africaine pour Démocratie et l'Indépendance (SADI), inizialmente come giovane leader politico e in seguito come direttore della comunicazione. Arriva in Italia nel 2014 come immigrato, salvato dalla Marina militare. Ad oggi, viene ospitato in Italia come rifugiato politico.
Waheed Arian
Dr Waheed Arian is an Afghanistan-born NHS doctor who came to the UK aged 15 as a refugee from the Afghan conflict and gained a place at Cambridge University to study medicine. He graduated with honors from Harvard University and Imperial College and has worked as a doctor in the UK, while establishing Arian Teleheal International Telemedicine Charity, which advises doctors in Afghanistan, Syria, and African countries (isolated and dangerous areas) using everyday technology, like smartphones and secure social media. Arian Teleheal and Dr. Arian have won several international awards for their pioneering work, including the UNESCO Global Hero, Rotary International Peace Award, UN Global Goals Goalkeeper, and UK's Points of Light Award from Prime Minister Theresa May. Il dottor Waheed Arian è un medico del NHS nato in Afghanistan che è arrivato nel Regno Unito a 15 anni come rifugiato dal conflitto afghano e ha ottenuto un posto all'Università di Cambridge per studiare medicina. Laureato con lode da Harvard e Imperial, ha lavorato come medico nel Regno Unito, mentre fonda la Arian Teleheal international telemedicine charity, organizzazione che supporta i medici in Afghanistan, Siria e Paesi africani usando la semplice tecnologia . Il Dott. Arian ha così vinto diversi premi