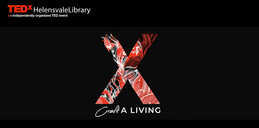 Join us at Helensvale Library for this salon style event that features two local speakers and a selection of TED talk videos that aim to promote thought-provoking discussion. Our September theme is Craft a Living; how creativity can change the way that you live.
In the spirit of ideas worth spreading, TEDx is a program of local, self-organized events that bring people together to share a TED-like experience. At a TEDx event, TEDTalks video and live speakers combine to spark deep discussion and connection in a small group. These local, self-organized events are branded TEDx, where x = independently organized TED event. The TED Conference provides general guidance for the TEDx program, but individual TEDx events are self-organized (subject to certain rules and regulations).
Speakers
Speakers may not be confirmed. Check event website for more information.
Textile Designer
Ellie Whittaker has lead a colourful life of artistic dabbles. It wasn't until the birth of her first child that she discovered digital fabric design and delved into designing whimsical, Australian fabrics that tell stories. With her unique themes and style, Ellie has made fast friends in Australian kids fashion and decor and crafted a living from her art. Her clients past and present include Kapow Kids, Goosebumps Boutique Bedding, Kippins, Target, Cotton On and Elm.
Musician
Infusing playfulness and wonder into the Australian pop music industry, Gold Coast artist ELSKA has redefined the humble harp - marrying the delicate instrument with the power of a loop pedal. Oozing charm with a new brand of breezy soulful pop, ELSKA creates melodic harp-infused pop music designed for daydreaming, road tripping and romance. Penning heart-fueled tales of love, betrayal and finding 'the one', ELSKA loops captivating melodies with rhythmic harp beats - infusing her soulful vocal into a meander of moments we can all relate to in life and love. It's easy to get swept up in ELSKA's mesmerising brand of pop, where timelessness is romanticised with technology.