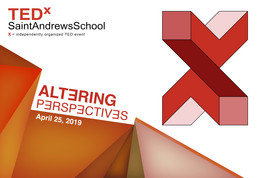 Is it possible for one person to know the life of another? Of course it is. But to truly see through someone else's eyes or wear someone else's shoes, we must ironically accept this singular assumption--every single person feels love, pain, anguish, and hope--in order to understand the billions of ways to understand the world. The perplexing nature of this paradox--that we are all the same and all very, very different--serves as the theme of this year's TEDx conference entitled Altering Perspectives, a challenge to guests and the audience to find both commonalities and appreciate the variety of the human experience.
Speakers
Speakers may not be confirmed. Check event website for more information.
Alina Yurkovsky
School and Clinical Psychologist
Dr. Yurkovsky has been a clinical and school psychologist for the last 20 years. She has developed a niche in helping people to thrive in spite of the challenges in their lives. She offers an online support program for people going through hardship and major changes in their lives, called "Plan B Bootcamp."
Ashlyn Goila
Student
Ashlyn is a sophomore at Saint Andrews School. She plays soccer at a very competitive level. When she's not balancing school and being the captain of her soccer team, Ashlyn enjoys drawing and solving Rubik's cubes. Ashlyn wanted to be a part of TED-Ed because she was very inspired by previous talks and wanted to inspire others with hers.
Ava Cornett
student
Ava is 10 years old and in Grade 4 at Saint Andrew's School. She participates in the Lower School Choir, dances for Organic Movements Dance Studio, her favorite color is yellow, she loves to write and hang out with her friends. She joined the TED-Ed Club because she thought it would be a safe place to share her ideas.
Avery Stark
student
Avery is a high school student who is involved in many extracurriculars including Make Our School Safe.
CEO, Co-Founder www.newstorycharity.org
After a life-changing trip to Haiti when he was 24, Brett co-founded New Story to employ new technology and rethink the traditional charity model. When he started the organization, he couldn't have known it would grown as fast as it has. Through New Story's innovative approach, Brett's team has achieved nearly $20M in revenue within 3.5 years while building 1800+ homes for 10,000+ people. Brett's been recognized on Forbes' 30 Under 30 list in 2016 and his company was named among Fast Company's 2017 "Most Innovative Companies in the World." With a staff of all millenials, he showed the corporate and nonprofit worlds that thinking differently can have an exponential impact. Bold risks, like launching a 3D printer for homes for the world's poor, has proven technology solves real problems and that young dreamers who take action can make a massive impact.
Student
Chase is currently a senior and a "lifer" at Saint Andrew's School. Chase is very involved in extracurriculars and serves as captain for both the varsity bowling and varsity baseball teams. Chase works, coaches little league baseball, and listens to all genres of music. His favorites include Pink Floyd, Eminem, Red Hot Chili Peppers, and Travis Scott. In his free time, Chase spends time with his family and enjoys being around friends.
Dawn Jones
Academic Facilitator of Technology + Head Volleyball Coach
Dawn is the current Academic Facilitator of Technology and Head Volleyball Coach at Saint Andrew's School. She hails originally from Fort Pierce, Florida. She received an Associate in Arts Degree from Indian River Community College, a Bachelors in education from Delaware State University, and a Masters in Educational Leadership from Butler University.
Elisa Dittborn Mayer
Student
Originally from Chile, Elisa is a motivated student who enjoys learning about the world and the people around her. Incredibly grateful for the opportunity to study a year in the US, Elisa did not think twice on taking the opportunity of doing a TEDx Talk.
Ellen Ashley
student
Ellie Ashley is a freshman at Saint Andrew's School and recently choreographed an original piece for Novemberfest, the fall dance show. She has been dancing since she was in elementary school and has danced in numerous performances with the Saint Andrew's Dance Company.
Emily Elhilow
singer/songwriter
Emily Elhilow is a senior at Saint Andrew's School in South Florida. She was a serious and competitive beach volleyball player for most of her life until a recent injury. During recovery, she found herself back working on her musical talents to start song writing. In that process birthed her original song, "The Way It'll Be", and a collection of others with it.
Evelyn Heath
student
Evie, an eighth-grader at Saint Andrew's School, was first introduced to Ted Talks four years ago. She was fascinated to learn and hear about different experiences. A little over a year ago, her little sister Stella was diagnosed with Cystic Fibrosis. Being able to share her experience has helped her through her journey of acceptance. Evie is overjoyed to be able to share her story with a wider circle than her closest peers.
Gabrielle Bernstein
Student
Gabby is on a mission to help change the perspectives of those around her. She focuses in on the stigma of talking about what is most difficult in life, in her case, eating disorders.
Student
Jack is a high school student who pursues many interests both inside and outside of school such as being active in the Dance Marathon and baking cakes on the side. He has surpassed 10,000 followers on Instagram for his cake baking expertise - a distinct achievement amongst many.
student/Founder and President of Piece of Peace Corporation
Jackie Brenner, from Boca Raton, Florida, is 19 years old and currently attends Penn State as a part of the 7-year accelerated medical program. After the stress from both tearing her ACL and her mother's diagnosis of breast cancer, she incorporated mindfulness into her life during her sophomore year in high school. As a result, she created Piece of Peace, a nonprofit that helps educate kids about meditation, mindfulness, and healthy eating habits.
Jake Goldberg
student
Originally from New Jersey, Jake is a sophomore at Saint Andrew's School. Jake is extremely involved in the Saint Andrew's community, participating in various clubs including SASSA, Student Council, Harvard Model Congress, and the Turtle Habitation Club. Jake also traveled with the Round Square program to Thailand. One thing that makes Jake different than his peers is his enjoyment of public speaking and talking in front of big audiences.
Letian Wu
Student
Dennis is a student at Saint Andrew's School as a Resident Life Student from China. Dennis is very passionate about both the environment and TED-Ed. He wants to raise people's awareness of environment protection and make our Earth a better place through his TEDx talk.
Armless Archer
Inexplicably born without arms in December of 1982, Matt's birthparents were soon overwhelmed with the obvious challenges that lay ahead. He was put up for adoption, and in January of 1984, Matt was welcomed into the home of Leon and Jean Stutzman. A remarkably patient, compassionate and strong-willed couple, the Stutzman's guided Matt through a youth of seemingly insurmountable obstacles of everyday living largely taken for granted in an able-bodied world. Their philosophy was simple; Matt was permitted to try almost anything if he could do it on his own. Years later, the result is an extraordinary young man, a family man, who can do virtually anything with his feet. As a member of the 2012 U.S. Paralympic Archery Team, Matt competed in the 2012 London Games that culminated with a Silver Medal. Dubbed The Armless Archer, Matt's has captured the attention of the media around the world. He regularly uses humor to engage audiences who are left inspired, believing anything is possible.
Merritt Kanzer
student/singer/songwriter
Merritt is nine years old and is in third grade. She enjoys composing her own music and writing stories, poems and plays. She is a singer and has performed in a variety of formats. Merritt is excited to be able to share "A Rose by the Water," an original song that she wrote when she was seven.
Phillip Bouressa
Student
Phillip is a high school student, attending Saint Andrew's School. Phillip has a passion for surfing and the ocean.
Samuel Sperl
Exchange Student
Samuel is an Assist Scholar at Saint Andrew's School doing an exchange abroad from Germany.
Shanna Bober
Student
Shanna was a student speaker at Saint Andrew's School TEDx and currently attends University of Texas at Austin. Shanna is extremely passionate about travel which sparked her interest in joining TED-Ed to bring awareness to international issues such as the refugee crisis.
Shelly DePalmer
High School Math Teacher
Shelly is currently a High School math teacher and a member of the Resident Faculty at a private school in South Florida. Originally from Harrisburg, Pennsylvania, she received her B.S. in Mathematics from the Pennsylvania State University and her M.Ed. in Educational Psychology from FAU. Before moving to Florida she lived in Chicago. She is passionate about traveling and has visited over 30 different countries already! She is looking forward to continuing to travel for many years to come.
Vittorio Pin-Mariotto
student
Vittorio is 10 years old. He has been a student at Saint Andrew's School since JK. Vittorio is an avid reader, tennis player, and performer, as well as a fan of WWE who loves climbing and jumping around. Among his many interests, he loves learning about Florida ecosystems; the Everglades being his favorite! Through TED-Ed, he wants to be able to express his thoughts, ideas, and opinions, hopefully helping people. In his TED-Ed talk, Vittorio explores the importance of looking further into things because it just may change the way you think, live, or even change the world!