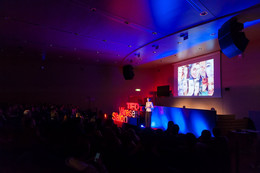 In the spirit of ideas worth spreading, TEDx is a program of local, self-organized events that bring people together to share a TED-like experience. At a TEDx event, TEDTalks video and live speakers combine to spark deep discussion and connection in a small group. These local, self-organized events are branded TEDx, where x = independently organized TED event. The TED Conference provides general guidance for the TEDx program, but individual TEDx events are self-organized (subject to certain rules and regulations).
Speakers
Speakers may not be confirmed. Check event website for more information.
Ciarán Nicholl
JRC head of Health in Society unit
Ciarán Nicholl è capo dell'unità Health in Society del Joint Research Centre, che offre supporto scientifico alle politiche europee di sanità pubblica. Il background formativo di Ciarán è la ricerca scientifica e una specializzazione in chimica, con l'ottenimento di quattro titoli di specializzazione prima del completamento della sua laurea al Kings College Hospital, in Inghilterra e del suo dottorato in ricerca sul cancro della pelle all'Università di Heidelberg, in Germania.
Giovanni Porcellana
CERN knowledge transfer officer
Giovanni Porcellana è entrato a far parte del Knowledge Transfer Group al CERN nel 2016, concentrandosi sulle tecnologie che hanno applicazioni nel campo della medicina. In precedenza, ha lavorato per più di due anni al CERN con la Fondazione TERA, un'istituzione di ricerca italiana. Si è concentrato principalmente sulla progettazione di acceleratori lineari di particelle per la produzione di radioisotopi e per l'adroterapia. Tuttavia, la sua prima passione è stata da sempre l'energia nucleare: prima del CERN, Giovanni ha lavorato per un anno a Cadarache, in Francia, per la progettazione e lo sviluppo di reattori veloci di IV Generazione.
Ian Vollbracht
JRC researcher
Ian Vollbracht è un ricercatore del Joint Research Centre che lavora sull'analisi economica e sui legami tra economia e psicologia. Presso il Joint Research Centre di Ispra, Ian è anche il leader di un gruppo di lavoro che ha eseguito attività di ricerca sulla psicometria e lo psyco-targeting in riferimento a Internet e i social media.
Valentina Montalto
JRC researcher
Valentina Montalto è una ricercatrice specializzata in cultura e industrie creative. Ha otto anni di esperienza nel campo della ricerca, con particolare attenzione all'economia culturale e alle città. È entrata a far parte del Joint Research Centre nell'aprile del 2016 per contribuire allo sviluppo del Cultural and Creative Cities Monitor project, uno strumento di analisi comparativa volto a sostenere la progettazione di politiche urbane evidence-based e culture-led.